Australian Wheelchair Basketball Teams Win World Challenge
At the World Challenge in Sydney, Australia's men's Wheelchair Basketball team beat Great Britain for gold and the women defeated Germany for the prize.
21 Jul 2012
Imagen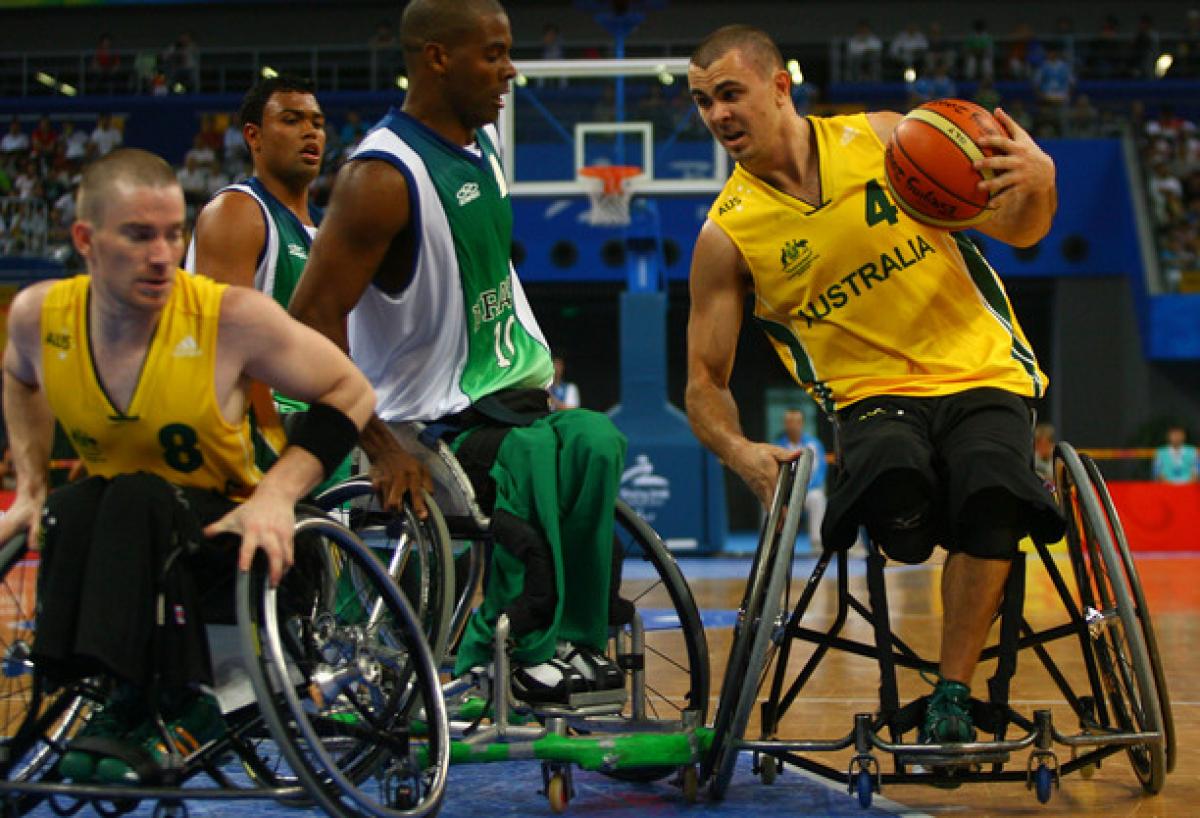 ⒸGetty Images
"I'm very happy. We're building nicely towards London, there is a great synergy amongst our whole group and now it is all about taking care of business in London."
The Australian men's and women's wheelchair basketball teams now have their sights firmly on winning gold at the London 2012 Paralympic Games after both teams emerged victorious at the 2012 World Challenge in Sydney on Saturday (21 July).
The women slipped past tournament favourites Germany, 48-46, in the final at Sydney Olympic Park's State Sports Centre, before the men defeated Great Britain, 70-64, to win the title.
After the women took a 31-27 into the final quarter, the gold medal hung in the balance until inside the final minute when German star Marina Mohnen committed a technical foul, her fifth personal foul of the game.
The untimely misdemeanour saw Mohnen foul out and sent Amber Merritt to the free-throw line. The Australian made no mistake.
Clinching to a 2-point buffer in the frantic final seconds, the women then held their nerve to not only secure an outstanding victory, but also a timely confidence boost 39 days out from the London Paralympic Opening Ceremony.
"Germany was very hungry, so for us, it was all about keeping composure. We all knew our jobs and I was just so happy that every player on our team did their job today," Australian captain Bridie Kean told the Australian Paralympic Committee.
"I feel like the luckiest person in the world right now. I have to pinch myself on a daily basis. We have such an amazing group of girls playing on this team and we are setting off in three weeks to London to play for gold at the Paralympics. It's hard to describe the excitement I'm feeling."
Merritt (14 points) and Cobi Crispin (13 points) led the scoring for the women in the final.
After watching their compatriots claim gold, it was then left to the men to seal a perfect day for the home nation against upcoming Paralympic Games hosts, Great Britain.
And whileAustralia led at every change, Great Britain simply refused to give up during what was a torrid contest that saw the lead change 16 times.
Australian captain Brad Ness, on the verge of his fourth Paralympics, said it was an ideal way to build toward defending the gold medal his team won at the Beijing Games in 2008.
"I'm very happy. We're building nicely towards London, there is a great synergy amongst our whole group and now it is all about taking care of business in London," Ness told the Australian Paralympic Committee.
"It's been a great hit-out for us here. Great Britain will be disappointed with that result, but with the home town behind them at the Paralympics and the atmosphere surrounding a home games, they will be a different outfit in a couple of weeks. They will pump up.
"Our few of their big guys weren't at their best here, but you can be sure they will be ready to go in London which is when it matters most."
Australia's connection of Ness (16 points), Justin Eveson (18 points), Shaun Norris (16 points) and Michael Hartnett were outstanding for the team in the final, but Australian coach Ben Ettridge was quick to acknowledge the contribution from all 12 players on his roster.
"I couldn't be happier with our entire group at this stage of our Games preparation," Ettridge said.
"Everyone is doing their job. There is no ego or selfishness and we are all together chasing one goal."