Catching up With Australia's Grant Mizens
Paralympic.org had the chance to speak with Grant Mizens, who will try to help Australia's men's Wheelchair Basketball team win another Paralympic gold at London 2012.
17 Jun 2012
Imagen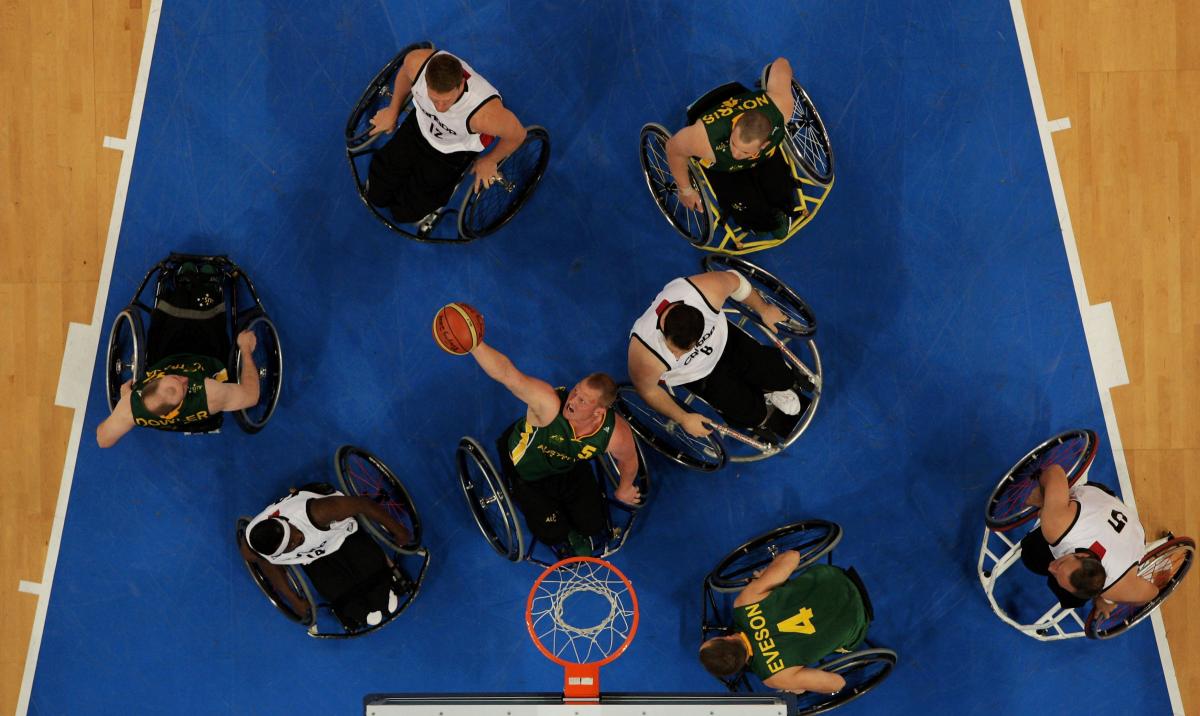 ⒸGetty Images
By IPC
"We're trying to increase whatever gap there may be beteween us and the competition. We're not going there to defend a gold medal, but we're going there to win another one."
Australia's men's Wheelchair Basketball teams heads to London 2012 ranked No. 1 in the world as both the defending Paralympic and world champions.
Grant Mizens, a member of the Australian silver-medal squad at Athens 2004 and gold-medal team at Beijing 2008, will help anchor the team with his veteran leadership this summer.
Paralympic.org had the chance to catch up with Mizens last week to chat with him about his preparation and opponents for this year's Paralympic Games, as well as how goofy the Australians can be.
Paralympic.org: How are your preparations coming along for London 2012?
Grant Mizens: "It's definitely been the best preparation we've had leading up to a major tournament, whether that be a World Championships or a Parlaympic Games that I've been involved in. This is my third Paralympics, so I can really only speak for Athens or Beijing, but the preparation in just terms of organization, resources, our skills and conditioning has been very well-planned from far out."
What does your schedule look like from now until the Paralympic Games?
"We'll be hosting a tournament here in Sydney in mid to late July. There will be Great Britain, Japan and the US coming, which is fantastic. It'll allow us to go up against true medal contenders in my opinion. All three of those teams are capable of medalling, if not winning gold. So that will be a very good test for us to see early how preparations are going, and it will also give us a sneak peak into how their preparations are going. We are very much looking forward to that because we do a whole bunch of training, but it's nice that we can actually play and compete."
What do you make of other teams calling Australia the best and the team to beat?
"Rather than being called the best, we just want to win the tournaments we compete in. Being the current world champions and the current Paralympic gold medallists, I don't think that means a great deal to us at the moment. I think the players here and in the future will reflect on how we played and how wonderful our acheivements were, but at the moment, there's just such a clear focus on in London … We're trying to increase whatever gap there may be beteween us and the competition. We're not going there to defend a gold medal, but we're going there to win another one."
So how does Australia's team now compare to that from Beijing 2008?
"I'd describe it as healthy turnover. We've had maybe three or four new faces, which I think over a four-year period is quite healthy. Out of 12 players, if you can turn over about a third of the team every four years, it generally keeps the team young and fresh."
Who do you expects your toughest opponents to be in London?
"I expect Canada to be very good. I expect the US to be very good. I expect Great Britain with the hometown advantage to be very good. And there's also a lot of other teams that have a bit of an unknown quality about them, that on their day can topple anyone. Some of the European teams such as Turkey and Poland. There's very few teams that you can have confidence with. Any team on their day can knock us over. We know that being in the position we are, that when teams play us, they sort of see it as one of their peak games. So every time we play a team, it's their big game. We're always going in against a team that's got a little bit of extra adrenaline. We're the ones they want to knock off. It's a little different than if you can sneak through as a underdog, and we haven't had that luxury for years."
We hear a lot about how funny Australian athletes can be. Do you have any good stories you would like to share about the team?
I don't even know where to begin. We get up to all sorts of mischief. We certainly don't take ourselves too seriously, that's for sure. Boy, you put me on the spot there. Where do I begin? Well, one thing I like about the Australian team is that wherever we are there seems to be a football of some sort. I don't ever know who brings it, but there always seems to be one. It starts getting kicked around, and I think some people find that a little strange since we're a basketball team. They ask us, "Where did that come from? What are those guys doing kicking a football around?"
Related Images