Australians to spearhead SKUD18 at World Championships
Defending Paralympic champions Dan Fitzgibbon and Liesel Tesch are the favourites on home waters.
25 Nov 2015
Imagen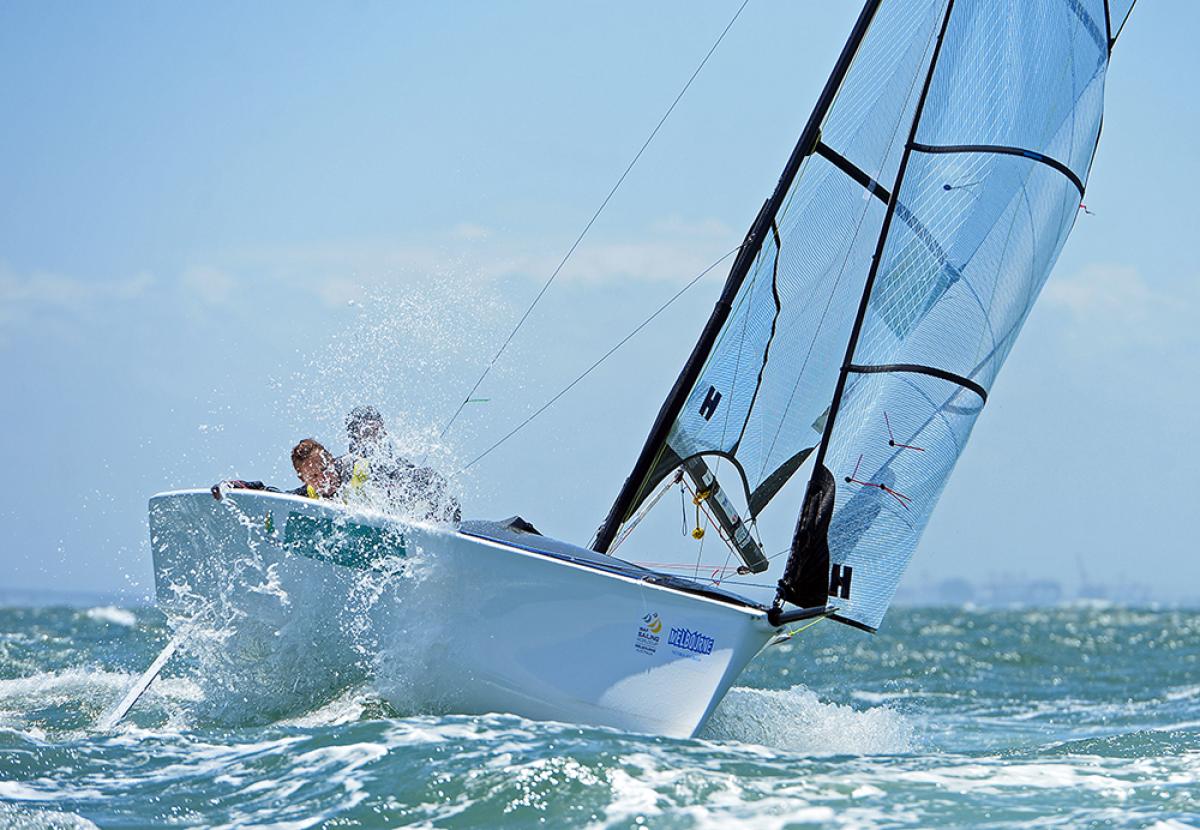 ⒸISAF
By International Sailing Federation
Australia's London 2012 Paralympic Games gold medallists Dan Fitzgibbon and Liesel Tesch will spearhead the 18-boat SKUD18 fleet at the 2015 Para World Sailing Championships, with the class competing Saturday (28 November) in Melbourne, Australia.
The Australians come into the event unbeaten. After a short break following London 2012, the pair were back in the SKUD18 at the 2014 World Championships in Nova Scotia, Canada, where they took their first world title together. Since then, they have been a mainstay at the top of the podium in the last 12 months, winning gold at Sailing World Cup Melbourne and Miami, USA, as well as the Delta Lloyd Regatta in Medemblik, the Netherlands.
"Melbourne is one of our favourite waterways in the world and the event will be another great positive step in our Paralympic preparation," Tesch said. "And no pressure on us as the defending world champions…. Well, the big target will be on our back after our Paralympic gold medal first, then 2014 World Champion and our season so far, so watch this space."
"It would be nice to get some Melburnians to come out on the accessible boats, to come and have a look and hopefully also to get some Paralympians from other sports out, to come and see one of the best sports."
Of the 18-teams in Williamstown, just four remain together following the London 2012 Paralympic Games and that experience could prove vital in Williamstown.
Great Britain's Alexandra Rickham and Niki Birrell are the most decorated SKUD18 sailors in the fleet and hold five world titles (2009, 2010, 2011, 2012 and 2013) as well as London 2012 bronze. In recent times, they have played second fiddle to the Australians.
Italy's Marco Gualandris and Marta Zanetti remain together following London 2012 and will be pushing for the podium. Singapore's Jovin Tan and Desiree Lim also retain their partnership and whilst they are capable of a podium finish, Paralympic qualification will be their main focus after they opted out of sailing at the first qualifier.
At the 2014 World Championships Australia, Canada, Great Britain, Italy and the USA qualified for the Rio 2016 Paralympic sailing competition. As host nation, Brazil are guaranteed a spot, meaning that five remaining places are up for grabs at the 2015 Para World Sailing Championships.
Seven nations head to Melbourne with expectations of taking one of those five places which will make for an interesting week across the 11 race series.
Paralympic experience from Israel's Zahavi Hagar, New Zealand's Tim Dempsey, and Malaysia's Nurul Amilin Balawi could play key as they sail with new crews for the 2015 Worlds but teams from Spain, Netherlands, Poland and the experienced Singaporeans will ensure a stern test.
The Para World Sailing Championships will see 142 sailors from 31 nations compete across three events from 27 November to 3 December.
For more information on the 2015 Para World Sailing Championships, visit the event website.