Badenhorst hopes to ride success into PyeongChang
The Australian snowboard is taking motivation from a successful season that saw her win her first World Cup globe.
17 May 2017
Imagen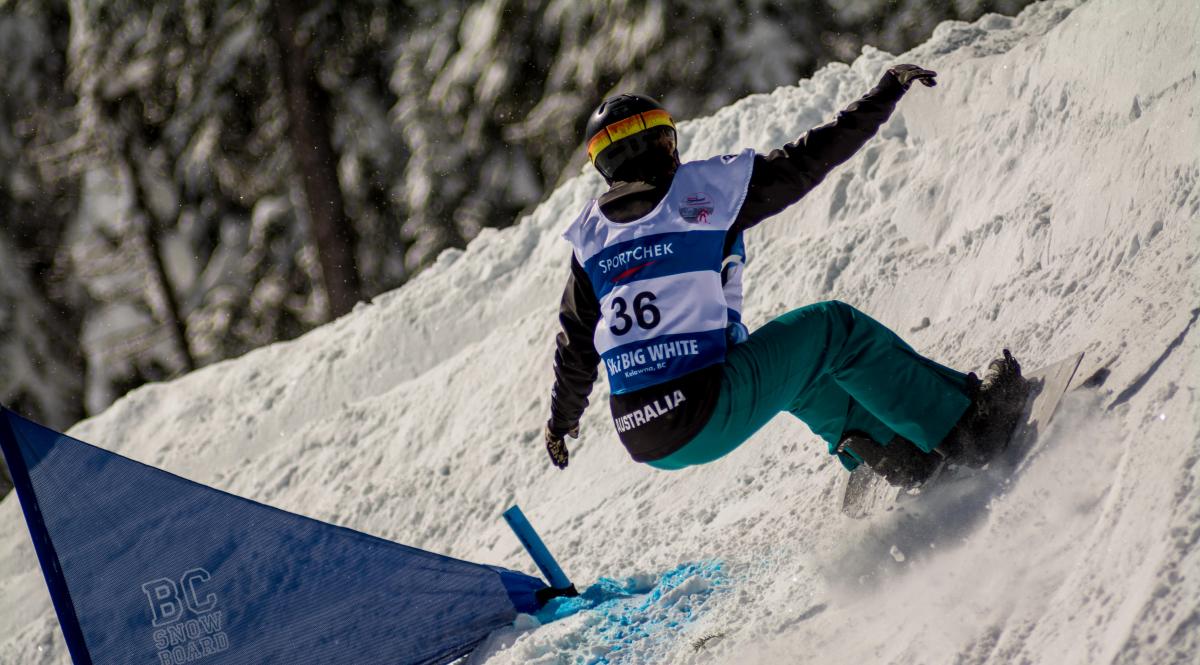 ⒸJim Hall Media
By Giuseppe Di Florio | For the IPC
"If I walk away from the event knowing I couldn't have done more I would be incredibly satisfied..."
Australia's Joany Badenhorst felt all the work she put behind the scenes finally bared fruit in the 2016-17 season, which is motivation for PyeongChang 2018.
"I am incredibly happy with all the work and effort I put in over the last three seasons and it's showed this year," she said. "But I know there is a lot of room for improvement, so I am really excited to see what the next 12 months bring."
The past season saw Badenhorst reach the podium in both banked slalom and snowboard-cross and with her first World Cup win in Lake Tahoe, USA.
With the performance at the PyeongChang Test Event being one of the highlights of the season, hearing the Australian anthem play after she won the overall World Cup globe in the women's snowboard-cross SB-LL2 quickly became the favourite moment in her career to date.
"It's an incredibly proud moment that I will always cherish," Badenhorst said. "I think the Test Event host was an incredible insight to what we can expect come 2018, there is still a lot to be done but I am incredibly excited to compete on the slopes next year. My aspirations for PyeongChang are to do my very best. If I walk away from the event knowing I couldn't have done more I would be incredibly satisfied however, I think winning a medal would be just unbelievable."
The Netherlands' Paralympic champion Bibian Mentel-Spee has dominated the class, winning both events at the 2017 World Championships in Big White, Canada. Mentel-Spee's compatriot Lisa Bunschoten finished runner-up in Big White, while Badenhorst took world bronze in both snowboard-cross and banked slalom events.
After this season, she has seen how the competition has tightened.
"The girls have improved so much over that last season that they all challenge me at every level," Badenhorst said. "I think I would be silly to only focus on one rival since they all have what it takes to be the very best. I am definitely keeping my eyes on every single one of them! We all work so incredibly hard, compete in a sport that takes us away from our loved ones and require countless sacrifices in our lives - so we understand each other and can relate to each other on a personal level which makes the competitive spirit between us brilliant."
She has been working with her coach Lukas Prem, who has put together a training plan for the next season which includes training on and off snow, working on her weaknesses and strengthening the things she knows she is good at.
"It's always tricky for me to find that balance between training and time off but I think we nailed it for the next Australian winter season," she said. "Our international training season is always subject to change depending on the World Cup circuit and the weather so we try and stay as flexible as possible. For now we are hoping to get enough time on snow in preparation for the race season either in North America or Europe. We will spend some time at home in Australia over Christmas for some additional strength training and then straight back into our usual international routine."
PyeongChang 2018 will take place from 9-18 March 2018 and will feature 80 medal events in six sports.