Beijing 2017: 5 things we learned
Nemati and Zhou remained at the top, while new faces entered the spotlight
29 Sep 2017
Imagen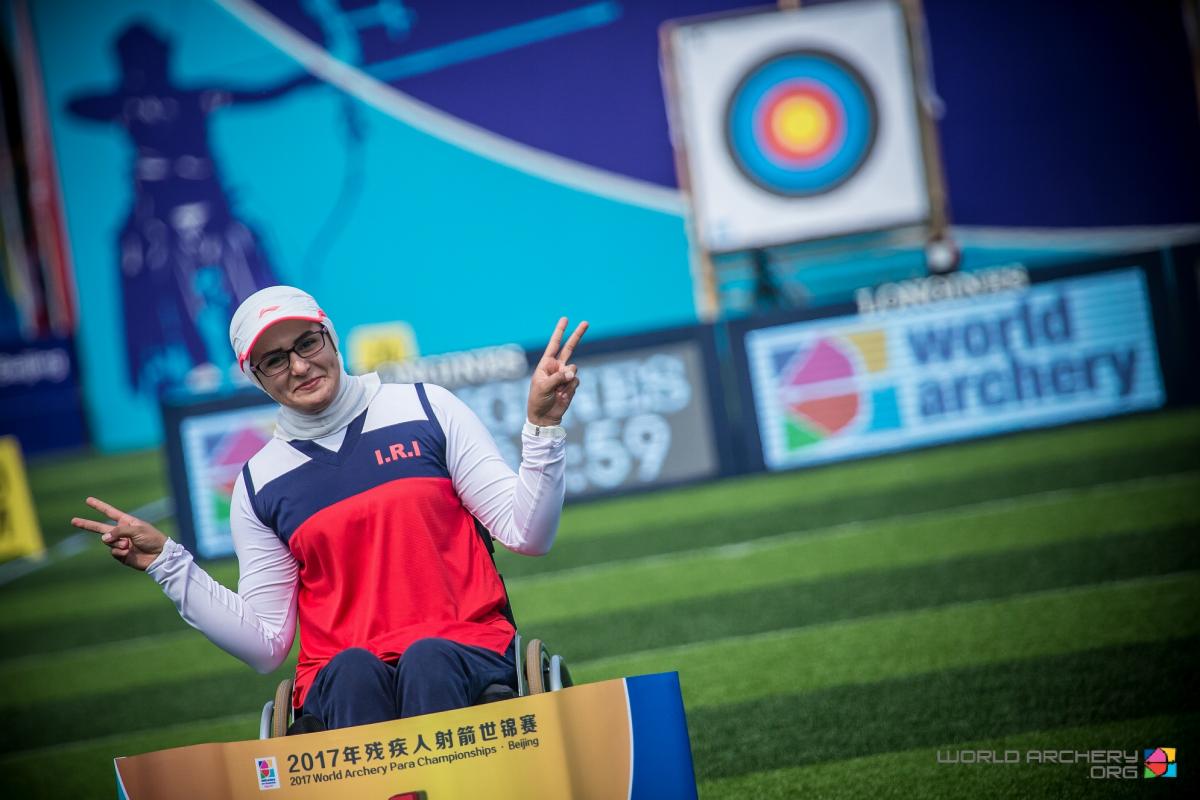 ⒸWorld Archery
By Emily Bayci | For the IPC
The World Archery Para Championships in Beijing, China, were the first major competition that brought together the top archers since the Rio 2016 Paralympic Games. Here are five takeaways from those Championships, which concluded on 17 September:
1. Diverse talent
The medals were spread across the field, with seven countries claiming gold. Great Britain maintained their reign of success in the W1 and Iran had leaders throughout the fields, but no one country proved dominant. The mix of medals and talents is what makes going to competitions fun and unpredictable, Great Britain's John Cavanagh said. "The competition is always different. I'm excited to see who will be out there next time."
2. Nemati and Zhou stay on top
While there was a spread of medals, two archers continue to dominate their class.
Iranian recurve archer Zahra Nemati and Chinese compound women's open archer Zhou Jiamin proved they are still the best in the world as the current Paralympic and World Championships gold medalists. "It proves that with hope and determination I can get whatever I wish," Nemati said.
Zhou commented about her victory: "I want to use my success to do more."
3. New faces
Several up-and-coming archers made names for themselves at Beijing 2017. China's Ai Xinlang won gold in the compound men's open when he defeated the USA's Paralympic champion Andre Shelby by one point. Ai took fourth at Rio 2016 and was part of China's gold-medal winnings team in the compound mixed team.
"It's simple, he outshot me," said Shelby. "He's a great competitor. I didn't shoot against him in Rio, thank God."
Victoria Rumary won bronze in the W1 during her first major international competition, making her one of the many British archers to keep tabs on.
4. Para archery developing
Despite not taking away a medal, Team Australia is one nation that looks to build on toward Tokyo 2020. Australia sent four athletes to Beijing and had a coach at Worlds for the first time. "There has definitely been a gap in Para archery in Australia and I am here to help fill that gap," said Australian coach Ricci Cheah.
5. Para archers becoming more accurate
Several world records were broken throughout qualification and final competition. The Iranian compound women broke the team record in qualifications with a score of 228, then Russia* broke their own record in the bronze medal match with a score of 229, only for Iran to match the record in the gold medal match minutes later. There is a rule that world records set and matched on the same day are counted as joint world records, so Iran and Russia share the honour.
Italian pair Eleanora Sarti and Alberto Simonelli broke the match-play world record during compound open mixed team eliminations with a score of 158 out of a possible 160 points, one more than the previous mark. Sarti and Simonelli lost to Great Britain in the bronze medal match.
Rio 2016 Paralympic champion Jessica Stretton scored 657 out of a possible 720 points over the 50-metre ranking round to break her own W1 women's world record by a point during the W1 qualification round.
"It's all about the minor gains now, finding the ways to keep calm and make sure your arms don't twitch just for that one arrow, getting the groups closer together," she said.
*Editor's note: The International Paralympic Committee suspended the Russian Paralympic Committee on 7 August 2016 for its inability to fulfil its IPC membership responsibilities and obligations, in particular its obligation to comply with the IPC Anti-Doping Code and the World Anti-Doping Code (to which it is also a signatory). As a result of the suspension, Russian athletes cannot enter IPC sanctioned events or competitions, including the Paralympic Games. For further information please click here