Beijing 2017: Nemati, Stretton golden
Archery world champions were crowned in Beijing, China
18 Sep 2017
Imagen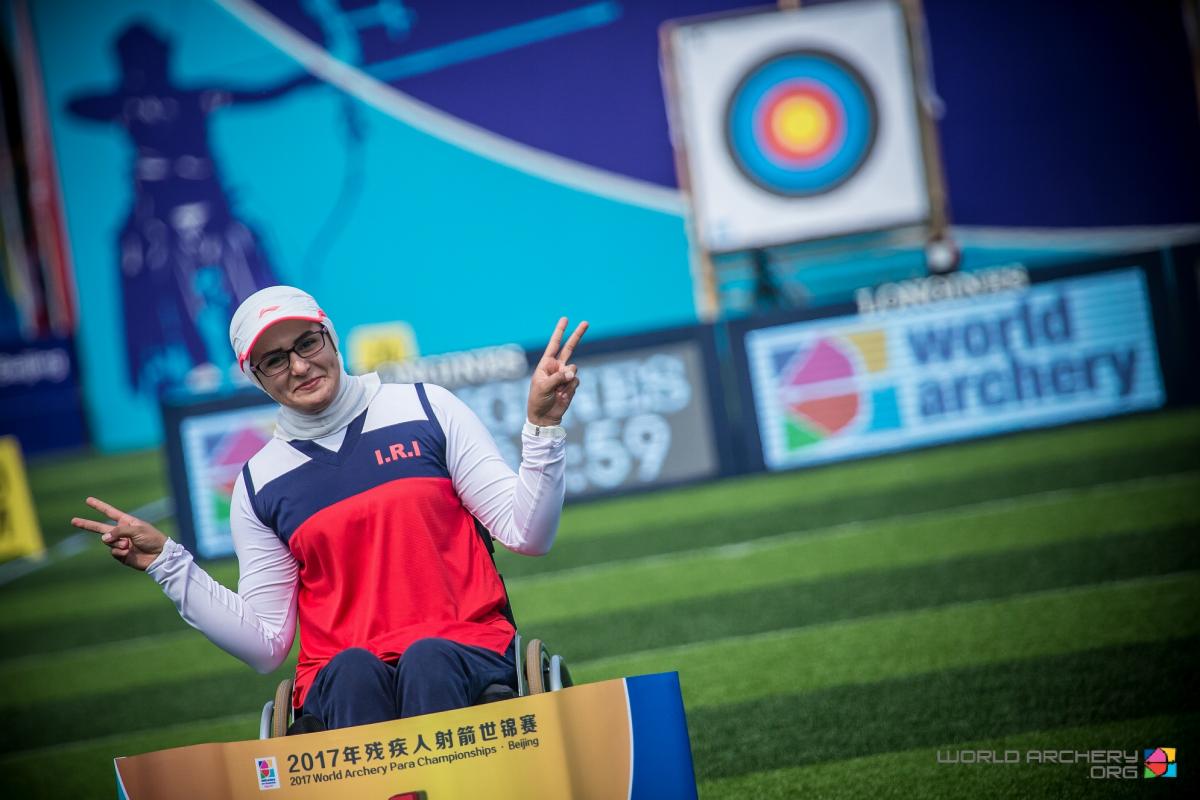 ⒸWorld Archery
By World Archery and IPC
"It feels good to be back on top"
Paralympic champion Zahra Nemati reclaimed the world title she last won in 2013. Jessica Stretton led a British sweep in the women's W1 event. And Turkey's Omer Asik was on target to help Turkey claim the men's W1 team event, as the 2017 World Archery Para Championships wrapped up on Sunday (17 September) in Beijing, China.
The Championships saw more than 200 athletes from nearly 40 nations compete across 14 medal events, including six individual events.
Recurve open
Iranian recurve archer Nemati united the Paralympic and world titles with her victory, beating Turkey's Merve Nur Eroglu 6-2 in an intense final.
Eroglu lost the match with a miss after running out of time in the third end, fighting back tears throughout the medal ceremony. It would not have mattered if she had hit with that arrow, though, as Zahra finished with a perfect 10-10-10 for an emphatic victory. China's defending champion Wu Chunyan took the bronze medal.
"This means that everything will be the way that I want," Nemati said. "It proves that with hope and determination I can get whatever I wish."
Nemati last won the title at the 2013 World Championships in Bangkok, Thailand, but did not compete at Donaueschingen 2015 in Germany.
"This means that everything will be the way that I want. It proves that with hope and determination I can get whatever I wish," said Nemati.
The men's recurve open final saw China's Zhao Lixue and Thailand's Hanreuchai Netsiri go to an incredible single arrow shoot-off. It was Zhao who came away with gold.
Both finalists put down 10s in the tiebreaker, in what was a rematch of the 2015 Para Asian Championship finals. Netsiri's 10 was good, but Zhao's 10 was just that little bit closer.
"It was crazy," Zhao said. "I've been training very hard and am so happy to win gold. It is incredible."
Russia's Anton Ziapaev* took the bronze medal.
In the recurve mixed team competition, Italy took the gold, followed by Brazil and then Iran. China took the women's team title, followed by Russia* and then Italy. Russia* topped the men's recurve open, and the USA came in second with Poland rounding off the podium.
W1
Great Britain took all three spots on the women's W1 podium, as it did at Rio 2016.
"This is just one of the best feelings," seventeen-year-old Jessica Stretton said. "It's phenomenal. We're doing so well because of all the hard work and dedication we put into training. "
The 2016 Paralympic gold medallist first won the pairs final with John Cavanagh, before facing teammate Jo Frith for the individual title – in a rematch of the gold medal match in Rio. The clash went the same way, with Stretton taking gold, 141-133. Victoria Rumary claimed bronze in her international debut.
The USA's Jeff Fabry won gold in the men's W1 competition with an arrow upgraded in the final end of his 15-arrow gold medal match with Turkey's Omer Asik.
"I won my first gold medal at the worlds 14 years ago," Fabry said. "To be back here again after all this time has passed, it's amazing."
The gold certainly was a long-time coming. Fabry finished ninth at the Rio 2016 Paralympic Games and fourth at Donaueschingen 2015. Russia's Konstantin Donskoi* claimed bronze.
"I've had a lot of injuries and been struggling for a while," Fabry said. "It feels good to be back on top."
Turkey took gold in the men's W1 team event, with some incredible shooting from Omer Asik – in the final to take the title by three points over Russia*, 205-202.
"I am so excited. I don't know what to do. Our team trusted each other, and we won. This was my first time wearing the national team shirt and I feel so proud," said an ecstatic Yigit Caner Aydin afterwards.
The Turkish team, who smashed the ranking round world record in qualifying earlier in the week, were tied with Russia going into the fourth end – but dropped nothing out of the gold rings in the last to wrap up the match in style.
Italy beat South Korea by four points for the bronze medal.
Great Britain topped the mixed team W1 competition, with Russia and Japan rounding off the podium respectively.
Compound open
The host nation closed Beijing 2017 with wins in both the individual compound finals.
Paralympic champions Zhou Jiamin and Ai Xinliang claimed gold medals back-to-back in the compound women's and men's open finals respectively.
"This is very good for our country, it shows how happy and talented we are," said Zhou. "I am so happy and proud to be a part of this. The support helped so much, I feel the love from my family, friends, even people that I don't know."
Zhou won individual gold at the Rio 2016 Paralympics and, together with Ai, the pair were also victorious in the mixed team event.
The new men's world title holder finished fourth individually at Rio 2016, losing the bronze medal match to Australia's Jonathon Milne.
This time around, Ai beat the USA's 2016 Paralympic champion Andre Shelb, by one point with his final arrow. He delivered a 10 when he needed it to take victory, 142-141.
"It's simple, he outshot me," said Shelby. "He's a great competitor. I didn't shoot against him in Rio, thank god."
Team USA's Ben Thompson won bronze.
Zhou defeated Russia's Tatiana Andrievskaia* in the compound women's open gold medal match, while her Chinese teammate Lin Yueshan took bronze.
Russia* took gold in the mixed team event, Iran with silver and Great Britain with the bronze. Italy took the men's compound team title, while Iran and the USA were second and third, respectively. Iran did come out on top in the women's compound team open, followed by China and then Russia.
Complete results from the 2017 World Archery Para Championships can be found on World Archery's website.
*Editor's note: The International Paralympic Committee suspended the Russian Paralympic Committee on 7 August for its inability to fulfil its IPC membership responsibilities and obligations, in particular its obligation to comply with the IPC Anti-Doping Code and the World Anti-Doping Code (to which it is also a signatory). As a result of the suspension, Russian athletes cannot enter IPC sanctioned events or competitions, including the Paralympic Games. For further information please click here.