Big White 2017: Dutch, US snowboarders golden
Bibian Mentel-Spee retains snowboard-cross title, while Mike Minor wins first World Championship gold medal.
04 Feb 2017
Imagen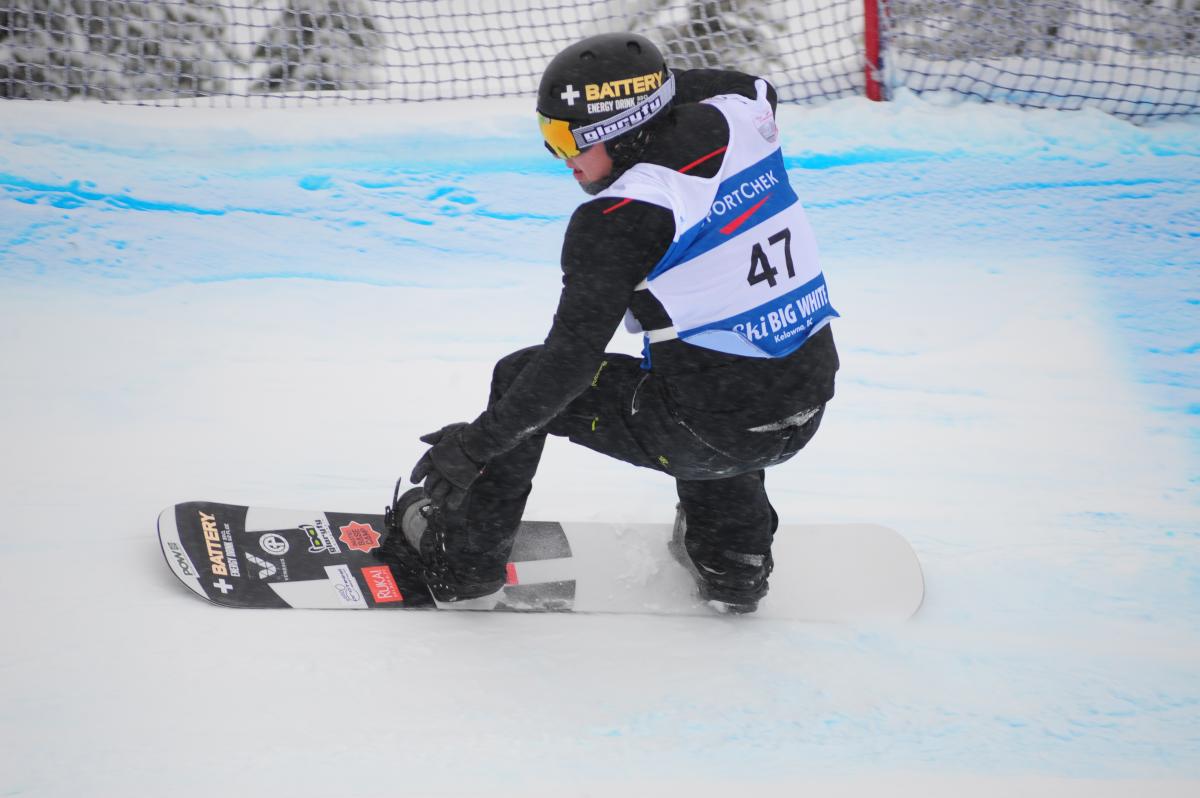 ⒸGavin Crawford
"I'm so confused now. I need a couple of minutes to realise what happened."
The USA's Brenna Huckaby emerged through the foggy finish area, pumping her fists in triumph as she claimed the first gold medal offered at the 2017 World Para Snowboard Championships on Saturday (4 February) in Big White, Canada.
The 21-year-old defended her snowboard-cross SB-LL1 world title, being just one of six US athletes to litter the podium on the first day of competition.
France's reigning silver medallist Cecile Hernandez-Cervellon at first looked like she could spoil Huckaby's gold medal hopes in the head-to-head big final.
"She had me at the start, she had probably a full board-length lead," Huckaby said. "On the way down I was just on her tail. But my coach told me to ride my own line, so I rode my own line. And I kept accelerating, and turn seven came around, she went outside I went inside, passed her and held my own until then.
"I decided today right before I went that I was going to do this for my daughter, and to do it for my daughter and with my daughter [in mind], it's amazing. I can't even explain it in words."
The USA's Nicole Roundy defeated Canada's Michelle Salt to claim the bronze.
Mike Minor added another gold medal to the USA's stash, making his Worlds debut one to remember.
The 26-year-old captured the men's SB-UL snowboard-cross title, beating France's Maxime Montaggioni, who emerged as a surprise podium finisher in Big White.
"I didn't get to know this existed until after Spain [the World Championships] had happened in 2015 and was only able to come in the next year in 2016 in the beginning of the season," Minor said. "I have nothing to lose. Making it this far is a dream come true."
Italy's Jacopo Luchini also came through the fog as a new Worlds medallist, defeating Great Britain's James Barnes-Miller in the small final.
The Netherlands also saw two world champions crowned at Big White 2017.
The women's SB-LL2 finals featured an all-Dutch showdown, with Bibian Mentel-Spee successfully defending her gold ahead of reigning bronze medallist Lisa Bunschoten.
Australia's Joany Badenhorst spoiled a Dutch sweep after edging Renske van Beek to the finish line.
"I had a really tough summer with radiation therapy and the cancer coming back so I'm really really stoked that I was here in the finals and winning it in the end," Mentel-Spee said.
Mentel-Spee went over to congratulate her compatriot Chris Vos, who just won his big final over Austria's Reinhold Schett. The gold medal was an early birthday gift for Vos, who turns 19 in two weeks. Mark Mann claimed his first Worlds medal, beating compatriot Mike Schultz for the bronze.
"I just really enjoy what I do," Vos said. "In my head I am not 19 or 18. I was 12 when I first started racing and I traveled Europe and the world."
Finland's Matti Suur-Hamari made it back-to-back World titles in the men's snowboard-cross SB-LL2, fending off the USA's Paralympic champion Evan Strong.
"I'm so confused now. I need a couple of minutes to realise what happened," Suur-Hamari said.
"I had a [good] feeling because I've been training really good, and my coach has done really good work, so I was confident coming in. When I got onto the course for the first time, I already felt that this is going well and that I'm really confident on this course."
The USA's Paralympic silver medallist Mike Shea defeated Canada's Alex Massie for third place.
Around 70 athletes from 15 countries are in Big White for the 2017 World Para Snowboard Championships, which runs until 8 February. It is a chance for athletes to secure qualification spots for their countries at the PyeongChang 2018 Paralympic Winter Games.
Complete snowboard-cross results from Big White 2017 can be found at www.bigwhite2017.com
Banked slalom finals will be contested on Tuesday (7 February).
Live results will also be available at Bigwhite2017.com
Rights free pictures for editorial use are available for download at Flickr/paralympic.
The competition can also be followed on Facebook.com/ParaSnowboard, Twitter and Instagram (@ParaSnowboard).