Low profile, high aims for snowboarder Schultz
The USA's Mike Schultz has not competed much this season but he is relying on training to help him at Big White 2017.
29 Jan 2017
Imagen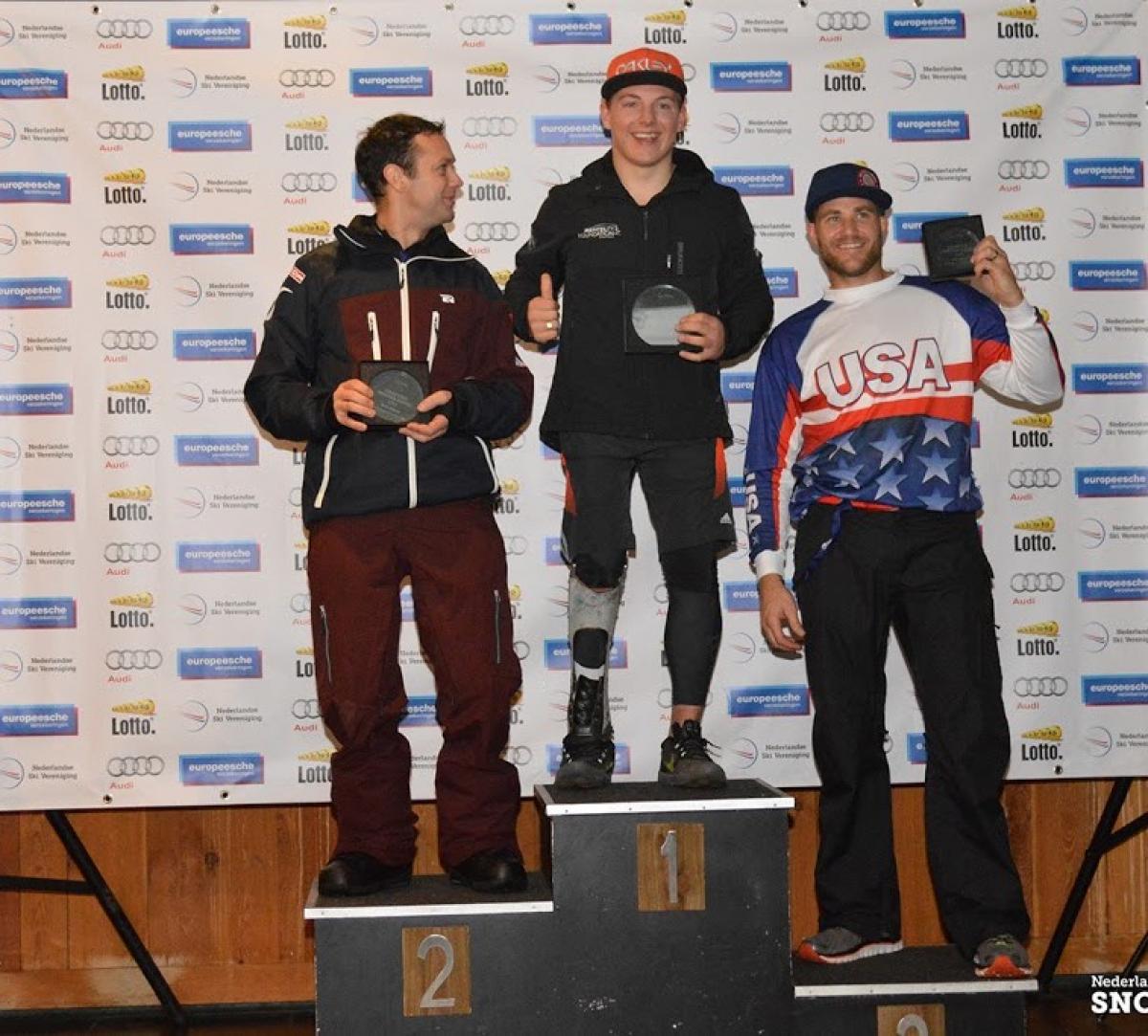 ⒸNederlandse Ski Vereniging
By Giuseppe Di Florio | For the IPC
The USA's Mike Schultz has kept a low profile on the international scene this season as he recovers from surgeries. But the US snowboarder is still aiming high for the 2017 World Championships, which will kick off in less than a week in Big White, Canada.
Schultz is relying on the countless hours he has put into training to prepare for Big White 2017 (1-8 February). He is also taking confidence from his past successes, which include five podium World Cup finishes last season in the men's SB-LL1.
"This year, I won't make it to all the World Cup events but have had a chance to do a lot of training on course," he said. "I feel more prepared than ever so my goal is to be competing for the top spot on the podium again. The last two seasons have been challenging as I recovered from multiple surgeries to try and repair a damaged heel and ankle."
"Monster Mike," as he is known for his aggressive riding style, has been training in his hometown Powder Ridge, Minnesota, USA. Training near his home has helped him get the necessary training he needs for when he prepares to return to the international stage.
"[At Powder Ridge Ski Area] they have been a huge supporter of mine and have built a small boarder-cross course for me to train on. This allows me to still manage all the other aspects of my programme [business and snowmobile racing] and get some much needed specific course training close to home," Schultz said.
Schultz is also working on his boarder-cross skills and his prosthetic equipment. He aims to improve to get faster, stronger and quicker with hopes of medalling at Big White 2017.
"I have been able to do more training and feel better than ever as we head into this event so my hope is to challenge for the number one spot," he said.
Without a doubt, Schultz is aware he has tough competition in the SB-LL1 side.
"I know Chris Vos [the Netherlands' overall World Cup leader] has been getting better every season and working very hard, so he'll be a main challenger as well as [Austria's] Reinhold Schett [second overall World Cup last season]," Schultz said. "We also have a new addition to our class, [the USA's] Mark Mann. He's a bilateral BK [below-knee amputee] from just down the road from me in Minnesota. We've been training together a lot and I know he'll mix it up with us as well."
After a moto-cross accident which led to the amputation of his left leg above the knee in 2008, Schultz did not single out one person who served as his inspiration.
"It's always hard to name one person," he said. "I'm inspired by people that can focus on a goal and get it done no matter what the obstacles are in front of them, whether it be physical or mental.
Schultz added: "I have had some amazing moments in my professional career but for boarder-cross, the best moment was probably last year at the US World Cup in Snowmass [Colorado] when I won the boarder-cross on the second day. That was the first weekend I raced head-to-head with Chris [Vos], he won on day one and I won on day two."
The 2017 World Para Snowboard Championships will feature around 80 athletes from 25 countries and will kick off in Big White, Canada, on 1 February.