Bochet wins ninth successive world title
Bochet, Bugaev and Perrine maintain 100 per cent record at Panorama 2015
08 Mar 2015
Imagen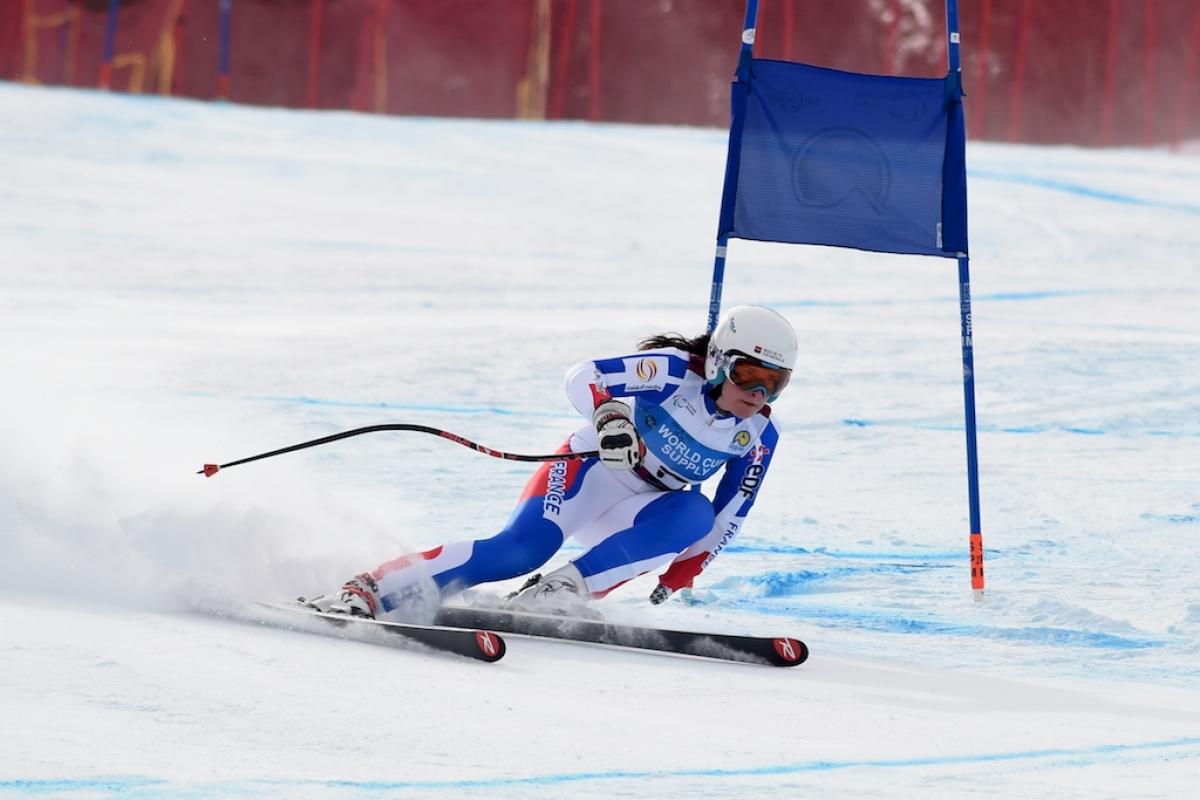 ⒸAlpine Peak Photography
France's Marie Bochet claimed her third gold in as many races at the 2015 IPC Alpine Skiing World Championships in Panorama, Canada, on Saturday (7 March), with victory in the super combined, to keep on track her attempts to successfully defend the five world titles she won in 2013.
Bochet, 21, was three seconds faster than the rest of the field in the morning's super-G and cemented her position at the top of the podium with the afternoon's quickest slalom run. Her overall time of 2:03.17 placed her ahead of Germany's Andrea Rothfuss (2:09.58) who collected her third silver of the week. The Netherlands' Anna Jochemsen (2:12.52) put in a superb slalom run to overtake Russia's Mariia Papulova in the rankings for bronze.
"I just take so much pleasure one more time," said Bochet who has now won nine world titles in a row. "I just do my skiing and at the end we will see if I can defend them all."
On the first anniversary of the Sochi 2014 Paralympic Winter Games, it was fitting that Russia's Paralympic champion in the event Alexey Bugaev (1:54.56) celebrated by taking gold in the men's standing. The 17-year-old won his third world title of the week with a hugely impressive slalom which moved him up from bronze to gold.
"This was a very good race for me," Bugaev said.
Austria's Markus Salcher (1:56.04) had led after the morning's super-G, but could not respond to Bugaev's slalom time, and had to settle for silver. His teammate Matthias Lanzinger (1:56.96) recovered from nearly crashing out in the slalom to hold on for bronze.
Australia's Melissa Perrine with guide Andrew Bor (2:14.8) also claimed their third world title of Panorama 2015 by beating Russia's Aleksandra Frantceva and guide Semen Pliaskin (2:16.95), the 2013 world and current Paralympic champions into silver.
The USA's Danelle Umstead, guided by her husband Rob (2:19.11), again took bronze, just like they did in this event at Sochi 2014.
The growing rivalry in the women's sitting class between Germany's Anna Schaffelhuber and Austria's Claudia Loesch stepped up another level on Saturday. Loesch put in a virtuoso performance to take the gold and take a psychological advantage into the final two events of the Championships having gone faster than her German rival in both the super-G and slalom components of the race.
"I feel great at the moment," Loesch said. "I didn't expect that much this morning because slalom is not normally my thing, but I had a really good super-G run and also slalom was for my ability really good.
"I have to push so hard to beat her [Schaffelhuber]. With her winning five gold medals in Sochi last year she is definitely the one to beat. That definitely makes me a better skier. I just skied the best I ever did in my life."
It is the second time Loesch (2:04.79) has topped the podium this week ahead of Schaffelhuber (2:06.10) who was unbeatable this time last year at Sochi 2014.
The USA's Laurie Stephens (2:17.78) won bronze for the second World Championships in this event, having done so in 2011.
The men's equivalent was won by Germany's Georg Kreiter (1:56.84) who made up more than a two-second deficit from the morning's super-G to land his first major international title.
"I don't know what to say, I'm so happy," Kreiter said. I never thought that I could get a gold medal in super-combined. After the super-G, the third place was good for me. I pushed as hard as I could in the slalom, it's awesome."
Austria's Roman Rabl (1:57.70), who had led earlier in the day, settled for silver after only posting the seventh fastest slalom time during the afternoon. Bronze went to France's Frederic Francois (1:58.39).
Miroslav Haraus and guide Maros Hudik (1:59.16) won their first ever world title in the men's visually impaired courtesy of a sensational slalom run.
"Today the race was great, the conditions were also great," Haraus said. "The first run of super-G was a little bit harder than Thursday (5 March) but I am really happy I won. I have been working hard and waiting a lot but finally it came."
Ranked third after the super-G, the Slovakian duo put in the second fastest slalom run of the day to top the podium. Russia's Ivan Frantsev and guide German Agranovkii, (2:01.35) leaders after the super-G, picked up silver.
Spain's Jon Santacana and his guide Miguel Galindo (2:03.32), two-time world champions in the event, claimed bronze after a fantastic slalom run moved them up from sixth after the morning's super-G.
Races continue on Sunday (8 March) with the giant slalom, beginning at 10.00am (MST).
Panorama 2015, featuring over 100 athletes from 23 countries, runs until 10 March and will be streamed live at www.Panorama2015.com alongside live results. Viewers in the US can watch via US Paralympics website and in Canada at CBC. ca/Sports.
Official results are available at IPC Alpine Skiing's website.
Images from each day will be available at the IPC's Flickr page. Media wishing to receive high resolution images should contact [email protected].
Broadcast interviews will be available from a selection of winning athletes on each day. For access please contact [email protected].
Live updates and behind the scenes will be available at IPC Alpine Skiing's Facebook page and Twitter account and @Paralympics Instagram.