Britain's Gallagher and Evans win first gold of season
After a difficult season, Great Britain's Kelly Gallagher with guide Charlotte Evans topped the podium in the women's giant slalom visually impaired at the World Cup Finals in Sochi, Russia.
10 Mar 2013
Imagen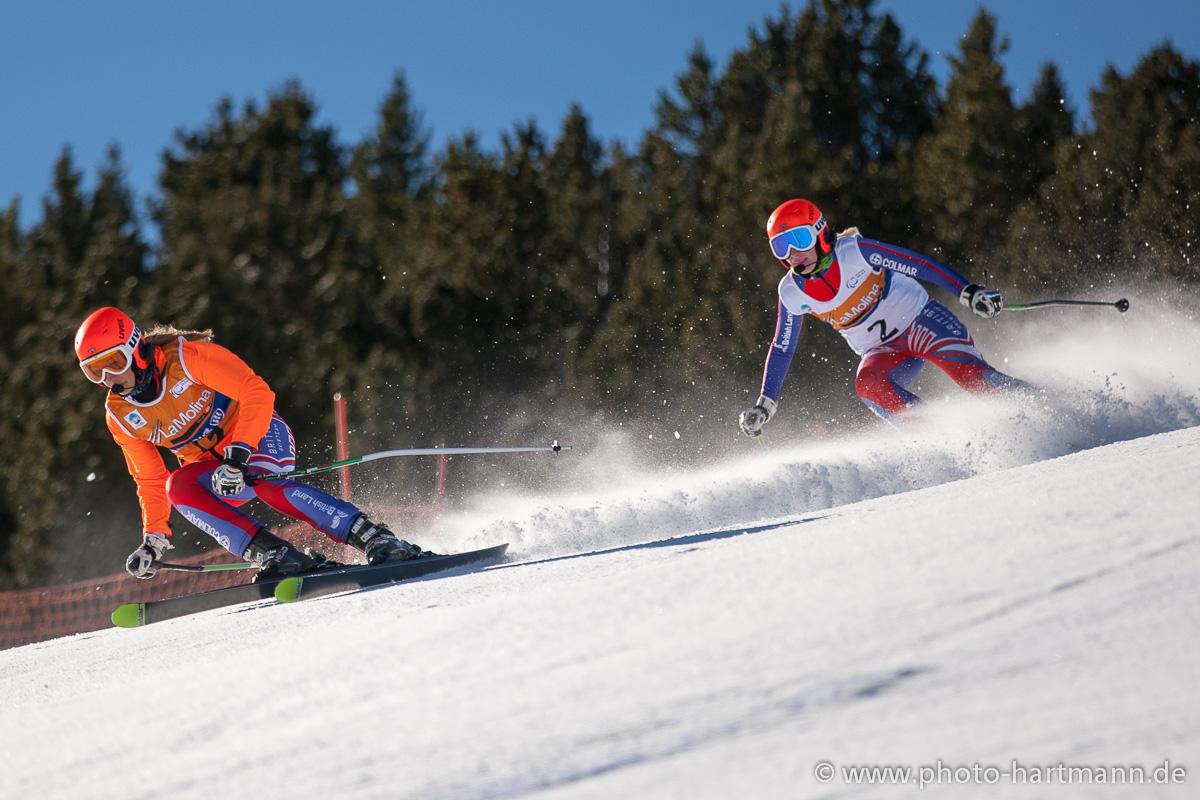 ⒸMarcus Hartmann Photography
By IPC
"It's nice to know that I can actually still do this. I had a really great start to the year and then fell in a heap."
Great Britain's Kelly Gallagher guided by Charlotte Evans won their first gold of the season in the women's slalom visually impaired class on Sunday (10 March) at the 2013 IPC Alpine Skiing World Cup Finals in Sochi, Russia.
Gallagher started the second run in the lead and, even though she was a bit slower than her first run, it was enough to have the fastest overall time of 1:50.67.
"It's been amazing, so good," said Gallagher after the race. "Charlotte's kept me at the top, saying 'Come on, it's just skiing, we can do this.'"
"It all came together – it was really good."
Russia's Alexandra Frantseva, guided by Pavel Zabotin had the fastest second run, but it was not enough to catch up with Gallagher. Frantseva finished half a second behind in 1:51.19. Gallagher's teammate Jade Etherington, guided by John Clark picked up bronze in 2:01.49.
Gallagher's win was not enough to put her in the running for the overall trophies. Frantseva won the slalom trophy with 560 points and giant slalom with 340 points.
Men's slalom standing
It was a first, too, for Australia's Mitch Gourley who had his first podium finish since the start of the season. Gourley skied aggressively on his second run to take silver in the men's standing event in 1:34.57. The 21 year old was in fourth position after his first run, but had the fastest time on the second.
"I'm feeling relieved," said Gourley with a big smile. "It's nice to know that I can actually still do this. I had a really great start to the year and then fell in a heap – I had a string of fourth places and DNFs, so to put two runs together... that's really good for my confidence, especially in slalom, because I can't finish at the moment.
"I finally get to take something out of this. It's been a rough two months."
Sixteen year old Alexey Bugaev of Russia was almost half a second faster, finishing in 1:34.40 to take gold. World Champion Vincent Gauthier-Manuel of France took bronze in 1:37.97.
Austria's Matthias Lanzinger, who had the fastest time after the first run, boot-topped a gate and got thrown into the nets on his second run. The mistake cost him the World Cup trophy for slalom. He finished on 390 points, beaten only by Bugaev with 510. The latter also won the giant slalom trophy.
Women's slalom standing
France's World Champion Marie Bochet won gold in the women's standing event, after Germany's Andrea Rothfuss missed the final gate. Bochet finished in 1:47.40, but was visibly tired – the long competition season catching up with her.
"It wasn't a very good ski for me today," said Bochet after the race. "It was raining this morning, the snow is very flat, so it's not easy conditions."
USA's Allison Jones took silver in 1:48.41 and Slovakia's Petra Smarzova, who had the fastest time on the second run, moved up from sixth place after the first run to take bronze in 1:50.17.
Rothfuss' mistake did not cost her the trophy, however, which she won with 406 points, just ahead of Bochet and Jones who both had 400. Rothfuss also won the giant slalom trophy with 340 points.
Women's slalom sitting
Germany's world champion Anna Schaffelhuber won her third gold of the competition in the women's sitting, with the fastest time on both runs. She finished in 1:54.88, more than three seconds ahead of Austria's Claudia Loesch, who took silver in 1:58.49.
"I'm so happy about this week," said Schaffelhuber. "I love the slope here in Sochi and I'm really looking forward to the Paralympics of course.
"It wasn't easy. It was really wet snow and the slope is really hard and a little bit bumpy, so I think it was difficult, but it's a test event."
Schaffelhuber's teammate Anna-Lena Forster took bronze in 2:00.27.
The win for Schaffelhuber means that she takes the World Cup trophy with a solid 700 points to Loesch's 460. The Austrian had the upper hand, however, in the giant slalom, taking the trophy with 300 points compared to Schaffelhuber's 180.
Men's slalom visually impaired
Canada's Chris Williamson guided by Robin Femy had a stunning second run, after a fourth-place finish in the first run, to take gold in the men's slalom visually impaired. Russia's Valery Redkozubov took silver guided by Viacheslav Molodtsov in 1:39.90.
"It was quite challenging, especially the second run," said Redkozubov, who hopes to ski in front of home crowds at the Paralympics next year.
"I feel internal harmony and feel positive. I think I haven't grasped it yet."
Spain's Jon Santacana Maiztegui guided by Miguel Galindo Garces took bronze.
The men's visually impaired race saw several key players unable to finish. World Champion Ivan Frantsev of Russia and Slovakia's Paralympic gold medallist Jakub Krako, who had the fastest time after the first run, crashed out on their second run. But regardless of this Frantsev still won the slalom trophy on 396 points, with Krako just behind on 375.
Santacana Maiztegui and Galindo Garces picked up the giant slalom trophy.
Men's slalom sitting
The final race of the day, the men's slalom sitting, fell foul the morning's rain, which created some difficult conditions for the last racers of the day.
Japan's Takeshi Suzuki had the fastest time on both runs, finishing in 1:40.74. Germany's Thomas took silver in 1:44.75 and Canada's Josh Dueck picked up bronze in 1:44.75.
Suzuki was the clear winner of the trophy, with 640 points. Switzerland's Christoph Kunz who crashed out of Sunday's race, won the giant slalom trophy.
The competition continues on Monday (11 March) with super combined, after which trophies will be awarded for the speed events, for which Frantseva, Rothfuss and Bochet jointly, Schaffelhuber, Gauthier-Manuel and USA's sit skier Tyler Walker lead their respective categories.
Russia still lead the nations rankings with 4,885 points. Austria is second with 3,725 and France third on 3,454.
For a full list of rankings points, please visit the IPC Alpine Skiing World Cup rankings page. http://www.paralympic.org/AlpineSkiing/Rankings