World Cup Finals begin in challenging conditions
The 2013 IPC Alpine Skiing World Cup Finals serve as a test event for the Paralympic Winter Games in Sochi in 2014.
08 Mar 2013
Imagen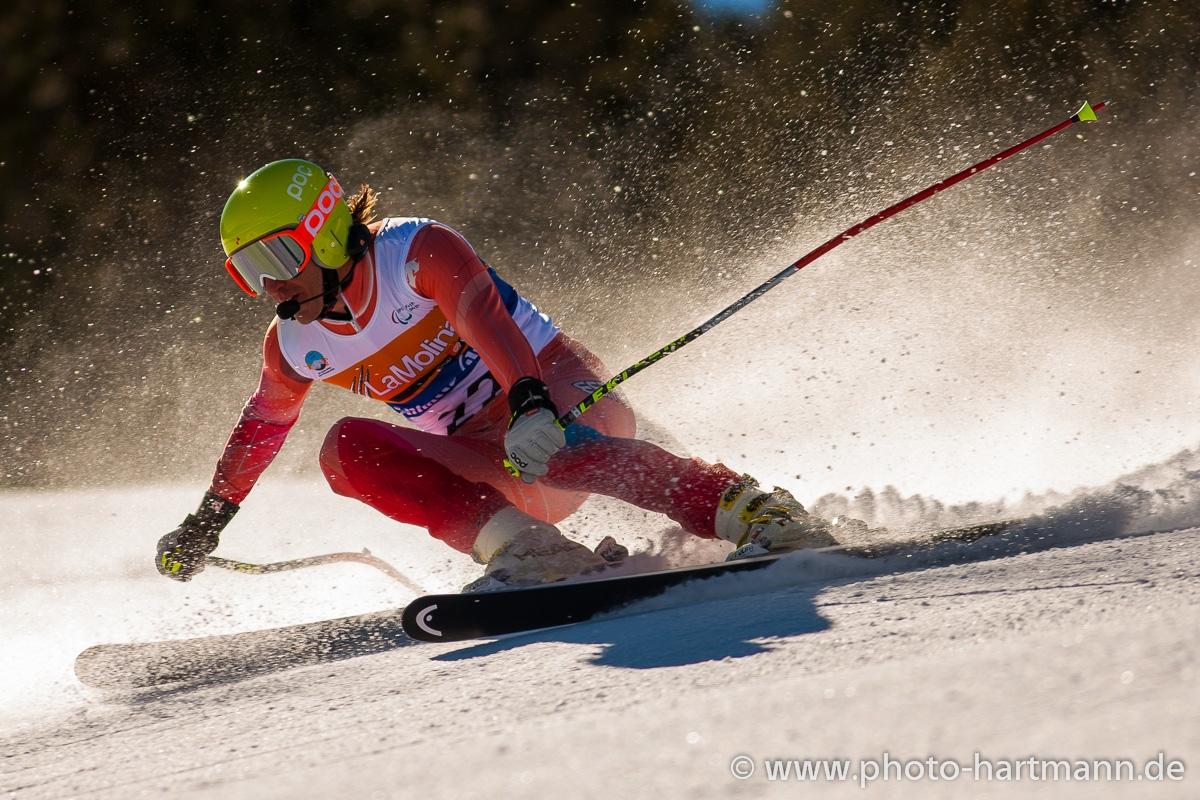 ⒸMarcus Hartmann
By IPC
"The jumps were the most difficult part. Because Jon doesn't see where to start and finish the jump, so it's very difficult for us, but he had a good training."
Firm, soft, slushy and hard – skiers had to deal with all types of snow conditions in Sochi, Russia on Friday (8 Friday), as the sun bore down on the slopes on the first day of competition at the 2013 IPC Alpine Skiing World Cup Finals.
The conditions were especially challenging for the visually impaired skiers at the competition, which is also serving as the Sochi test event.
In the men's visually impaired class, Spain's world champion Jon Santacana guided by Miguel Galindo Garces took gold in 1:22.25.
"The jumps were the most difficult part," said Galindo after the race. "Because Jon doesn't see where to start and finish the jump, so it's very difficult for us, but he had a good training."
Slovakia's Miroslav Haraus guided Maria Zatovicova was not far behind in second (1:22.75), and Canada's Chris Williamson took bronze in 1:23.05 guided by Robin Femy.
Russia's Alexandra Frantseva picked up gold on her home slope in the women's visually impaired class, guided by Pavel Zabotin (1:35.13).
Great Britain's Jade Etherington was the only other skier to complete the course, finishing in 1:37.76. It was the 22year-old's first time racing a downhill with her new guide John Clark, and she looked confident on the jumps, keeping a good distance with her guide.
"Today was my first ever downhill, so this morning I was just trying to get a feel of how different it was to super-G," Etherington said. "We finished fourth in training, but I was just really happy that we had a good solid run.
"We got silver at my first-ever World Cup, so I'm really, really happy."
World champion Henrieta Farkasova of Slovakia did not compete because of an injury she sustained at the World Championships a few weeks prior.
In the women's standing, France's Marie Bochet, world champion in the event, had the winning time of 1:31.30 after taking a spill in the morning's training, which she put down to tiredness.
"I didn't finish my training run, so for me the race was a training run," Bochet said.
"For me this is a test event. I'm not looking at my results. I just want to get to know the race slope and take in the ambiance of Sochi.
"I think it's nice here. The snow is a little different to (the rest of) Europe and it's very hot weather."
Germany's Andrea Rothfuss took silver (1:32.52) and Russia's Inga Medvedeva took bronze (1:32.72) in the event.
France's Vincent Gauthier-Manuel took gold in the men's standing in 1:22.84. Russia's 15-year-old Alexey Bugaev won silver in 1:23.09 and world champion Markus Salcher of Austria picked up bronze in 1:23.26.
The men's sitting event faced delays as the hot sun bore down on the slope, with several athletes unable to finish the event.
USA's Tyler Walker tightened up his line after the training run and took a more controlled approach to the jump to win the men's sitting race in 1:23.62.
"The run went really well," Walker said. "It was just a perfect combination of conditions to benefit myself."
"It was soft and bumpy and technical and turning. It had a big jump in it and I do well in all of those things. I'm one of the smaller guys out there, so I don't do well on the long flat tucking courses, but this was perfect – and it showed."
France's Yohann Taberlet was not far behind, finishing in 1:23.81 and Japan's Takeshi Suzuki took bronze in 1:27.29.
In the women's sitting, Germany's Anna Schaffelhuber was the only skier to finish the race, with a time of 1:33.79.
"It's a tough course, a really difficult course," she said. "At the end it's really bumpy. The first pitch was bad on the training run ... but for me it went OK."
The event continues through Tuesday (12 March) and will be streamed live on ParalympicSport.TV and fans can also follow the action on Twitter at @IPCAlpine and on Facebook at www.Facebook.com/IPCAlpineSkiing.
For more information, please visit the IPC Alpine Skiing homepage at www.ipc-alpineskiing.org.