Busy Purdy seeks balance towards PyeongChang 2018
The US Paralympic snowboard bronze medallist and celebrity wants to find a way to compete, whilst at the same time spreading her story.
25 Jan 2016
Imagen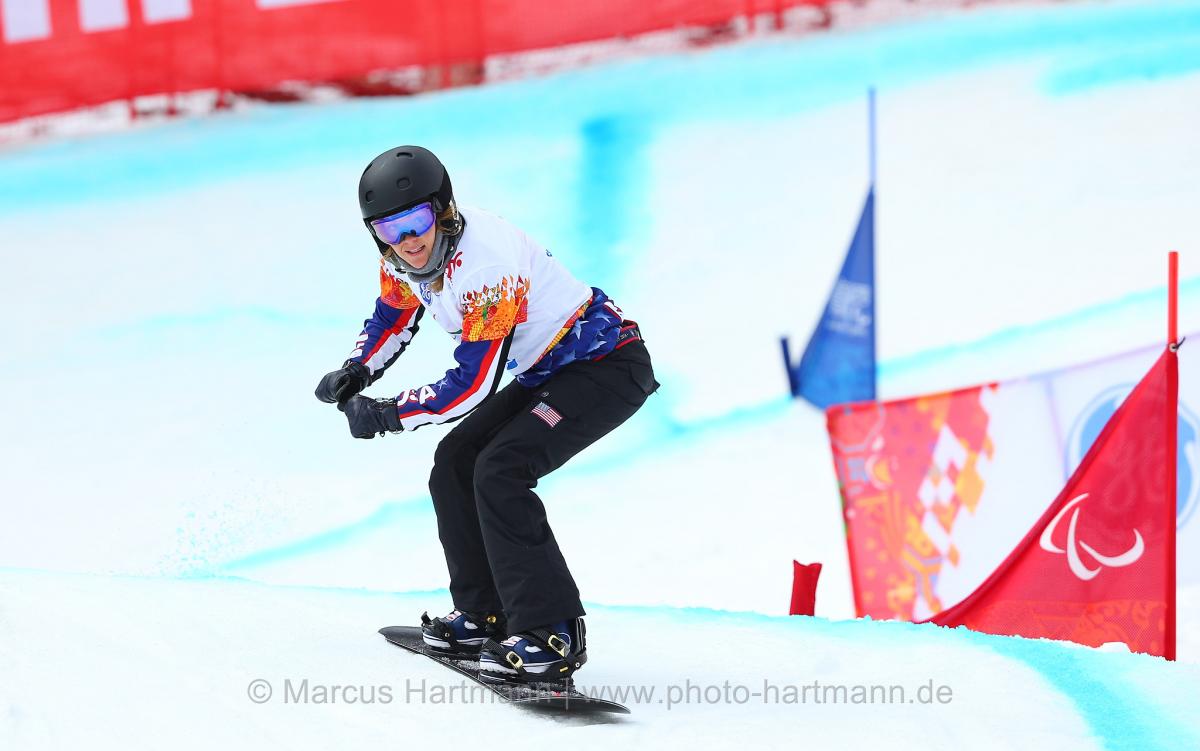 Ⓒwww.photo-hartmann.de
By Giuseppe Di Florio | For the IPC
"This year for me isn't about being the best; it's about doing the best I can. I would love to make the US Team again, that is my goal."
US snowboarder and celebrity Amy Purdy has spoken of her plans to get back to full-time training whilst balancing other commitments ahead of the PyeongChang 2018 Paralympic Winter Games.
In the 2014-15 season, the Sochi 2014 Paralympic bronze medallist did not compete, choosing to focus on motivational speaking, writing and starting a new clothing line after a wildly successful appearance on the US television show "Dancing with the Stars."
Purdy's career outside of snowboarding is thriving, yet she misses competition and high-level training and is trying to balance her athletic and non-athletic career.
"I will compete when I can and will do the absolute best I can! I'm trying to take pressure off myself," she said. "This year for me isn't about being the best; it's about doing the best I can. I would love to make the US Team again, that is my goal."
Purdy was thrust into the limelight after her podium finish in Sochi and then made it to the final of "Dancing with the Stars." The show opened many doors for the 35-year-old, including appearing on Oprah Winfrey's The Life You Want Tour.
"I love both of my careers," Purdy said. "I am blessed to snowboard and get the opportunity to be the best and strongest I can be. But I equally love motivational speaking and the work I get to do on TV. I have so much experience in it now that it's all very natural to me. However, I'm always learning and trying to grow in both parts of my life. It's challenging to balance both but it's also a wonderful place to be to have the opportunity to do both."
Purdy is currently training in Copper Mountain, Colorado, USA with Adaptive Action Sports, the organisation she co-founded with her husband Daniel Gale.
"We have such a strong team this season. I am so proud of everyone. A lot of dedicated athletes training for the next US Snowboard Team," she said.
Purdy did not participate in the first IPC Snowboard Word Cup of the season in Landgraaf, the Netherlands. Instead, she was in Japan sharing the stage with Akio Toyoda the President of Toyota as he announced that the company will be partnering with the International Paralympic Committee until 2024.
"It was a hard choice for me, Japan with Toyota or compete in the Netherlands and gain World Cup points. My relationship with Toyota is so special to me. They supported me when nobody else did. They have been my top sponsor since 2011 even before the Paralympics accepted snowboarding into the Games and it is really important to me to nourish that relationship," Purdy said.
"I wouldn't be where I am without them. And now, it's such a blessing that they aren't just supporting me but all Paralympic athletes. I'm so proud to be involved with such an innovative company."
Purdy is using this season to work out some kinks and set goals for the upcoming years. Since Sochi 2014 she has not really had the chance to throw herself fully into training. To do so, she writes lists and then checks items off.
"You have to take baby steps. And if you are focused enough on the goal and passionate enough about it you won't let anything get in your way. But you have to be dedicated and willing to take some hits. Nearly anything is possible with enough passion, motivation and perseverance to get across the finish line," she said.
One of the items on her list is definitely the PyeongChang 2018 Paralympic Winter Games.
"I have set my schedule up to compete in the necessary races to qualify for the Games," Purdy commented. "However, I am keeping a soft heart. Most of my competitors are able to train full time, whereas I am currently only able to train part time. I know the dedication it takes to be an Olympic or Paralympic athlete and it takes all of you. I'm using this season to get back in the swing of things and see how it goes."
The next IPC Snowboard World Cup takes place in Aspen Snowmass, USA, between 5-6 February.