Canada to face Australia in Odense final
After Canada beat USA and Australia defeated Japan, the two will go head-to-head in a repeat of the London 2012 final.
10 Aug 2014
Imagen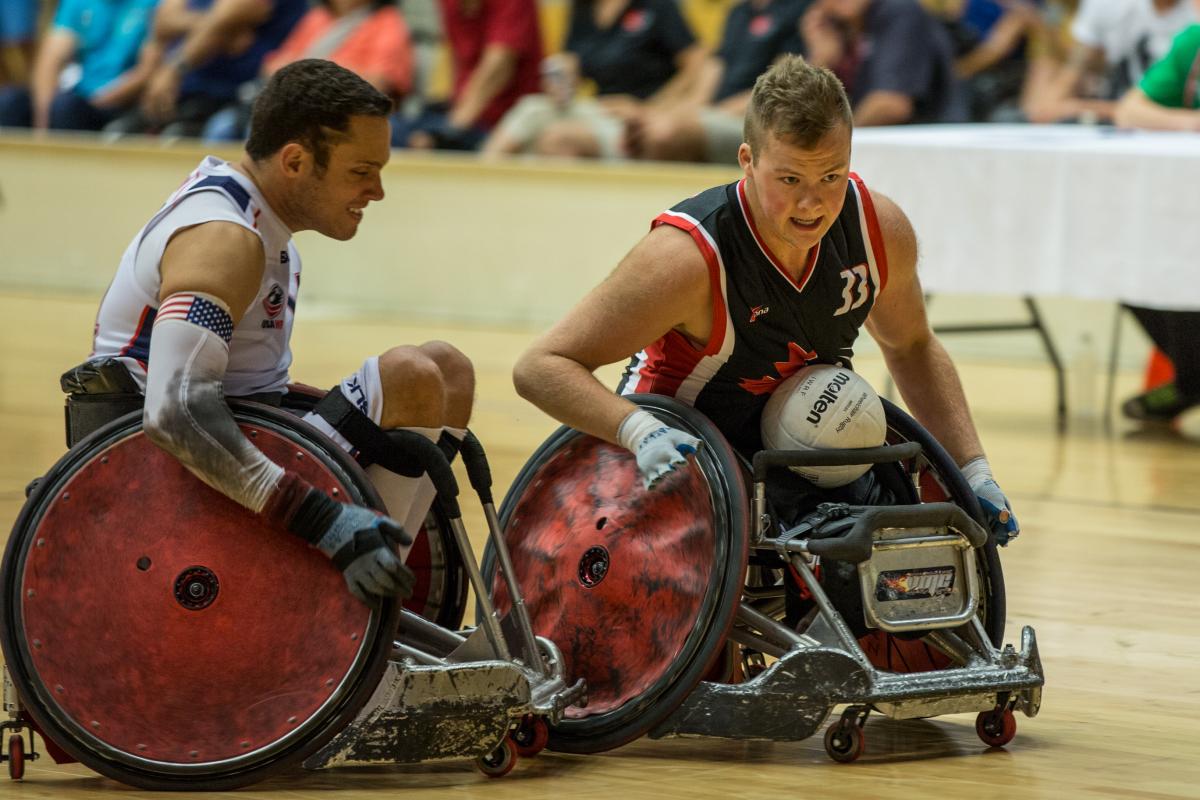 ⒸBrian Mouridsen
By Beau Greenway| For the IPC
"I feel absolutely incredible, we always have close games with the US, they are our biggest rival and today we managed to come out on top."
In a repeat of the London 2012 Paralympic Games gold medal match, the 2014 International Wheelchair Rugby Federation (IWRF) World Championships final will be contested between Australia and Canada on Sunday (10 August) afternoon at the Arena Fyn in Odense, Denmark.
The tournament's two most outstanding players Canada's Zak Madell and Australia's Ryley Batt will play a huge part in the determining the winner having both excelled in Saturday's (9 August) semi-finals.
In Saturday's action, Canada upset the USA's hopes of winning a fifth title with a 59-56 victory in overtime.
Zak Madell was at his absolute best for the victors and he could not be happier to be playing in his first World Championship final.
"I feel absolutely incredible, we always have close games with the US, they are our biggest rival and today we managed to come out on top," Madell said.
"We came out fired up, we had a rough loss to them at our zone qualifiers last year and we kept that in the back of our minds over the whole year while we were training for the tournament.
"Everybody on the team was so positive, no one lost hope at any time and, because of that, we managed to claw our way back into the game, I am hoping we can carry this momentum forward and maybe go get ourselves a gold medal."
USA Captain Joe Delagrave was almost speechless after the loss.
"It feels terrible, our goal all along was to be number one and be the world champions," Delagrave said.
"We had a couple more turnovers and that's kind of the story, but hats off to Zak Madell. We hadn't seen him since last year and it is clear that he is one of the best players in the world, he was hard to stop today."
World No.2 Australia were firing on all cylinders in the other semi-final, as they outclassed Japan 60-49.
Ryley Batt led the way for the Australians into their second successive World Championships final.
"We have been in this position many times before, but we still have one more game to go," Batt said.
"We like playing against Japan, we match up well against them and they are a tough team. On a personal note, l liked seeing the other line-ups out there getting turnovers and holding their own.
"In 2008 in Beijing we were in this position and lost in the final so as much as I am happy on the inside to be guaranteed at least a silver medal, we want the gold against Canada."
Chris Bond is also excited to be playing in his first World Championships final against a Canadian side the Australian's have already beaten once this week in the group stages.
"We will go in with a bit of confidence having beaten them before in this tournament, we just have to get off to a great start and hope our fitness pulls us through.
"Zak (Madell) has come a long way since I first saw him play and he is a big gun of wheelchair rugby now.
"We definitely respect him but we are going to go in and try put some big hits on him and get one over him and Canada."
Shin Nakazato believes that the Japanese team in not quite at Australia's level and they need to work on a few things for next time.
"To be able to compete with a team like Australia we need to clean up our easy mistakes and be more consistent."
Four matches will be played on the final day of the tournament starting with the play-off matches for 5th to 8th place before the bronze, silver and gold medalists are decided.
All matches will be played on court two at the Arena Fyn and will be livestreamed here.
Live commentary will once again available on Facebook and Twitter.
All of the photos from the finals and the matches earlier in the tournament can be viewed on Flickr.