Challenge complete but mission continues for Rob Jones
US Marine veteran thankful for support through journey of 31 marathons in 31 days
23 Nov 2017
Imagen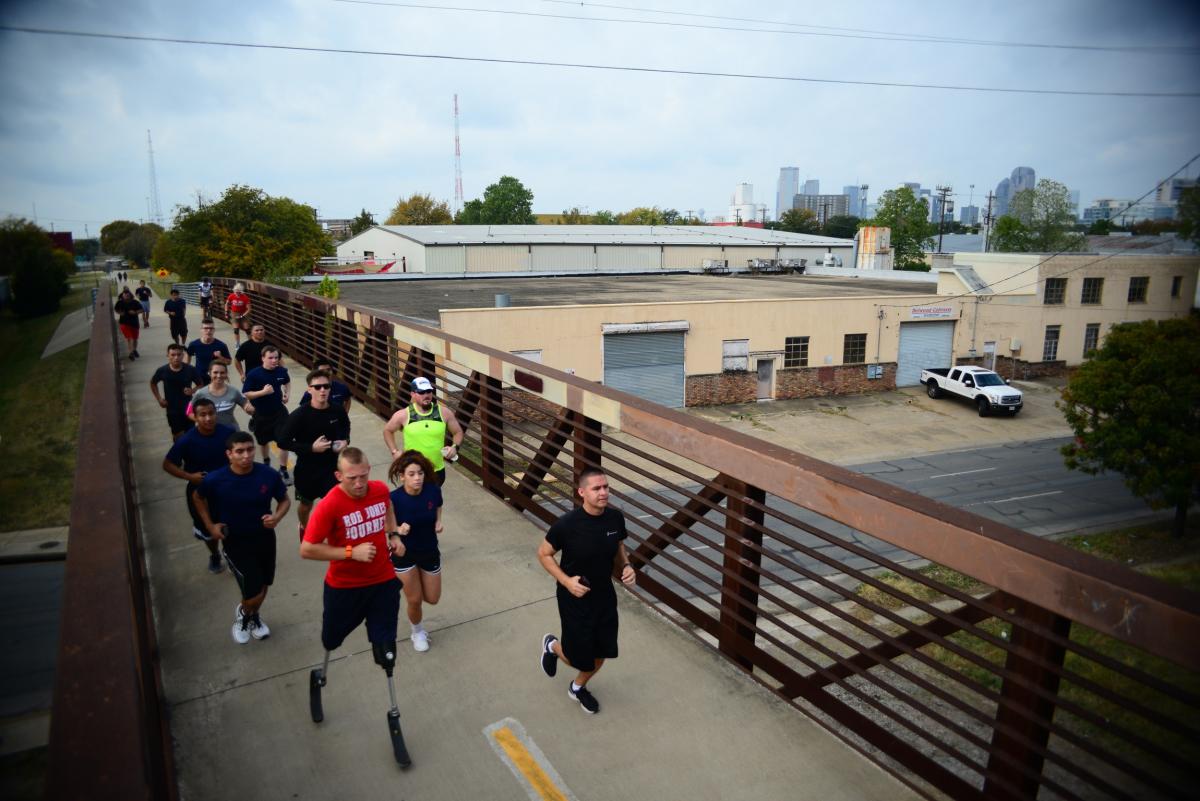 ⒸPamela Relph
By IPC
"I was just honoured by the fact that people came out because they saw my mission and my story and they thought it was worthy of their time and their efforts, and a little bit of suffering being out there in the cold and the rain and taking time off work."
As US Marine veteran Rob Jones entered the final metres of his 31st marathon, a US General ran ahead to clear a path for him to finish. Surrounded by a group of people applauding and a band of runners behind him, Jones completed his challenge of 31 marathons in 31 days on 11 November, Veterans Day in the USA.
The amount of support he received that final race day in Washington D.C. made him realise there probably was no better way of accomplishing what he set out to do.
"I had family there, I had fellow veterans there, I had people from other cities that had run with me before and they came to the finale as well. And I just had so many runners," Jones said. "It was just a tough day because my back was hurting and my stumps had finally decided to catch up to me and they were hurting a lot. It's a team effort. It's a small sample of what happens when a big group of people work on something."
Jones ran a marathon each day in hopes of raising awareness of the struggles wounded veterans go through in the US.
He would run 11km, take a break, run another 11km, break, run, break, finish, then pack up his recreational vehicle (RV) and head towards the next city.
Groups of people would wait for him outside his RV to greet and run with him, and the biggest support was seen on the last day.
"I was just honoured by the fact that people came out because they saw my mission and my story and they thought it was worthy of their time and their efforts, and a little bit of suffering being out there in the cold and the rain and taking time off work," Jones said.
A wounded veteran himself, Jones had both his legs amputated above the knee after being injured by an improvised explosive device in Afghanistan in 2010. He fought back, winning bronze in rowing at the London 2012 Paralympics. He followed his Games success with a cycle tour around the USA before his month of marathons. Not only does he want to raise awareness, but he also hopes to encourage other wounded veterans.
Supporters donned red T-shirts that said "Rob Jones' Journey," with proceeds going to selected veteran charities. People also got to donate directly to the three charities Jones was supporting.
"In terms of getting the message out there, this was probably more successful. In my bike ride, I was going through more rural areas and less populated areas. But this one I was going through major cities as each of my stops," Jones said.
Jones raised a little over USD 200,000 (EUR 168,500) through his marathon challenge alone.
While the running is now complete, Jones says his mission of raising awareness still continues.
After his last race, he travelled from Washington DC to New York to do interviews for two days, before returning home to DC for a speaking engagement. So it was not until a week after his final race that he got some rest.
He does not know what his next challenge will be. Perhaps a stair-climbing challenge, he says, if he were to decide now.
"I'm going to keep getting my message out there and continuing my overall mission and that is to get the positive stories about veterans out there and going to be doing that by speaking engagements, by writing by doing other projects. Whether or not I'll be doing another physical challenge like this one will remain to be seen," he said. "But I will continue to fight for veterans in terms of getting the message out there."
More on Rob Jones' journey and how to donate can be found on his website.