Cheri Blauwet confirmed as VISTA 2017 keynote speaker
The Paralympic medallist-turned-medical professional will talk on the importance of engaging all people with an impairment.
06 Apr 2017
Imagen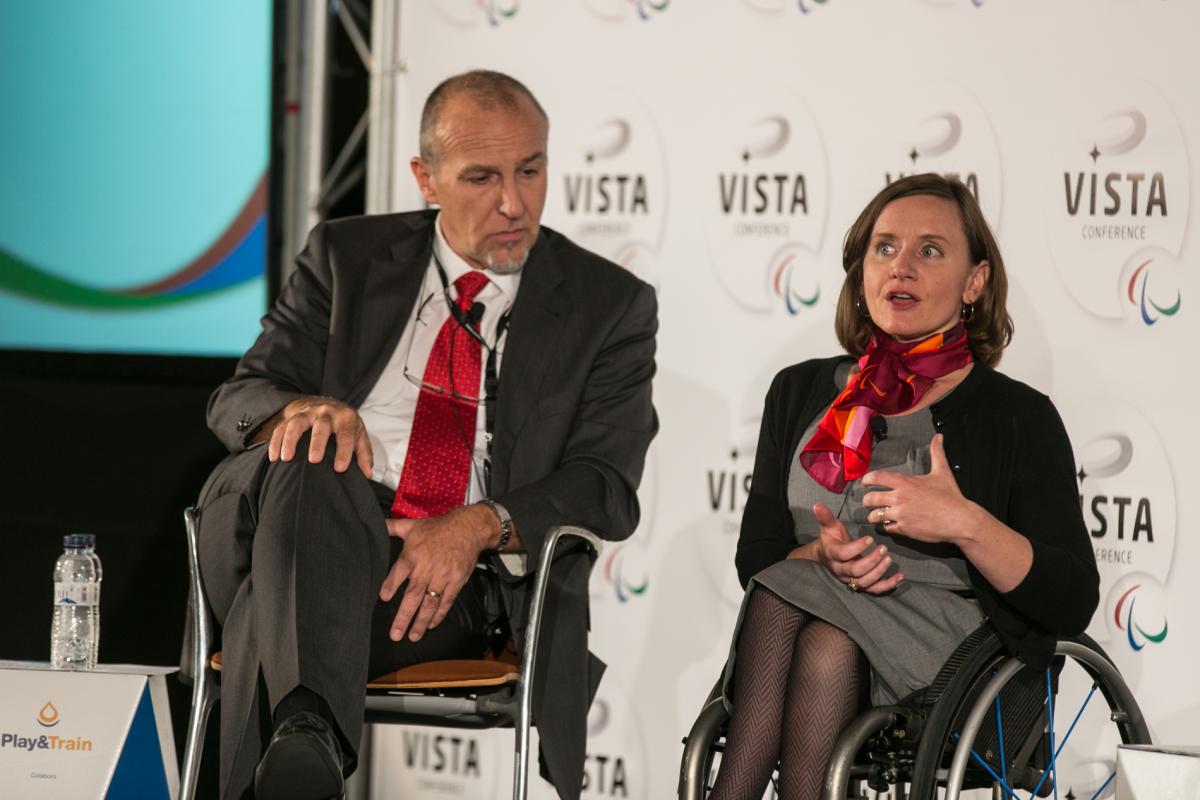 ⒸEddy Kelele Fotografia
By IPC
"It is incredibly important that we consider Para sport as a tool not only for elite competitive opportunities, but also to enhance and enrich opportunities for all individuals with an impairment to lead healthy lifestyles."
Veuillez trouver la traduction française ci-dessous
Seven-time Paralympic medallist and Harvard Medical School instructor Dr. Cheri Blauwet has been confirmed as a keynote speaker at September's VISTA 2017 Conference in Toronto, Canada.
A US Paralympian-turned-medical professional, Blauwet currently chairs the International Paralympic Committee (IPC) Medical Committee and is also a board member on the United States Olympic Committee. She recently received the IPC International Women's Day Recognition award.
"I am incredibly proud to be a keynote speaker for VISTA, representing the confluence of my experience as an athlete as well as sport medicine physician with focus on serving the needs of Para athletes," Blauwet said. "I am humbled to speak alongside many other talented leaders in the field."
The theme of this year's IPC science conference is "Opportunities, Challenges in Paralympic Sport Science & Sport Medicine Support." Blauwet will present on the topic "More Than Just a Game: The Public Health Impact of Sport and Physical Activity for Individuals with an Impairment."
"This lecture emphasises the importance of engaging all people with an impairment, from the grassroots to up through elite, in sport as a means of promoting population health," Blauwet explained. "According to the World Health Organisation, up to 15 to 20 per cent of our global population are individuals with an impairment. It is incredibly important that we consider Para sport as a tool not only for elite competitive opportunities, but also to enhance and enrich opportunities for all individuals with an impairment to lead healthy lifestyles. When we think about the power of sport through this lens, it is easy to see how we can move the needle for global health promotion."
Blauwet claimed one silver and three bronze medals at the Sydney 2000 Paralympic Games, followed by one gold and a further two bronze at Athens 2004.
Following her athletic retirement in 2008, she has stayed active in the field, practicing sports medicine at the Spaulding Rehabilitation Hospital. At the Brigham and Women's Hospital in Boston, USA, Blauwet serves as an assistant professor in physical medicine and rehabilitation at Harvard Medical School.
Her published research has helped to increase participation in Para sports, studying injury rates and causes specific to Paralympic athletes and using sports to promote disability rights.
She will join Canadian Professor Laura Misener, who was also announced as a VISTA keynote speaker.
"I think that one of the most incredible things about VISTA is the opportunities it provides for like-minded individuals with a passion for Para sport to come together, learn from one another, and network," Blauwet said. "Together, we are stronger. Although we have come far in promoting Para sport and elevating its profile, there is still much work to be done, and VISTA provides an opportunity for athletes, scholars and sport advocates alike to hone their knowledge in cutting edge topics related to Para sport."
The VISTA conference, an IPC biennial event, is this year hosted by the Canadian Paralympic Committee and the Canadian Sport Institute Ontario. It is designed to provide a platform for sport scientists and researchers to meet with experts in the field of sport for athletes with impairments to discuss, exchange, and gain advanced knowledge in this area.
It was first held in 1993 and has since developed a global reputation for acting as a platform for debate, discussion and dialogue on key issues relating to the growth of the Paralympic Movement.
Registration is now open at www.vista2017.com, with an early bird rate at CAD 400 (student rate CAD 200) until 15 June.
Francais
La participation de la Dre Cheri Blauwet, sept fois médaillée paralympique et chargée de cours à la Harvard Medical School, en tant que conférencière lors de la conférence VISTA 2017, qui se tiendra en septembre à Toronto au Canada, a été confirmée.
Médaillée paralympique américaine devenue professionnelle de la santé, Dre Blauwet préside actuellement le comité médical du Comité international paralympique (CIP) et est également membre du conseil d'administration du Comité olympique des États-Unis. Dernièrement, elle a reçu le prix de la reconnaissance de la journée internationale de la femme par le CIP.
« Je suis très fière d'être conférencière lors de la conférence VISTA. Elle représente la fusion de mon expérience en tant qu'athlète ainsi qu'en tant que médecin du sport axée sur les besoins des athlètes paralympiques, dit Dre Blauwet. Je suis honorée de prendre la parole aux côtés de nombreux autres leaders talentueux du domaine. »
Le thème de la conférence des sciences du CIP de cette année est « Occasions et défis relatifs au soutien en matière de sciences et médecine du sport paralympique ». Dre Blauwet présentera le sujet « Plus qu'un jeu : l'effet du sport et de l'activité physique pour les personnes avec un handicap sur la santé publique. »
« Cette présentation met l'accent sur l'importance de mobiliser toutes les personnes vivant avec un handicap dans le sport, des programmes locaux au niveau élite, en tant que manière de promouvoir la santé de la population, explique Dre Blauwet. Selon l'Organisation mondiale de la santé, de 15 à 20 pour cent de la population mondiale vit avec un handicap. Il est incroyablement important d'envisager le sport paralympique comme un outil, non seulement pour les occasions de compétition de niveau élite, mais également comme manière d'améliorer et d'enrichir les occasions pour que toutes les personnes vivant avec un handicap aient un mode de vie sain. Lorsque nous envisageons le pouvoir du sport dans cette optique, il est facile de voir comment nous pouvons faire bouger les choses en matière de promotion de la santé mondiale. »
Dre Blauwet a gagné une médaille d'argent et trois de bronze aux Jeux paralympiques de 2000 à Sydney, puis une médaille d'or et deux autres de bronze à Athènes en 2004.
Après sa retraite athlétique en 2008, elle a continué à travailler dans le domaine en pratiquant la médecine du sport au Spaulding Rehabilitation Hospital. Dre Blauwet est chargée de cours en physiatrie et en réadaptation de la Harvard Medical School à l'hôpital Brigham and Women's Hospital de Boston aux États-Unis.
Elle a publié une étude qui a aidé à augmenter la participation aux sports paralympiques en étudiant les taux et causes de blessures propres aux athlètes paralympiques et en utilisant les sports pour promouvoir les droits des handicapés.
Elle se joindra à la professeure canadienne Laura Mieser qui sera également conférencière lors de la conférence VISTA.
« Je pense que l'une des choses les plus incroyables de la conférence VISTA, c'est les occasions qu'elle offre aux personnes partageant une vision et une passion pour le sport paralympique de se réunir, d'apprendre des unes des autres et de réseauter, affirme Dre Blauwet. Ensemble, nous sommes plus forts. Même si nous avons fait du chemin dans la promotion du sport paralympique et que nous avons rehaussé son image, il reste beaucoup de travail à faire et la conférence VISTA offre une occasion aux athlètes, aux chercheurs et aux porte-parole du sport d'améliorer leurs connaissances sur des sujets de pointe liés au sport paralympique. »
La conférence VISTA, un événement biennal du CIP, est organisée cette année par le Comité paralympique canadien et l'Institut canadien du sport de l'Ontario. Elle vise à permettre aux scientifiques et aux chercheurs du secteur sportif de rencontrer des experts dans le domaine du sport et aux athlètes vivant avec un handicap de discuter, d'échanger et d'acquérir des connaissances avancées dans ce domaine.
Cette conférence, qui s'est tenue pour la première fois en 1993, est devenue la référence mondiale pour les débats, les discussions et les dialogues sur les principaux enjeux de la croissance du mouvement paralympique.
Vous pouvez maintenant vous inscrire à l'adresse www.vista2017.com et profiter d'un tarif pour les premières inscriptions de 400 $ CA (ou d'un tarif étudiant de 200 $ CA) jusqu'au 15 juin.