China and Russia remain undefeated in World Wheelchair Curling Championships
Defending champions Canada also picked up their first win on Sunday (8 February)
09 Feb 2015
Imagen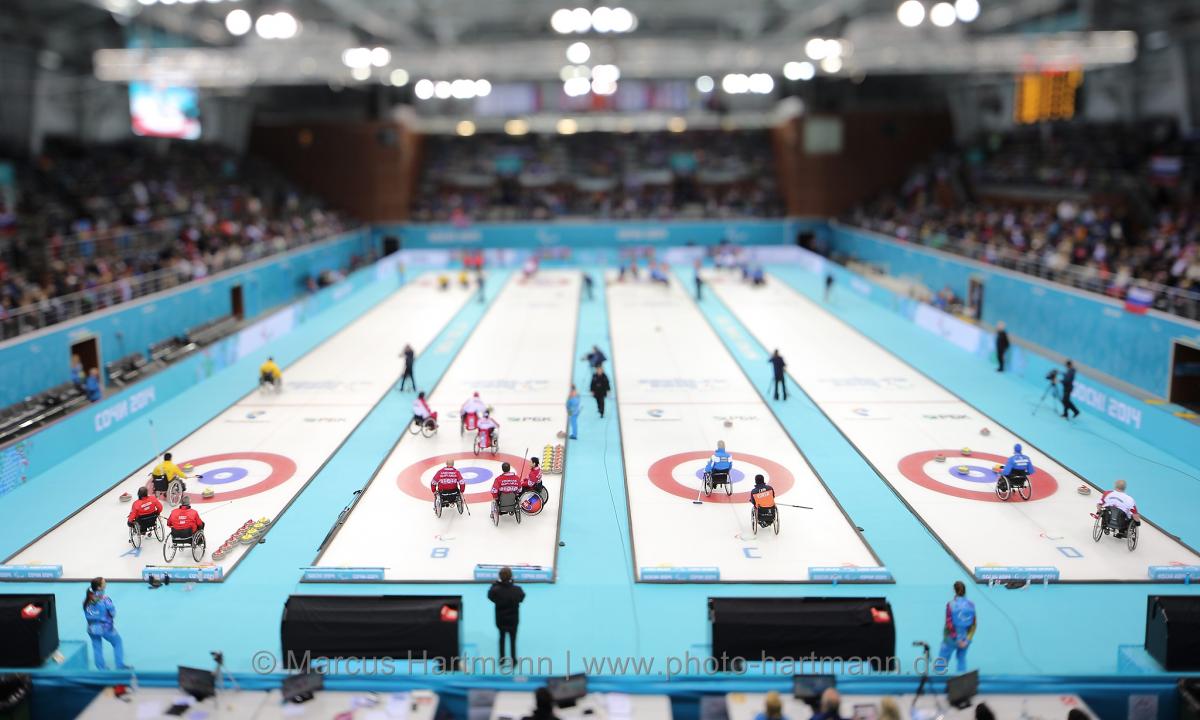 Ⓒwww.photo-hartmann.de
By WCF
"It was very important to get that first win, very important for our confidence."
China and Russia are the only teams who remain unbeaten after three sessions of play at the World Wheelchair Curling Championship 2015 being played at the Kisakallio Sports Institute in Lohja, Finland on Sunday (8 February).
China sit in joint top position in the standings thanks to wins against Finland in the morning and Scotland in the evening session of play.
Russia sit alongside them after victories against Norway in the morning and Slovakia in the afternoon session.
However, it was Slovakia and the USA who played in what turned out to be the game of the day, which took place in the morning session of play.
Slovakia skip Radoslav Duris was too heavy with his final draw in the first end, but still managed to pick up four points.
The USA hit back immediately in the second end as skip Patrick McDonald made a hit for three points.
Slovakia then took another two points in the third end to lead 6-3 but the USA showed their resolve as they scored another three points thanks to a precise draw from their skip, tying up the game 6-6 by the fourth end break.
The USA then stole a single point in the fifth end to take the lead for the first time, a lead that they were never to lose as they held on to win 9-7.
After their win, USA skip Patrick McDonald said: "Almost every curler would think that if you're down by four points it's going to be so hard to come back, but you know what, it happened yesterday, we went down by three and we came back and that was a close one."
Despite the final scoreline, the Scotland versus Sweden game turned out to be a tight game.
Sweden opted to blank the first three ends as they looked for a big score. That came in the fourth end as skip Jalle Jungnell made a hit to score two points.
Scotland replied in the next end with a single point before stealing points in the next two ends to take the lead for the first time.
Sweden skip Jalle Jungnell wrecked on a guard with his last stone in the eighth end to give up another steal, this time of three points, to give Scotland their 6-2 win.
China also won their morning game against hosts Finland but it wasn't until the second half of the game that they took a crucial advantage.
In the fifth end they scored three points to take a 6-3 lead and eventually went on to win 8-4 after seven ends of play.
Like China, Russia picked up their second win of the championship in the morning, thanks largely to steals.
The turning point then came in the fifth end when they stole three points after some key mistakes by Norway. They then went on to run Norway out of stones in the eighth end to win the game 8-3.
Afterwards, Russia coach Anton Batugin, reflected on what was an important fifth end. He explained: "It was a mistake from Norway, one big mistake and they gave up three points. We played defensive and the Norwegians tried to build something but made some key errors. That end was really important for our win today."
Germany picked up their first win of the Championship as they defeated reigning Paralympic and world champions Canada.
It didn't start well for the Canadian's as, after blanking the first end, fourth player Ina Forrest made a hit but rolled too far to give up a steal of two points to Germany in the second end.
She then made amends in the third end as Canada levelled the score with two points and followed that up by stealing a single point to lead 3-2 by the fourth end break.
Germany then retook the lead in the fifth end which they did not relinquish as they went on to win 6-4.
Afterwards, Germany skip Jens Jaeger said: "It was very important to get that first win, very important for our confidence. When you have a record of 1-1 you have a different feeling inside (compared to losing two games).
Yesterday was the worst day in my career. However, yesterday's game gave us the extra focus and concentration needed to win this game. We gave our best, we were a little bit lucky but I am happy with my team's performance."
In the evening session of play, Russia maintained their 100 percent record with an 11-6 win against Slovakia after seven ends of play.
China too kept their flawless record intact as the defeated Scotland in a tight game.
In the first end China skip HaiTao Wang tapped out a Scottish stone to score three points to take the lead, although Scotland did score three points to level the game at 4-4 in the fourth end.
In the second half of the game China scored two more points to win 6-4, their third win of the Championship so far.
Meanwhile, defending champions Canada picked up their first win of the week.
They defeated hosts Finland 8-3 after seven ends of play, thanks in part to a steal of two points in the second end when Finnish skip Markku Karjalainen was too heavy with his final draw to give Canada a 4-0 lead early on.
After their win, Canada skip Mark Ideson said: "Well it's really nice to get onto the win column. You know the 15 or 16 ends before that we were always in the game, each end we were always in it, we just weren't capitalising on our opportunities. Today we've been finally able to do that and that's a big step forward for us."
On the next sheet, Germany were leading Sweden 6-3 going into the eighth end before the Swedes scored three points to force an extra end. Germany however held on to take two points to gain their second victory of the day – 8-6.
The USA also picked up their second win of the day, this time against Norway. They raced to a 4-0 lead after taking two points in the first end and then stealing single points in the next two ends.
After taking one point in the fifth end they stole another five points to win the game 10-1 after seven ends of play.
Results
Session 2: Slovakia 7, USA 9; Norway 3, Russia 8; Scotland 6, Sweden 2; Germany 6; Canada 4; Finland 4, China 8.
Session 3: Canada 8, Finland 3; Sweden 6, Germany 8; Norway 1, USA 10; China 6, Scotland 4; Slovakia 6, Russia 11.
Standings after 3 sessions of play (W-L):
1.China 3-0
1. Russia 3-0
3. Germany 2-1
3. Scotland 2-1
3. USA 2-1
6. Canada 1-2
6. Finland 1-2
6. Sweden 1-2
9. Norway 0-3
9. Slovakia 0-3