Scotland records biggest win of opening session at World Wheelchair Curling Championship
China, Finland, Russia and Sweden also win their first games of the Championship in Lohja, Finland.
08 Feb 2015
Imagen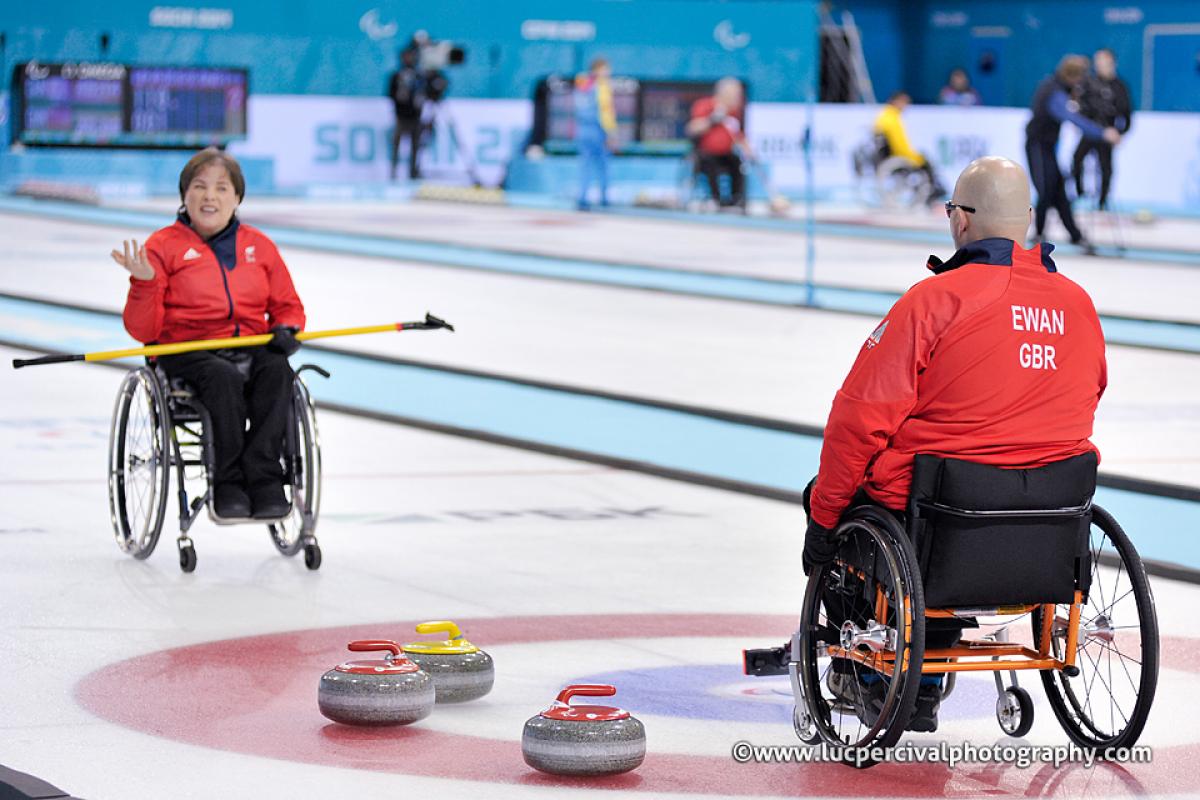 Ⓒ© www.lucpercivalphotography.com
Scotland recorded the biggest win of the opening session of play at the World Wheelchair Curling Championship 2015 taking place at the Kisakallio Sports Institute in Lohja, Finland.
They defeated Germany 12-2 which started off with a score of four points for the Scots.
By the fourth end break, Scotland were ahead 10-0 thanks to a combination of good play and German mistakes. Scotland eventually ran Germany out of stones after seven ends of play to take their first victory of the Championship.
Afterwards, Scotland skip Aileen Neilson said: "We're certainly happy to come out and perform the way we know we can. We've been practicing hard and it's good to get a win on the board in our first game."
On starting the game so well, she added: "I think if we start well it really builds confidence. If it starts from the first stone then that can develop through. So getting those first few stones in the right place is really crucial and the guys followed it up and when we had to clear stones we were making peels and that's important when you get a big lead like that. It's easy for some teams if they get a lot of stones in play to crawl back so it's really important that we kept it really clean and clear."
Reigning world and Paralympic gold medallists, Canada, did not get off to the best of starts in their title defence as they lost 8-3 to China.
As China edged ahead 3-1 after three ends, the turning point came in the fourth end when they stole two points to lead 5-1 by the break.
Canada replied with a score of two points in the fifth end but a single point score in the sixth end and another steal of two points in the seventh end left the score 8-3 to China before Canada conceded in the following end.
Canada are skipped by Mark Ideson this year and after their opening game he reflected: "You know what, I thought we gave it a good effort. There was a few times we were on the wrong side of the dime, but otherwise I thought we threw pretty well. We're a new team and that was our first game together on the world stage with me calling the game. We're working out some kinks but I think overall we're fairly happy with the way we threw it.
"I think we just need to do more of the same. Just stick to our game plan and as the week goes on we'll get better and better and we'll get used to the ice and get used to each other. We know we weren't going to come here and win every game, it's just one rock at a time for us."
Russia were runners up in last year's Paralympics and they picked up an opening day win against the USA.
They were ahead 3-0 after two ends after taking two points in the first end followed by a single point steal in the second end.
The USA fought their way back into the game however, with the score 6-5 to Russia going into the last end. However a score of four points secured Russia's win with the final score 10-5.
After this game, USA second Jimmy Joseph said: "We had a couple of missed shots that helped them out unfortunately and then the last end right there we just aimed to draw on top of the shot rock and came up a little short and that's the outcome (the score of four points)."
He added: "We're staying positive. I mean it's the first game - of course you want to come away with a win but it is what it is. We've just got to pick it up from this game and continue on doing what we know how to do for the next week. It's early, everybody wants to win the first game but somebody's got to lose. We played very well, we came back. We had a few mistakes in the beginning but we picked up our game until the very last end. We could have gave up but we didn't. We always come back and play and stay strong."
Hosts Finland, playing in only their second World Wheelchair Curling Championship, edged Slovakia 11-8, but needed an extra end to do so after Slovakia levelled the game with a score of four points in the eighth end.
Scandinavian neighbours Sweden and Norway also played out a tight game, which proved to be a game of two halves.
Sweden were ahead 7-1 by the fourth end break before Norway scored five points in the second half of the game. Sweden's early game form saw them hold on for their victory as they won by 7-6.
Results, news and photos from throughout the World Wheelchair Curling Championship 2015 can be seen on the World Curling Federation's official event website:http://www.wwhcc2015.curlingevents.com
The local organising committee, in cooperation with the Finnish Curling Association, will also be webstreaming some games. For more details, visit:http://wwhcc2015.curlingevents.com/video
Results
Session 1: Sweden 7 Norway 6; Finland 11 Slovakia 8; China 8 Canada 3; USA 5 Russia 10; Scotland 12 Germany 2.
Standings after 1 session of play (W-L):
1.China 1-0
1. Finland 1-0
1. Russia 1-0
1. Scotland 1-0
1. Sweden 1-0
6. Canada 0-1
6. Germany 0-1
6. Norway 0-1
6. Slovakia 0-1
6. USA 0-1