Close call for men's sit ski slalom in Pitztal
The men's slalom sitting was one of the most fiercely fought races at the first IPC Alpine Skiing Europa Cup event in Pitztal, Austria
06 Dec 2012
Imagen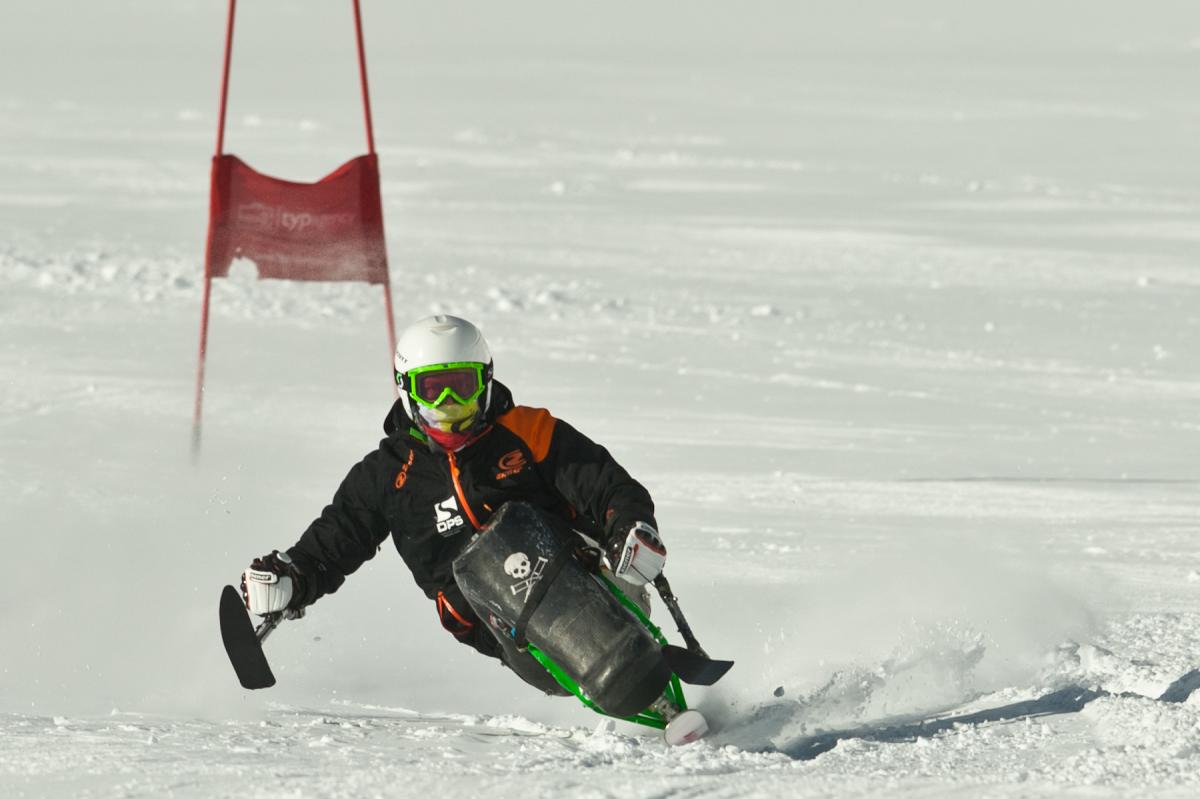 ⒸRalf Kuckuck
By IPC
The Europa Cup continues on 17 December in Lenk, Switzerland.
After some cold and storm conditions, that saw Tuesday's races cancelled, skiers took to the slopes for the first slalom race of the IPC Alpine Skiing Europa Cup on Thursday (6 December) in Pitztal, Germany.
As last year, the closest battle was fought in the men's sit ski competition with the top five races within two seconds of each other.
Last season's top slalom sit skier, Germany's Franz Hanfstingl trailed behind in fourth place, after a slow second run kept him away from a medal. Austria's Dietmar Dorn struck gold in 1:28.18. But just 0.09 seconds behind was Germany's Thomas Nolte, was ranked second last season. Dorn's teammate, Philipp Bonadimann won bronze in 1:28.78, making it the closest race of the competition.
Austria's Claudia Loesch, who last season ranked third in the women's slalom sitting in the Europa Cup, put a sting up Germany's Anna Schaffelhuber by beating her to the top spot. Loesch finished in 1:36.14. Last season's No. 1, Schaffelhuber was almost two seconds behind after a disappointing second run. Her teammate Anna-Lena Forster took bronze in 1:38.80.
Without Italy's Melania Corradini and Austria's Danja Haslacher at the competition, Germany's Andrea Rothfuss once again topped the podium in the women's standing, finishing in 1:37.0 after a very fast second run. Russia's Inga Medvedeva came in just 0.87 seconds behind her though to take silver. The Netherlands' Anna Jochemsen picked up bronze with a time of 1:41.97.
Russia's Alexey Bugaev reasserted his dominance in the slalom this season, winning the men's standing in 1:25.18 after two near-perfect runs. Austria's Markus Salcher trailed in second place in 1:28.33 and his teammate Thomas Grochar took bronze in 1:29.25.
Slovakia's Henrieta Farkasova, who struggled last season in the slalom against the likes of Russia's Alexandra Franseva, won gold in the women's visually impaired race with two perfect runs. She finished in 1:38.30 guided by Branislav Mazgut. Great Britain's Kelly Gallagher guided by Charlotte Evans came in second (1:41.92) and her teammate Jade Etherington guided by Cammy Gunn took bronze in 1:45.52.
The men's visually impaired event was another Slovakian affair. Miroslav Haraus showed much improved form on last season, taking gold guided by Maria Zatovicova in 1:23.98. Silver went to Radomir Dudas guided by Maros Hudik in 1:25.71. Michal Beladic guided by Filip Svidron came third in 1:30.14.
The Europa Cup continues on 17 December in Lenk, Switzerland with giant slalom and slalom races.