Consistency key for new world champion Perrine
As the triple women's visually impaired world champion from the 2015 Worlds, Australian Perrine already knows what is required to stay at the top.
13 Jun 2015
Imagen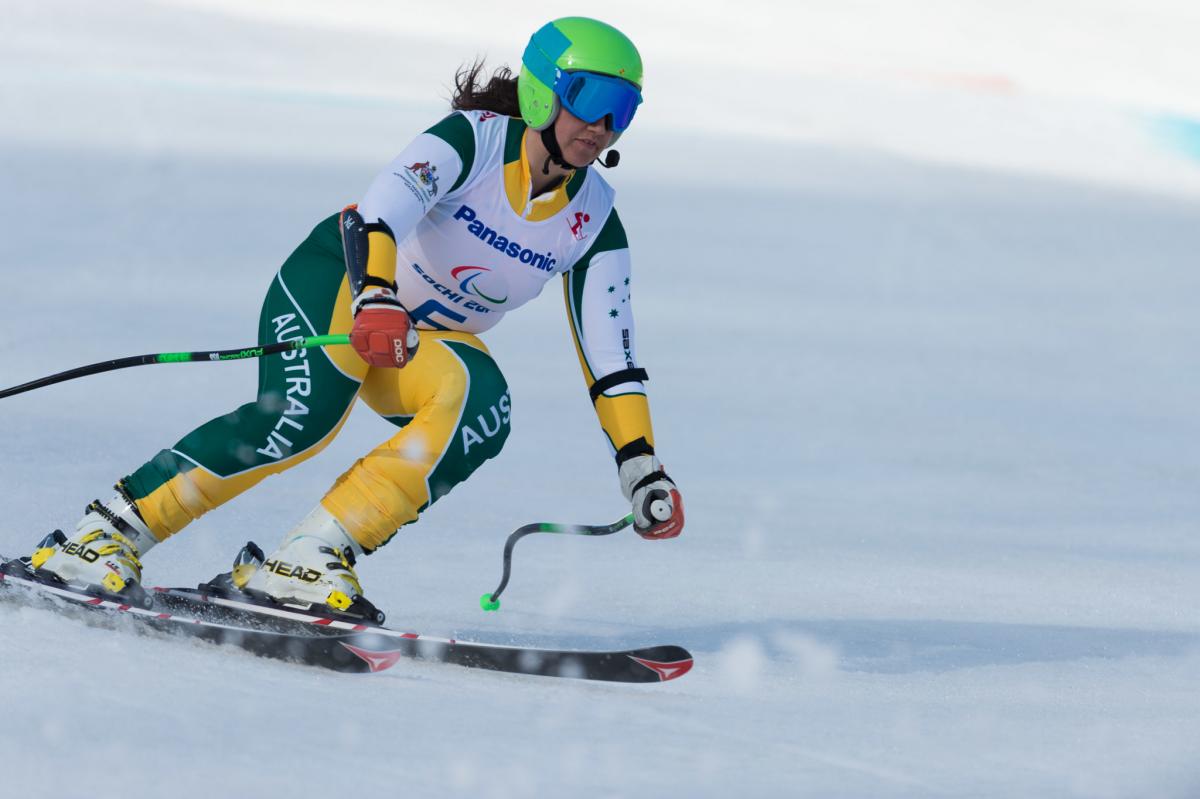 ⒸLieven Coudenys
By Jake Duhaime | For the IPC
The nice thing from a motivation standpoint is that the VI [visually impaired] class has a lot of new talent coming through who will keep me competitive."
The top-of-the-podium breakthrough for Australian skier Melissa Perrine was bound to happen. It just took a new coach to get her there.
Under the guidance of Christian Geiger, Perinne won three gold medals (downhill, super-G, super-combined) at the 2015 IPC Alpine Skiing World Championships in Panorama, Canada, with guide Andy Bor. She also won a silver medal in the giant slalom and a bronze in the slalom. It was her first World Championships gold and her first trip to the podium since 2011.
"Before Panorama, I had the pieces kind of there, but had never been able to put them all together," Perinne said. "The new coaching staff, led by Christian (Geiger) got me more comfortable in that environment. It had always been there, but I was finally able to get everything together."
Prior to taking the reins of the Australian team as a coach, Geiger was the guide for Jessica Gallagher, who won a pair of IPC Alpine Skiing World Championship medals in 2013 and a Paralympic bronze medal in 2014. But following Sochi's success, Gallagher stepped away from the sport to focus on her other love, cycling, and the summer Paralympic Games at Rio 2016.
With his top skier sidelined, Geiger was convinced to take a coaching-based role with the Australian Paralympic Committee. At the time, the possibility of someone else coming in above him was a possibility, but never materialised. With the domestic season fast approaching, he got to work on Perrine, her approach to the sport and what could be done to improve her skiing in such a short period of time.
"We pulled things back," Geiger said. "We got back to basics and spent lots of time on the fundamentals of skiing. Some of it was more mental than physical, like trust-building with herself and the guide."
That guide, Bor, had been by Perrine's side since 2009 and had previously served as an assistant for the Australian team at Torino 2006. Together, he and Geiger built a trust matched by few others around the world.
"Mel has a lot of trust in Andy, which allows her to be successful," Geiger said. "But when we sit down to discuss things as a group and what needs to be done, there are things I'll see and things that he'll see."
Now, having reached the pinnacle of the sport, Bor and Geiger will face a new challenge of preparing for life at the top. Step one is establishing a World Championship consistency with their student, while maintaining the confidence of a top-level athlete.
"The plan for Mel is to work on her technical skiing skills which gives her the confidence to ski fast," Bor said. "When she is not confident in her abilities, her skiing suffers and she does not trust herself to go fast. So much is about trusting her ability and then having fun, enjoying the ride."
A self-described perpetual university student, Perinne's goals for the 2015-16 season are less about podiums and more about keeping herself qualified for upcoming international events. The time and costs associated with attending school will cut into the number of races she will take part in next season.
She also knows she has got a lot of work to stay where she is.
"I'm aware that my World Championship medals signified a really good race for me, but at the same time, it was just one race," Perinne said. "Going forward, I have to prove that I can ski consistently over the period of a season. The nice thing from a motivation standpoint is that the VI [visually impaired] class has a lot of new talent coming through who will keep me competitive."
Geiger, who was thrust into a coaching role, will further continue to build the programme towards PyeongChang 2018.
"I can't say how long I'll be with the team, but at least up until PyeongChang, I'd like to build a sustainable programme," Geiger said. "A sustainable programme with elite athletes and group training like many of the top countries out there."
The 2015 IPC Alpine Skiing calendar will be announced shortly.