CP World Championships: Ukraine dominate in debut
The European Champions hand Japan another big loss in the football 7-a-side competition.
19 Jun 2015
Imagen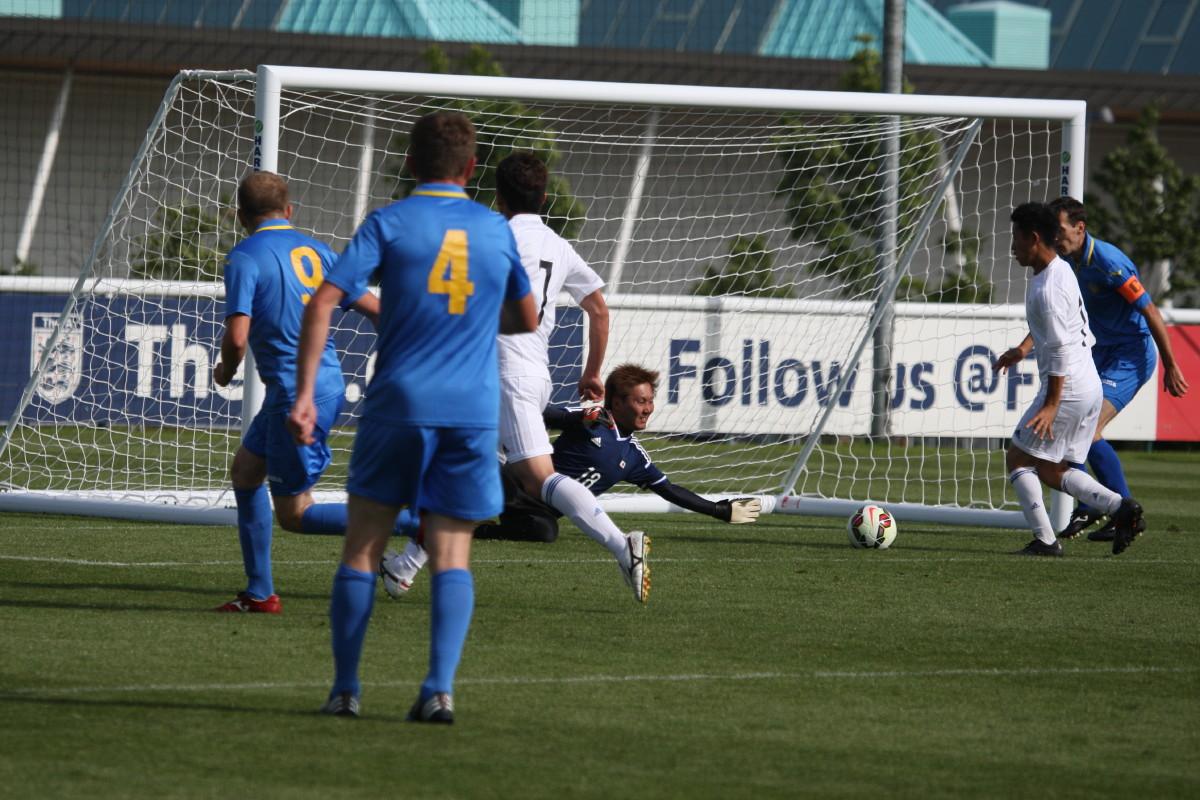 ⒸCerebral Palsy Football World Championships 2015
By Cerebral Palsy Football World Championships 2015
The Cerebral Palsy Football 7-a-side World Championships continued on Thursday (18 June) with three more games, as the second round of fixtures got under way at St. George's Park in Burton-upon-Trent, Great Britain.
Due to the absence of Iran in Group A, the only team that had not played so far were Ukraine.
On Thursday, they showed no rust, running over Japan 16-0. In Group B, Russia held Portugal scoreless, and Republic of Ireland handed Australia their first loss of the competition.
Team captain Vlodomyr Antoniuk led way for the European champions with eight goals. Artem Krasylynykov and Vitalli Romanchuk notched four and three goals, respectively. Artem Sheremet added the other to complete the rout.
It was the second double-digit score for Japan, who suffered a 14-0 loss to England on Day One. For Ukraine, despite scoring two more goals than England, they go into Saturday's top-spot decider level-pegging due to a tournament rule that stipulates goal difference advantage from any one game is capped at plus-10.
World champions Russia also made light work of their Thursday afternoon, as they fired nine past Portugal without reply.
Goals from Aslanbek Sapiev (two), Alexander Kuligin, Eduard Ramonov, Georgiy Albegov, Alexey Chesmin, Alexei Borkin, Ivan Potekhin and Zaurbek Pagaev secured a second successive victory for the London 2012 gold medallists.
The result also gave Portugal their second defeat in the competition, meaning the quarterfinal qualification is now out of reach.
The day's other fixture was between Australia and the Republic of Ireland. It was a game between the two sides most likely to be vying for second spot in Group B, behind runaway leaders Russia.
Australia went with the same starting seven that helped them to a 2-0 on their Opening Day victory against Portugal. But they were unable to pull off the same feat against Ireland, who ran out 4-1 winners.
Dillon Sheridan grabbed a brace, while Gary Messett and substitute Eric O'Flaherty chipped in with the other two.
Australia gave themselves a glimmer of hope when, with the score at 2-0, David Barber stepped up to pull one back from the spot. But it was not enough, and they go into a final fixture against Russia, needing a result – and a favour from Portugal, when they take on Ireland.
Friday's fixtures include: Brazil vs. Venezuela and USA vs. Scotland in Group C, and the Netherlands vs. Northern Ireland and Canada vs. Argentina in Group D.
Day One
Group A - England 14-0 Japan
Group B - Australia 2-0 Portugal
Group B - Russia 8-1 Ireland
Day Two
Group C - USA 3-0 Venezuela
Group C - Brazil 6-0 Scotland
Group D - Canada 3-1 Northern Ireland
Group D - Netherlands 4-1 Argentina
Day Three
Group A - Ukraine 16-0 Japan
Group B - Rep. of Ireland 4-1 Australia
Group B - Russia 9-0 Portugal
For complete coverage of the CP Football World Championships, follow @CPEngland2015 on Twitter.