Day 8 review: Wheelchair Curling gold for China, McKeever equals record
China beat Sweden for gold in Wheelchair Curling
Brian McKeever becomes the joint most successful male Winter Paralympian in history
China take Para Ice Hockey bronze
12 Mar 2022
Imagen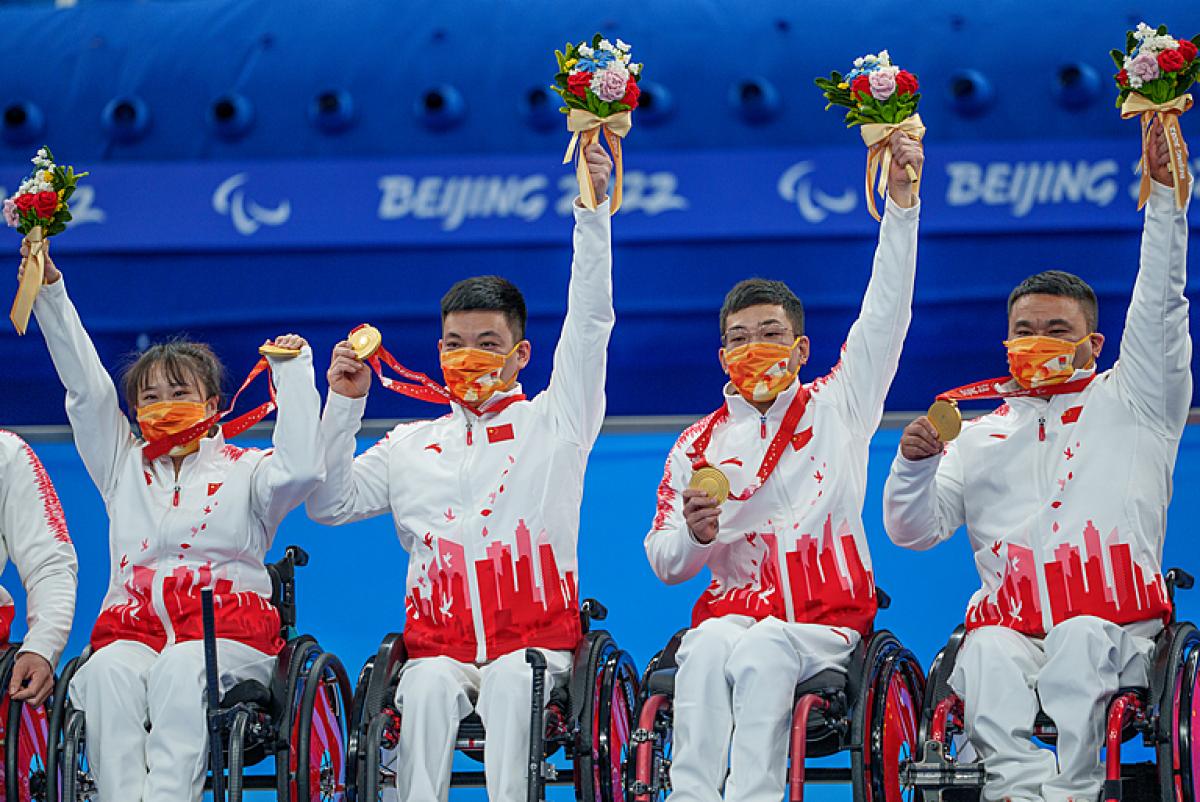 ⒸOIS/Bob Martin
By By World Curling, OIS and the IPC
China topped the podium in the mixed Wheelchair Curling at the Beijing 2022 Paralympic Winter Games on Saturday (12 March) as Canada's Brian McKeever became the joint most decorated male Winter Paralympian of all time.
The penultimate day of action also saw Para alpine skiers Ebba Aaarsjoe of Sweden, Austrian Veronika Aigner and Germany's Anna-Lena Forster double their gold medal haul in the slalom.
Over at the Para Ice Hockey, the bronze medal face-off saw China emerge the victors.
China retain Wheelchair Curling gold
Reigning Paralympic champions China met Sweden in the Wheelchair Curling gold medal match on Saturday.
After blanking the first end, China took a single in the second with a precise draw by their skip Wang Haitao.
In the third end, Sweden scored one point back after a hit-and-stay by skip Viljo Pettersson-Dahl.
Sweden stole a single in the fourth end, when Wang's shooter rolled out after his take-out and left one Swedish stone at the edge of the 12-foot.
Sweden was leading the game by 2-1 at the half-time break.
The game took a turn in the fifth end, when China scored four points mostly due to their precise draw play. They could have scored five, but Wang came up light with his last draw attempt.
China were leading the game by 5-2, playing the sixth end. In that end, China forced Sweden's Pettersson-Dahl to take a single point, which he did, with a precise draw.
In the seventh end, China was leading by 5-3, having last-stone advantage. Pettersson-Dahl came up short with his last draw attempt against three Chinese counters. Wang came up short with his last draw attempt as well, therefore, China only scored three points.
The reigning champions led the game by 8-3 after seven ends, and it was enough for Sweden to concede defeat.
This victory means a second Paralympic title for skip Wang Haitao and third player Chen Jianxin, while the other team members claimed their first gold medals at their Paralympic debut.
China are a young side, which may concern their competitors. Ⓒ OIS Photos/Bob Martin
After their victory, Chinese skip Wang Haitao said, "I'm very happy and very thrilled. In the fifth end scored four points and that just encouraged the whole team. The crowd greatly encouraged us."
Comparing his two Paralympic gold medal games, he said, "Four years ago we didn't have too much pressure, but today we were playing at home, so it just put us under a lot of pressure, but luckily, we made it."
After the game, Sweden's lead, Kristina Ulander said, "It has been a fantastic week. I'm so satisfied. I'm happy. I'm very proud to win a silver today. It was a close game, but China was stronger today."
With their best ever finish, Sweden have a lot to be optimistic about. Ⓒ OIS Photos/Bob Martin
Aarsjoe, Forster, Aigner finish with double gold
Sweden's Ebba Aarsjoe, Germany's Anna-Lena Forster and Austrian Veronika Aigner doubled up on their gold medal hauls in the final women's event in Para Alpine Skiing.
Twenty-one-year-old Aarsjoe won the women's slalom standing, followed by Chinese 20-year-old Zhang Mengqiu, who leaves Beijing with two golds and three silvers, and Germany's 22-year-old Anna-Marie Rieder.
Aarsjoe therefore ends her successful Beijing 2022 Paralympic Winter Games campaign with two golds and one bronze.
She admitted it was hard for her to compete after an injury prevented her from finishing the giant slalom the day before.
"It was so hard. I didn't know until seven o'clock this morning if I was going to start. I probably should not have started. 
"But it is the Paralympics and the slalom, so we did everything we could to ski today."
Aarsjoe was glad she started her race after injury cast put medal hopes in doubt. Ⓒ Getty Images
Veronika Aigner – guided by her sister Elisabeth – reached the top in the women's vision impaired, leading a podium double for the Aigner family. Sister Barbara and guide Klara Sykora took the silver.
Veronika said: "It's very cool and we're so happy that we got a second gold medal and sister Barbara makes a silver medal. 
"We're so happy because she did it, and I'm so proud of my sister (Elisabeth) that she brings me so fast from the start to the finish area."
Slovakia's Alexandra Rexova rounded off the top three with guide Eva Trajcikova.
Forster claimed her second Beijing 2022 gold in the sitting category, successfully defending her slalom title from PyeongChang 2018.
"I'm so happy that I can achieve this once again. It's incredible. I have another situation at the start because I am the favourite woman here, so it's incredible," Forster said.
"It means a lot because slalom is my favourite. I have to bring it down and I achieved it. That's so crazy, I'm so happy and proud of me."
Anna-Lena Forster is unbeaten in the slalom at two Paralympic Winter Games. Ⓒ OIS Photos/Joel Marklund
Two Chinese skiers left with silver and bronze - Zhang Wenjing and Liu Sitong – bringing China's medal total to 18 for Para Alpine Skiing ahead of the men's slalom on Sunday.
McKeever equals all-time great in Para Cross-Country Skiing
Canada's Brian McKeever equalled the record of the most decorated male Winter Paralympian of all time, Gerd Schoenfelder, on Saturday, taking victory in the men's vision impaired middle distance cross country.
Completing his target trio of golds from all individual events, the Canadian now has 16 gold medals from six Paralympic Winter Games.
Throughout the competition McKeever has maintained that his focus has not been on records. His stance was no different on Saturday:
"To be perfectly honest, it doesn't mean a damn thing," he said laughing. "It's never been about any of it. It has always been about enjoying the process and I love representing the country. We love getting lost in the mountains then to come home after 10 hours slogging and suffering… then look at the picture later and say, that was fun. If records happen to come it will come. Trying to do what you know to do best is what mattered to me all through my career."
McKeever will retire after Beijing 2022 as one of the most decorated Winter Paralympians of all time. Ⓒ Getty Images
This time McKeever skied with guide Graham Nishikawa and still has a chance to overtake Schoenfelder when he heads out in Sunday's relays. Those will be his last races at a Paralympic Games as he announced his retirement before Beijing 2022.
Sweden's Zebastian Modin, guided by Emil Joenssen Hagg settled for silver behind McKeever while Ukraine's Dmytro Suiarko and guide Oleksandr Nikonovych claimed bronze.
Elsewhere at the National Biathlon Centre hosts China executed another star turn on their competition.
Wang Chenyang stopped two-time Beijing 2022 champion Benjamin Daviet of France in his tracks in the men's standing.
Daviet finished 1.4 seconds behind while Wang's compatriot Cai Jiayun stood on the podium in third.
"I'm super happy and excited. I raced 120 per cent today. I am very, very happy for myself. It's my willpower that got me this medal.
"My coach was telling me the gap between me and Daviet at every timing point. I was calculating in my mind to see where I can get those seconds back," said Wang.
The second gold for the hosts came in the men's sitting. Mao Zhongwu and Zheng Peng finished one and two, respectively. The bronze went to Italy's Giuseppe Romele.
Mao Zhongwu represents a raft of Chinese skiers who have made their mark this week. Ⓒ Getty Images
"I raced 100 per cent today. So happy to win this gold medal. This medal is so precious for me. Means so much for my professional career," Mao said.
Yang Hongqiong Yang rounded off her individual campaign with both her, and China's, third gold. 
"I wasn't expecting to win anything but just to give it my all," Yang said. "Today, I wanted to push the limits of my body."
The USA's Oksana Masters occupied the second step of the podium for third time this week. Ma Jing, another Chinese skier, ended up with bronze. 
Ukraine's Oleksandra Kononova was victorious for the first time since Vancouver 2010 in the women's standing.
"I feel super happy, and I dedicate this medal to my country, Kononova said. "I felt really proud of myself, about my country who raised me and gave me everything to perform here at such a high level. I thought about my family.
"This medal can't be compared to my previous Paralympic medals because it took me eight years to get this medal finally," said Kononova.
Oleksandra Kononova stepped onto the podium for the first time since Vancouver 2010. Ⓒ Getty Images
Canada's Natalia Wilkie split Kononova and her compatriot Iryna Bui for silver.
Germany's young sensation Linn Kazmaier managed to clinch her maiden gold with an impressive performance in the women's vision impaired.
The 15-year-old had earlier won a silver and bronze in the respective long and sprint distances, but could finally call herself a Paralympic champion with guide Florian Baumann.
"I can't believe it. I'm very tired. It was a hard race, hard conditions, but I'm so happy and just can't believe it that it's a gold medal.
"I thought it would be cool to win gold, but was not really thinking about it. I thought I'd make my best race and (see) what I could do, and I'm so happy that it's a gold medal. It's really a dream. It's unbelievable," Kazmaier said.
China's Wang Yue, guided by Li Yalin took silver and Austria's Carina Edlinger, with guide Josef Lorenz Lampl, bagged bronze. 
China take bronze on Para Ice Hockey debut
A little over five years after first forming, Paralympic Games debutants China finished their hometown tournament with five wins, 26 goals scored - and a bronze medal after beating South Korea on Saturday.
Led by two of the competition's standout stars, the Chinese proved too fast, too skillful and just occasionally too furious for South Korea, denying them a second successive Paralympic Games bronze medal by a score of 4-0. 
The irrepressible Wang Zhidong opened the scoring with China's first shot on goal. It took the 21-year-old to an eye-catching five goals and seven assists for the tournament.
Not to be outdone, Wang's partner at the top of the scoring charts, Shen Yifeng, then showed why veteran Italy defenceman Andrea Macri described him as being "really on another level". 
China were rightfully delighted with their bronze medal. Ⓒ Getty Images
Showing extreme pace, 23-year-old Shen chased down a seemingly lost cause at the start of the second period, stole the puck from under the noses of two Korean defencemen, rounded the goalie and sent the crowd wild. 
With 12 seconds left, Shen — who received 14 penalty minutes for an illegal challenge on star South Korea forward Jung Seung Hwan — sealed the win with a gentle flick into an empty net. 
The forward, who recorded his tournament-leading seventh and eighth goals, then offered an insight into the team's accomplishment. 
"Despite the fact we could not change the colour of the medal from bronze to gold it's still a big achievement," he said. "Our efforts made our dreams come true."
It was left to Wang to explain just how this team became so good, so quickly. 
"We formed the team in 2016 and we've basically been training behind closed doors since," Wang said. "We didn't go home for about three years — all because we were chasing this dream."