Donaueschingen 2015: Russian recurve open team sets WR
Three Russians finished in the top six of the qualifying round and combined to set a new world record by 92 points.
26 Aug 2015
Imagen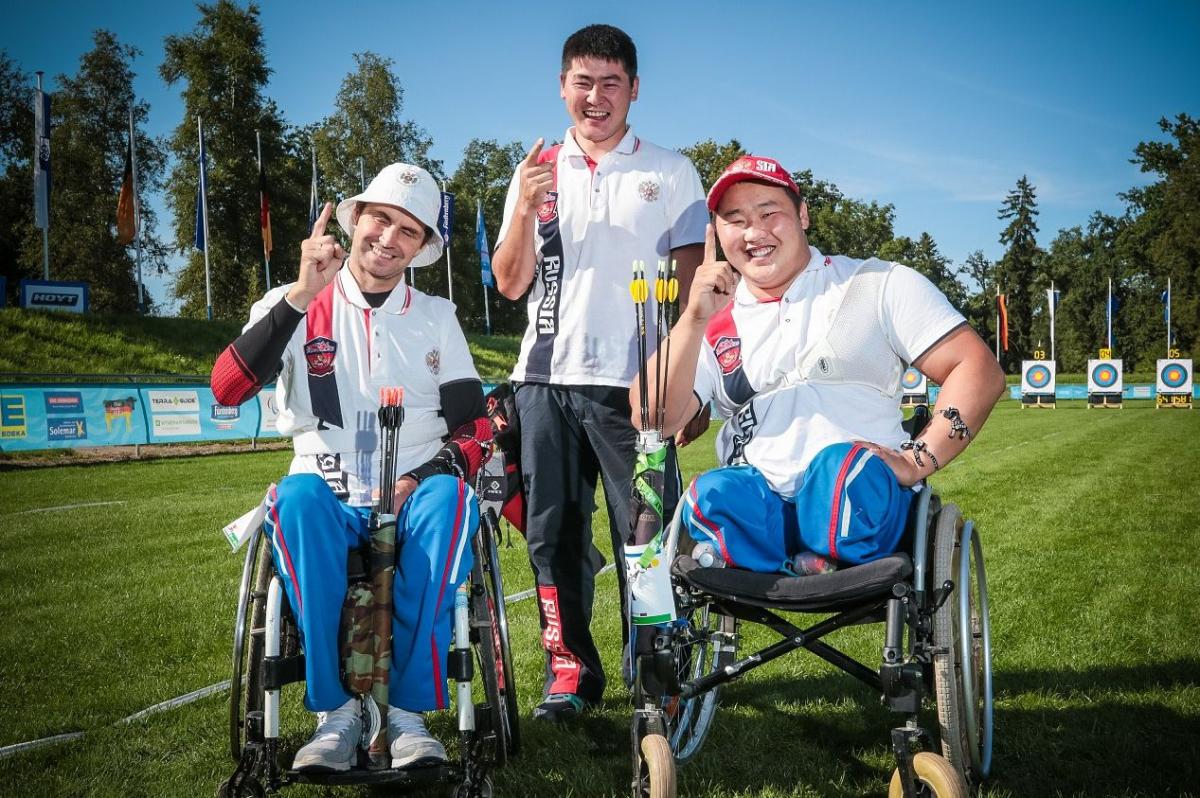 ⒸWorld Archery
By Billie Marshall for World Archery
"We went into the event aiming to do as well as possible, but we never look past the day's play as anything can happen."
Russia's recurve men's open team set a new world qualifying record after posting a combined score of 1,926 during day two (25 August) of the World Archery Para Championships in Donaueschingen, Germany.
Bato Tsydendorzhiev led the recurve men's open qualification round on Tuesday. The individual world record holder scored 652. His teammates Sergey Khutakov and Anton Zaypaev scored 641 and 633, respectively, as Russia occupied three of the top six places in the standings.
China's Shi Xu Cheng led for much of the round but finished the day in third place, scoring 639. Iranian teammates Gholamreza Rahimi and 2011 world champion Ebrahim Ranjbarkivaj came fourth and fifth, respectively.
"We have been training a lot in the build up to this competition and felt well prepared coming to Germany," Tsydendorzhiev said. "We went into the event aiming to do as well as possible, but we never look past the day's play as anything can happen."
In the recurve women's open ranking round, China's Wu Chunyan led the way with an impressive score of 650 out of a possible 720 points.
Wu was 55 points clear of Russia's second-placed Margarita Sidorenko, while Latvia's Ieva Melle scored 593 to claim third place.
Two-time world champion Lee Hwa Sook of South Korea had to settle for fourth after she scored 591, and Italy's European Champion Elisabetta Mijno completed the top five, having also scored 591 but with one less than Lee.
Mijno came into the competition with a shoulder injury but performed admirably during the qualification stage of the competition.
"Fifth place is still a good start," Mijno said. "It's now about seeing what the rest of the week brings and trying to go as far as possible in the competition."
In the compound women's open, South Korea's Kim Misoon scored 685, which was eight points clear of the rest of the field.
Great Britain's London 2012 silver medallist Mel Clarke and Italy's Eleonora Sarti were tight through the first 36 arrows of the 72-arrow round, and the competition only got tighter over the back half.
Competition continues on Wednesday (26 August) with team matches; individual matches start on Thursday. The World Championships wrap up on Sunday (30 August).
The Donaueschingen 2015 World Archery Para Championships act as the primary qualifying tournament for the Rio 2016 Paralympic Games. Places are available in both the mixed team competition and individual events.
Each top-four (semi-finalist) mixed team wins two places – one men's and one women's – for their nation to attend the Paralympics. Further places will be available to top individual finishers.
For a country-by-country breakdown of which nations won places, visit World Archery's website. Complete results of Donaueschingen 2015 can also be found on World Archery's website.