Double gold for Rothfuss and Salcher
The Paralympic medallists were in excellent form in Pitztal, Austria, claiming victory in super-G and super combined at the IPC Alpine Skiing Europa Cup.
15 Dec 2015
Imagen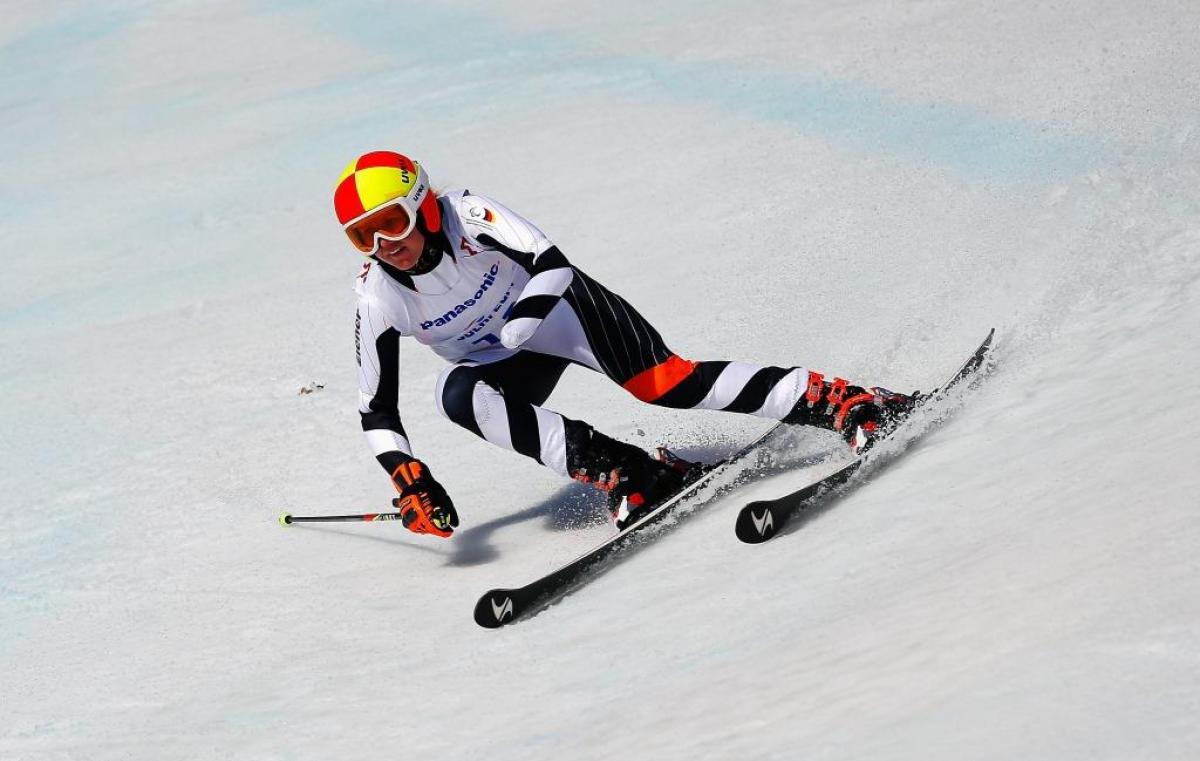 ⒸGetty Images
Germany's Andrea Rothfuss and Austria's Markus Salcher, both Paralympic medallists, took double victory in super-G and super-combined at the IPC Alpine Skiing Europa Cup on Monday (14 December) and Tuesday (15 December) in Pitztal, Austria.
The wins for Rothfuss maintain her 100 per cent podium record in Europa Cups this season, having won two women's slalom standing races in Landgraaf, the Netherlands, in November.
In the super combined on Monday, Sochi 2014 silver medallist Rothfuss (2:01.65) put in the quickest super-G and slalom runs to triumph over the Netherlands' Anna Jochemsen (2:06.34). Italy's Melania Corradini (2:09.37) reached the Europa Cup podium for the first time since 2013 with third.
Salcher (1:52.27) dominated the men's standing with a leading super-G performance, which was over three seconds faster than second placed Swiss skier Thomas Pfyl (1:53.83). Salcher's super-G gave him the advantage despite a disappointing ninth-place slalom run.
Russia's Alexander Alyabyev (1:54.67) was third.
Germany's Sochi 2014 silver medallist Anna-Lena Forster (2:05.60) claimed her third Europa Cup victory of the season in the women's sitting. The USA's Laurie Stephens (2:07.38) was second.
Croatia's Dino Sokolovic (1:54.47) was in excellent form on his season debut, taking the win with a scorching slalom run over the USA's Tyler Walker (1:55.17). Poland's Igor Sikorski was a close third (1:55.38).
Australian world champion Melissa Perrine (2:04.61) proved that she will once again be the one to beat in the women's visually impaired with guide Andrew Bor.
Perrine cleared Russian Paralympic champion Aleksandra Frantceva (2:06.71), guided by Semen Pliaskin, by more than two seconds.
Sixteen-year-old British skier Millie Knight (2:08.29) made good her return to the slopes with third, guided by Brad Morgan.
Russian Paralympic champion Valerii Redkozubov (1:49.58) led both the super-G and slalom to take top spot on the men's visually impaired podium with guide Evgeny Geroev.
The win was Redkozubov's first outing of 2014-15, leading teammate Ivan Frantsev (1:53.48) and guide German Agranovskii into second. Czech Republic's Patrick Hetmer (1:59.81) also got his season underway well with third with guide Miroslav Macala.
Super-G
Twenty-six-year-old Rothfuss (1:06.58) claimed her second victory of the week in the women's super-G standing on Tuesday. The podium was a carbon copy of Monday's super-combined results as Rothfuss led Jochemsen (1:08.48) and Corradini (1:12.24) into second and third respectively.
Paralympic champion Salcher (1:00.36) was once again the leading skier over Pfyl (1:04.19) in the men's standing. Germany's Bernhard Kleinheinz (1:05.50) captured his first Europa Cup podium in third.
Stephens (1:09.45) turned the tables in the women's sitting, securing the win over German Ruth Hagspiel (1:11.08). Forster (1:11.73) this time settled for third.
Switzerland's Christoph Kunz (1:02.86) sealed first place in the men's sitting, ahead of Germany's Georg Kreiter (1:04.60).
Austria's Roman Rabl (1:04.81) completed the top three.
Knight (1:07.39) was in winning form in the women's visually impaired, finishing just over one second ahead of Frantceva (1:08.52). Perrine (1:10.49) was once again amongst the top skiers in third.
Twenty-four-year-old world champion Frantsev (1:03.29) just turned over Redkozubov (1:03.96) in the men's visually impaired. Hetmer (1:04.42) claimed his second podium in as many days with third.
Full results are available at: http://www.paralympic.org/alpine-skiing/calendar-and-results.
The next IPC Alpine Skiing Europa Cup will get underway in Kuhtai, Austria, on Friday (18 December) and Saturday (19 December). Weather conditions have led to the cancellation of super combined but slalom and giant slalom will still take place.