Edlinger back at track where she became overnight sensation
Crucial races to decide ranking leaders before World Cup finals
31 Jan 2020
Imagen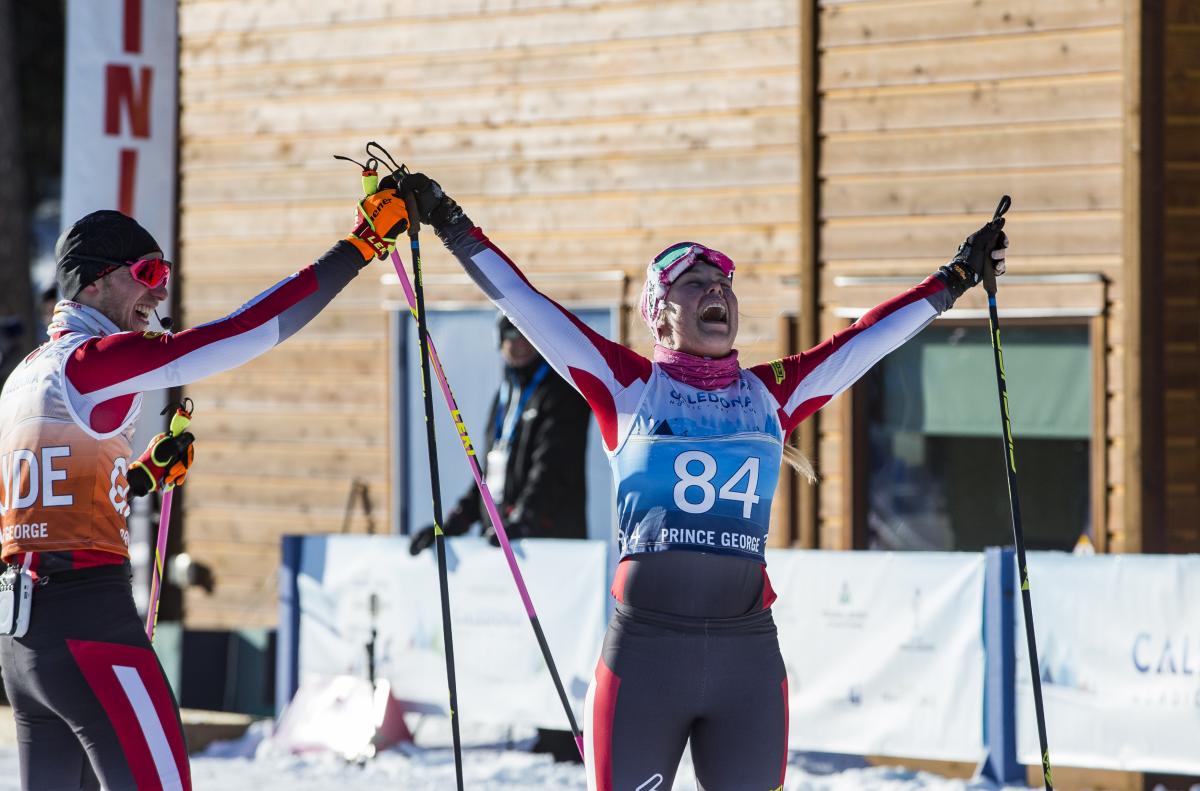 ⒸCDN Paralympics
By Lena Smirnova | For World Para Snow Sports

Austria's Carina Edlinger was a relative unknown when she made her international debut four years ago. That changed when she surprised by winning two gold medals and a bronze at the 2017 World Para Nordic Skiing Championships in Finsterau, Germany.
Fast forward to now, the vision impaired athlete is back at those same tracks for the World Cup between 1-8 February, with hopes of topping the podium after a year ridden with health and financial setbacks.
Finsterau will host three biathlon and three cross-country races. The biathlon sprint will start the competition, with the cross-country races to follow on 5 February.
Back to the future
Edlinger became an overnight sensation after competing at the 2017 World Championships. Only 18 years old at the time, the Austrian took gold in the cross-country sprint and long-distance races in the women's vision impaired class with brother Julian Edlinger as her guide. The siblings also picked up a bronze in the middle distance event. 
"Finsterau is quite a special place for me," Edlinger said. "The World Championship in 2017 was my first one and it totally felt like a home World Championship. The Bavarian people are pretty similar to the Austrian and they treated me as their own athlete and I soon got a lot of new fans.
"A lot of family members came over to celebrate and watch the races. It was an unforgettable experience for us all and, of course, getting double world champion and a bronze is not every day. I can't wait to go there again, see all the people, enjoy some super organised races and hopefully rock it this year again."
After Finsterau, Edlinger went on to win four gold medals in her first career World Cup season, dazzling to become the overall Crystal Globe cross-country winner. The accolade stayed with Edlinger for three consecutive years. The cross-country specialist was on top again at the 2019 World Championships in Prince George, Canada, where she skied with a new guide, Florian Rupert Seiwald. The pair won gold medals in the sprint and long distance, and a silver in the middle-distance race. 
But behind the scenes, Edlinger had struggles that turned racing into a real ordeal for the young athlete.
"It was very difficult," Edlinger explained. "After the Paralympic Games in 2018 I got through some bad health troubles, paralysed down from the neck. It was a huge process and way back to my beloved skis. I am still struggling with the troubles and do not have every body function back."
There were also difficulties in finding a guide to replace her brother. 
She moved to Sweden in 2018 to train with Johannes Andersson, only to discover that he could not guide her in international races because they came from different countries.
"After the past season where I struggled to find a guide, I decided to move to Sweden over the winter to get some training, which got me into huge finance troubles," Edlinger continued. "In spring I had a difficult operation, had a tough way to get back and to figure out how to come back to ski this season."
Her World Cup results reflected those challenges. In this season's opener, Edlinger finished 11th in the short-distance in Lillehammer, Norway, and pulled out shortly into the middle-distance event, though managing to rally with a silver in the sprint three days later.
Later in January, the two races at the Dresden/Altenberg World Cup in Germany saw her return stronger. She won the sprint and took silver in the short distance.
She is currently third in the overall cross-country World Cup rankings behind Russia's Vera Khlyzova and Belarus' Sviatlana Sakhanenka. This week in Finsterau will be a crucial test if Edlinger can get points for a fourth consecutive title.
All of her top rivals, including Khlyzova and Sakhanenka as well as the multi-Paralympic champion from Russia Mikhalina Lysova, will be in Finsterau.
Champions pursuit
The six-day competition is the last on the 2019-2020 circuit before the World Cup Finals in March. 
Last season's overall cross-country champion in the men's vision impaired class, Zebastian Modin of Sweden, currently sits in second place, 64 points behind Brian McKeever, and has an opportunity to surpass his Canadian rival.
Similarly, last season's cross-country winner in the men's sitting, the USA' Daniel Cnossen, is now ranked third, trailing Russia's Ivan Golubkov and Canada's Collin Cameron.
Belarus's Yury Holub surged to the top of the rankings after his gold and bronze in Altenberg, putting him 84 points ahead of his nearest rival, Russia's Nikolai Polukhin. The 2018-2019 winner, Iaroslav Reshetynskyi of Ukraine, is only a few paces behind, as well as Belarus' Vasili Shaptsiaboi/ 
Finsterau will also decide whether Russia's Ivan Golubkov or Germany's Martin Fleig will top the overall ranking in biathlon. The two sit-skiers are tied with 325 points. Fleig is trying to improve on his third-place finish from last season while Golubkov aims to sweep the Crystal Globes in both cross-country and biathlon – a double his teammate Khlyzova hopes to replicate in the women's vision impaired.
Live results from Finsterau will be available on the World Para Nordic Skiing's website.