Equestrian gold for Britain's Sophie Christiansen
Michele George and Hannelore Brenner also top the podium
02 Sep 2012
Imagen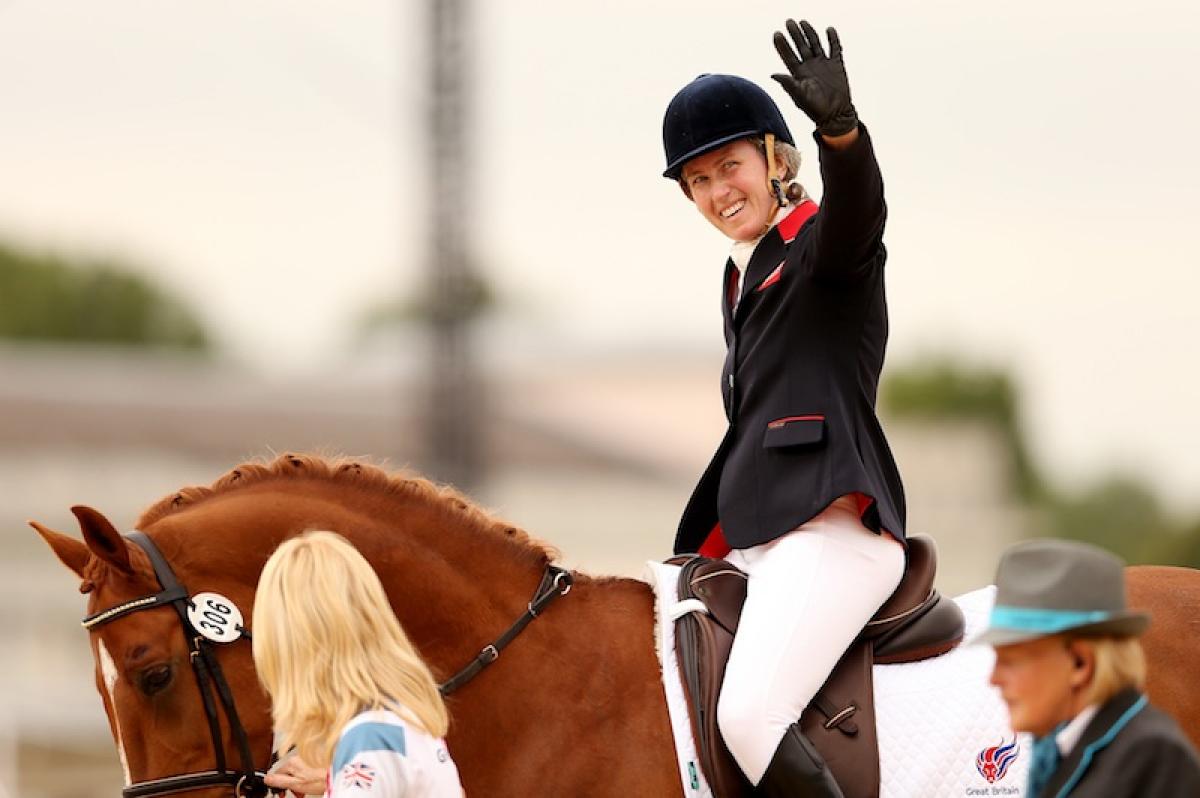 ⒸGetty
Christiansen produced an exceptionally high-scoring test of 82.750 and maintained a six-point margin.
Michele George (Belgium), Hannelore Brenner (Germany) and Sophie Christiansen (GBR) each won gold as the individual dressage tests (grades IV, II and Ia) concluded on 2 September, while Great Britain claimed gold in the overall team result at Greenwich Park.
Grade IV:
George, riding her own horse Rainman, produced a stunning performance in the morning session, scoring 77.065 and denying Great Britain's Sophie Wells on Pinocchio, who achieved an impressive 76.323.
Frank Hosmar (Netherlands) on Alphaville claimed bronze with a score of 73.097.
Grade III:
Wells's teammate, triple Paralympic gold medallist Deborah Criddle and LJT Akilles, also had to settle for silver.
Criddle was first to ride in the afternoon and recorded a mark of 71.267, but Brenner claimed the glory, despite having a momentary blackout during her test, by scoring 73.467 to retain her Beijing 2008 championship title on Women of the World.
Beijing silver medallist Annika Dalskov (Denmark) lost a place to finish in bronze position riding Aros A Fenris with a score of 71.233.
Grade Ia:
Christiansen, riding Janeiro 6, led the final test of the day throughout. First to go, she produced an exceptionally high-scoring test of 82.750 and maintained a six-point margin ahead of the unlikely silver medallist, Helen Kearney (Ireland) on Mister Cool.
Laurentia Tan (Singapore) on Ruben James 2 repeated her Beijing performance to take bronze.
Team test: The combined scores from the team tests (30 and 31 August) and individual championship tests (1 and 2 September) gave Great Britain a score of 468.817, and their fifth consecutive team gold.
They have been unbeaten in the Paralympic team competition since equestrian events were introduced in Atlanta 1996.
Germany, with 440.970 points, took silver, and Ireland (428.313), appearing in their first Paralympic equestrian competition, won bronze.