Exciting TIMEs for India's Para badminton ace Manasi Joshi
'I have never let my disability stop me from doing anything'
12 Oct 2020
Imagen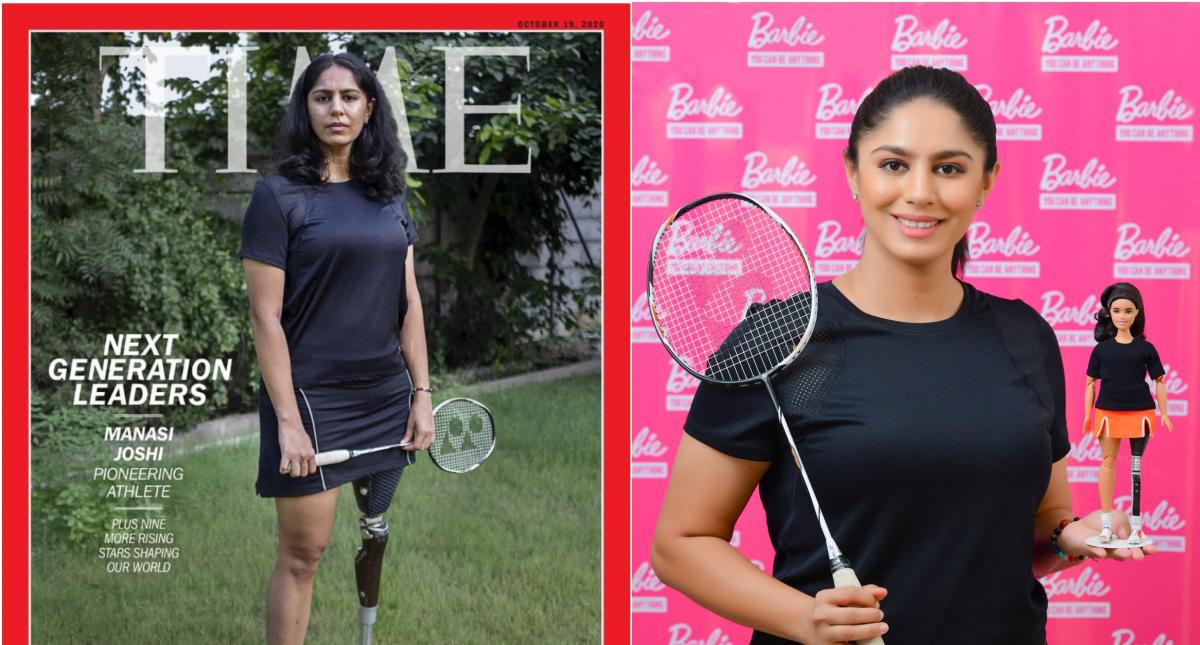 ⒸIPC
By Priyanka Sharma, Asian Paralympic Committee | For the IPC
India's Para badminton ace Manasi Joshi continues to inspire fellow Para athletes around the world. From setting examples to breaking stereotypes, Joshi has been a trailblazer ever since she took up the sport following an accident in 2011.
She grabbed headlines last year by winning the World Championships in Basel, beating compatriot and world No.1 Parul Parmar in the women's singles SL3 final.
The TIME magazine featuring Joshi as the Next Generation Leader, earlier this week, a first for a Para athlete, is another huge shot in the arm of the 31-year-old.
The occasion soon turned into a double delight with the star shuttler getting a one-of-a-kind Barbie doll modelled to her likeness on the occasion of International Day of Girl Child, on Sunday, 11 October.
A beaming Joshi, speaking about the accomplishment said that, it's been a "privilege to have represented the disability community which is so underrepresented in India."
"I am glad I got a voice because of my sport. I have been fortunate enough to use this voice to raise awareness about prosthetics, road safety, disability and inclusion. To me, I am honoured beyond measure to be a part of TIME 2020 Next Generation Leaders and also to make it to the cover of TIME Asia.
"I personally think that seeing a disabled athlete on the cover of TIME will change a lot of perceptions surrounding disability and Para sports in India as well as Asia," said the world No. 2, who lost her left leg in a road accident, having been hit by a truck.
With accomplishments comes responsibilities, and Joshi acknowledged that she will need to handle it with care and use her time and energy for the betterment of self and society.
"I hope that I keep inspiring the upcoming generation with my achievements. I think I will keep on playing my sport and speaking up about the importance of inclusion and diversity on various forums.
"To be the first Para athlete to be recognised in this list as an advocate of rights for persons with disability in India feels like a great achievement. I am glad to be able to contribute to the Paralympic movement in India through my sport and voice it is providing me," said Joshi.
Breaking Stereotypes
Owing to her success and popularity, Joshi has, over the time, become a role model for many young girls who would dream to be like her in India.
"Growing up, I had amazing role models who have shaped my outlook towards life and have always inspired me to be vocal about my thoughts and beliefs. I am truly humbled to be recognised as someone who has broken stereotypes. I have always believed in listening to myself, setting goals and working towards them. I have never let my disability stop me from doing anything that I set out to do," affirmed Joshi.
With the Barbie doll modelled to her likeness, she has joined the likes of Australian Paralympic medallist Madison De Rozario and Turkish Para swimming champion Sumeyye Boyaci among many others, in celebration of the extraordinary women who inspire girls around the world to be anything they dream to be.
"It's incredible to have a One of a Kind (OOAK) Barbie Doll modelled after me. I am honoured to be in this league of Role Models and join Madison De Rozario and Sumeyye Boyaci and other empowering Barbie SHEROES, who have made young girls believe that one can be anything they want to be!
"I truly believe that education around inclusion and diversity should start early and I hope that my story inspires many more lives, encourages young girls to harness their true potential to fight hard and become whoever they set out to be."
'Need role models like Manasi'
Paralympic Committee of India (PCI) president Deepa Malik was delighted over the Para shuttler's latest recognition and said this will give a great boost to the Indian Paralympic Movement.
"We need role models like Manasi to come and inspire the next generation and new talent pool of Para athletes in India, in fact not just Para athletes especially the women and young girls in India who can identify with her story, her success, her determination, her grit and her never give up attitude.
"It's like a celebration of the success and recognition of Para sport as the main stream in India. Paralympics in India is a new thing. Now athletes are getting their due; they are getting the respect they deserve and their medals are being celebrated. I am very happy for her and wish her all the best in her future endeavours," said Malik, who emphasised that the newly-found PCI is working very hard to ensure that there's an "athlete-centric growth of Para sport in the country and that its athletes are celebrated."
Getting Stronger
Joshi is currently training to qualify in the mixed doubles event, with partner Rakesh Pandey, at the Tokyo 2020 Paralympics. She, in fact, has a new running blade to help her with her fitness, a video of which she posted on social media.
"This is my third everyday prosthesis with first two being one for walking and one for playing my sport badminton. I am still learning the running skills, using more of my hands and shoulders and trying to increase pace. Every day I am getting more and more stronger in the running prosthesis.
"I am training virtually with my fitness trainer Leandi Van Zyl and have also started going for badminton training at nearby courts. Now I'm training twice a day eating right and making most of my time," said the Gujarat-based shuttler, a bronze medallist at Indonesia 2018 Asian Para Games.
She concluded emphasising that that hard work, ambition and perseverance are the most important thing required to be successful.
"My message to young girls will be 'Do not listen to anyone who say that you can't do something. You have to dream and give it all, because dreams do come true'."