Fourth time lucky for Antonino Bossolo
Italian claims first title at European Para Taekwondo Championships
12 Jun 2018
Imagen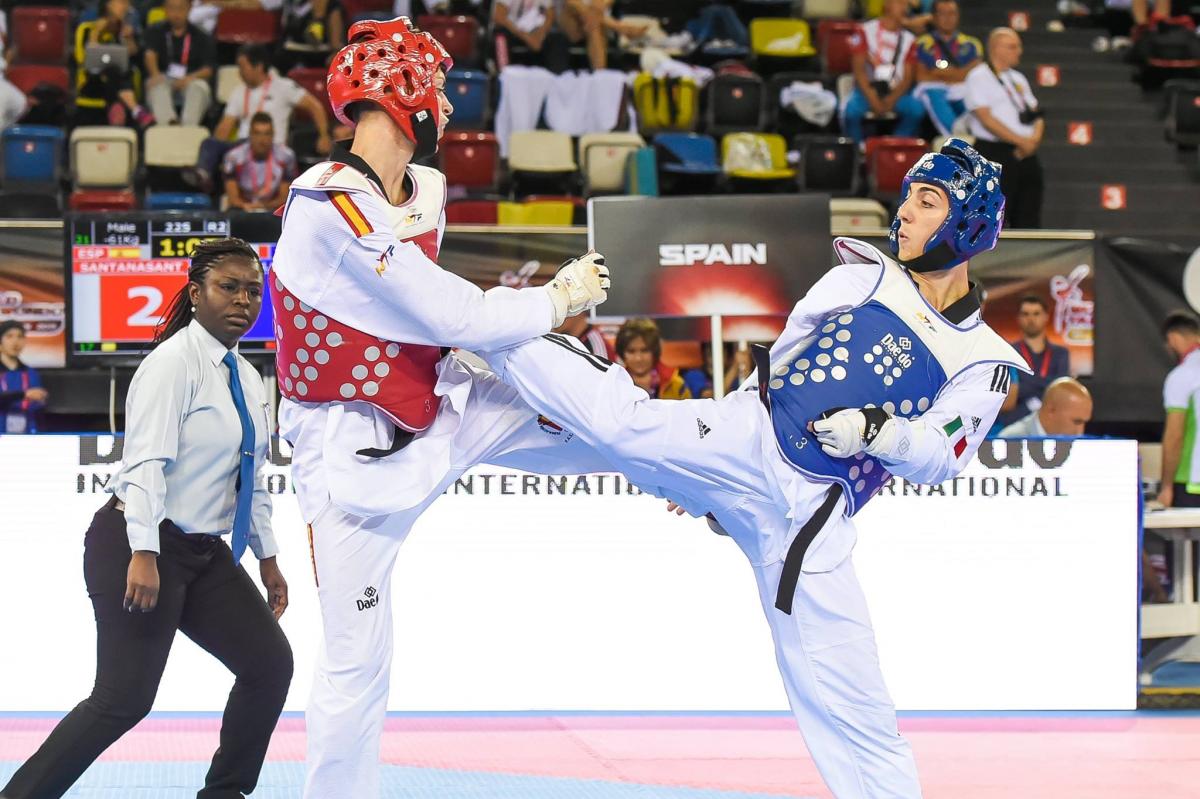 ⒸAntonino Bossolo
By Lee Reaney |For the IPC
Antonino Bossolo pulled off two shock wins to finally claim his first regional title after three previous attempts, as the European Para Taekwondo Open Championships concluded on 10 June in Plovdiv, Bulgaria.
Having finished with bronze at the last three Championships, the Italian captured the men's up to 61 kg K44 division.
Bossolo flew under the radar, having made only one final before the Europeans – a silver at the 2015 World Championships. But on Sunday, Bossolo's breakthrough came in the semi-final against the division's No. 1-ranked fighter, Bolor-Erden Ganbat, beating him 15-13 to hand the Mongolian just his second competitive defeat. The Italian then fought his way to an entertaining 29-25 victory over Turkey's No. 3 Mahmut Bozteke in the final.
"Ganbat is No. 1 in the rankings [for a reason] – it's not easy to beat him," Bossolo said. "It's a unique feeling that gives me motivation to better deal with future matches. My dream is to compete in Tokyo in 2020."
Rampant Russia
Russia* was a big winner at the European Championships, taking home eight medals in the K43 and K44 classes, including two golds. No. 2-ranked Vladimir Feofanov edged compatriot Magomedzagir Isaldibirov 29-24 in the men's up to 75 kg K44, while world No. 7 Zainutdin Ataev passed Turkey's former world champion Bayram Kayan in the over 75 kg K44.
Ataev did not need to beat the top-ranked fighter in the division – Ivan Mikulic – after the Croatian fell in the quarter final.
Great Britain's No. 1-ranked Amy Truesdale again suffered defeat, this time to world No. 5 Aynur Mammadova of Azerbaijan in the women's over 58 kg K44 final. Truesdale, who finished 2017 unbeaten, has now lost three straight tournaments in 2018.
World champions dominate
Denmark's four-time world champion Lisa Gjessing claimed her fourth European title by defeating Mexico's Jessica Garcia Quijano 12-2 in the women's up to 58 kg K44 final. The Danish dynamo has yet to lose a fight, as she won her ninth straight tournament since starting Para taekwondo in 2013.
France's three-time world champion Bopha Kong won his fourth tournament of 2018 after beating all comers in the men's up to 58 kg K43 division. His third European title came from beating Russia's Kadibagama Omarov.
Ukraine's pair of world No. 1s – Vika Marchuk in the women's up to 49 kg K43 and Anton Shvets in the men's up to 75 kg K43 classes – claimed maximum ranking points after winning gold in their respective divisions. Marchuk added her fourth European title to her four World Championships, while it was the third European title for Shvets.
Asia fighters continue success
Following many breakout performances at last month's Asian Open Championships in Vietnam, several Asian athletes continued their winning runs in Bulgaria.
World No. 1 and reigning world champion Enkhtuya Khurelbaatar of Mongolia followed up her Asian title with a European victory after besting Mexico's Claudia Romero in the women's up to 49 kg K44.
After claiming his first medal at last month's Asians, Japan's Mitsuya Tanaka followed up with a bronze in the men's up to 75 kg K43.
A total of 116 athletes (82 men and 34 women) from 25 nations competed in Bulgaria, with European fighters earning double ranking points at their home tournament.
*Editor's note: The International Paralympic Committee suspended the Russian Paralympic Committee on 7 August 2016 for its inability to fulfil its IPC membership responsibilities and obligations, in particular its obligation to comply with the IPC Anti-Doping Code and the World Anti-Doping Code (to which it is also a signatory). As a result of the suspension, Russian athletes cannot enter IPC sanctioned event or competitions, including the Paralympic Games. For further information please click here.