Like Gasol brothers, Zarzuela twins make history in Spain
The Spanish brothers led their nation to its first Paralympic medal and want to build off that at the Europeans.
14 May 2017
Imagen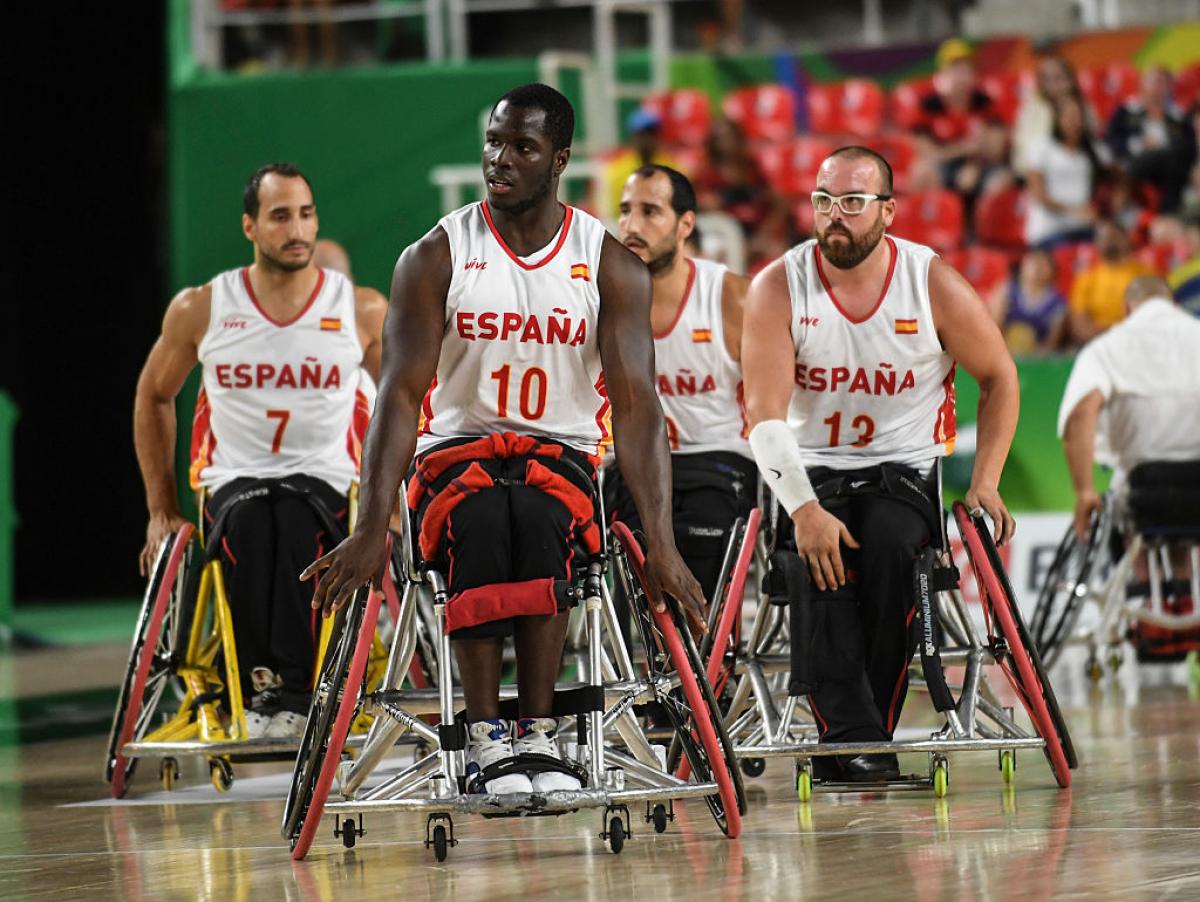 ⒸGetty Images
By IWBF and IPC
Pau and Marc Gasol have won NBA titles, World Championships, and top individual honours. But they are not the only Spanish brothers who have made an impact on the international basketball scene.
Twins Alejandro and Pablo Zarzuela have not only represented Spain at international level, but are also silver medal winners at a Paralympic Games.
Following in the footsteps of the Gasol brothers, who won silver together as part of the same team at the Beijing 2008 and London 2012 Olympics, the Zarzuela brothers assisted Spain's wheelchair basketball team to secure the country's first ever Paralympic medal in the sport at Rio 2016.
"A dream just came true," Pablo said. "We went with the idea of fifth or sixth and we brought back the silver medal. I think we could not ask for more.
"If in your first Games you get into the final and achieve a silver medal, you can sleep peacefully for a good time. Just after the medal it was a bit of disbelief and a lot of happiness, later on I became super proud of the work done and even more happy."
Last year was the most successful of their careers, with their club team CD Ilunion, they won the Spanish league, the King's Cup, and the European Champions Cup, and then Paralympic silver.
Alejandro added: "The silver medal was a kind of final present. It was fantastic to enter into a final of the Paralympic Games. I still fly when I remember moments of Rio and when I hear songs that remind me of that."
Spain faced the USA in the Paralympic finals, with Alejandro finishing with a team-high 20 points and Pablo next with 16.
Brothers on, off the courts
Alejandro and Pablo were born on the 2nd April 1987 in Andalucia, both with spina bifida. They started playing wheelchair basketball in Jerez when they were 12 years old. As club wheelchair basketball players in Spain, they have played all but two seasons on the same team.
"Well, that means being able to be away from my family but having a fundamental pillar at my side along the way, not only supporting me in necessary moments, but living the experiences together and sharing them, it gives a very special touch to any situation," Alejandro said.
But it is not all harmonious.
"Alejandro is the person which I have the most discussion with on the court, but we know each other very well and it's just in the heat of the moment," Pablo said.
Alejandro laughed: "Yeah right, we are both very demanding and to have so much confidence between us sometimes is not that good. To him wheelchair basketball is everything. It is the meaning of his life.
"It has brought me very special moments, the possibility to know lots of amazing people including my wife Vicky. I feel lucky for what the sport has given me."
Sports was always something they wanted to do growing up.
"A way to lead my life with as little sedentary as possible is the profession that I wanted to have since childhood and I have achieved this after a lot of dedication," Pablo said.
Wheelchair basketball was not the first sport he tried. But he does remember his first training.
"It was a little crazy because I was very strong and could not control the chair, I was on the floor more than I was in the chair, but this is what attracted me," Pablo said.
Alejandro agreed: "I do not remember the first game I played, but I do remember the first time I got into the wheelchair. It was a feeling of freedom, it was incredible to be pushing up and down the court in the chair, so much contact without hurting me and just enjoying it so much."
Growing the sport
Now at 30 years old, they are two of the most successful wheelchair basketball players of their country, although it has not always been easy or successful. The worst memory of Pablo's career was not participating in the London 2012 Paralympic Games, and for Alejandro it was also difficult to play without his brother at this special tournament. But to win the silver medal in Rio together was more than compensation.
They hope to continue playing and build off of Rio 2016, which can start this summer, when Tenerife, Spain, hosts the European Championships from 23 June.
"I want to continue improving the many things I still have to improve and continue to harvest titles – I cannot get tired of that," Alejandro said.
"My goals are to improve day by day, to expand my range of action, and to continue enjoying what I do is very important to me. With the my club team it is to get the triple again and with the national team it is to win the European Championships but also to win the World Championships and Paralympic Games would be fantastic."