Match-up with club teammates excites Bohme
The German wheelchair basketball player shares his expectations for June's European Championships and the road to Tokyo 2020.
10 May 2017
Imagen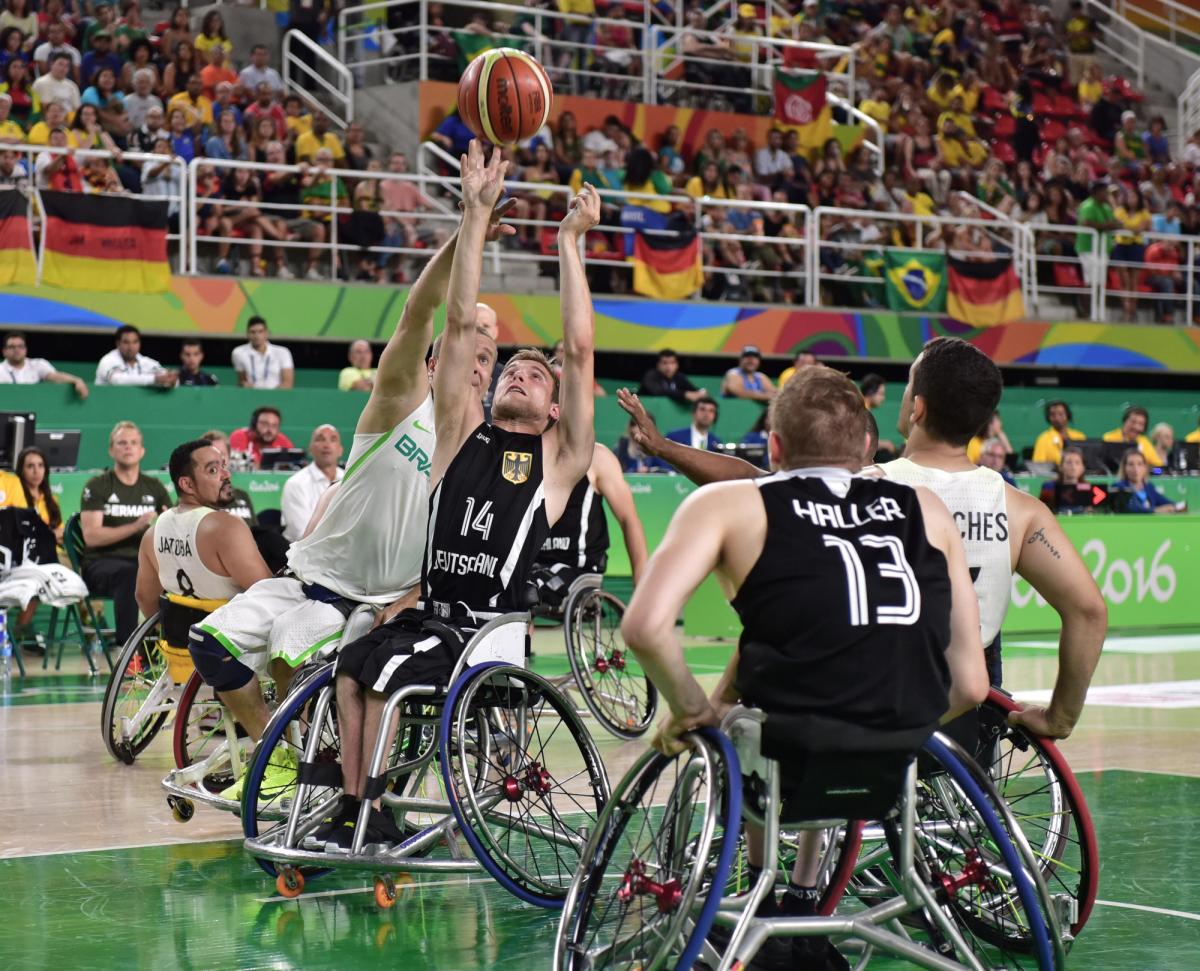 ⒸAndreas Joneck/DBS
By Laurie Lawira | For the IPC
"I was always the young guy, the little guy. Now it's a new experience for me to be one of the more experienced guys [whom] young players look up to."
On paper, a match-up between Germany and Poland is perhaps not the most anticipated of the 2017 Wheelchair Basketball European Championships this June. But for German Thomas Bohme, the chance to play one-on-one against Polish club teammate Piotr Luszynski excites him.
"It's going to be fun," the 25-year-old said laughing. "I think I'm just a bit quicker, so I can use my speed. But when he's near the basket... you're screwed. He'll make the shot, so you have to keep him away from the basket, as far as you can."
The 3.0-classified teammates play for the German-based RSV Lahn-Dill club. While a clash between the two at the Championships in Tenerife, Spain, is not guaranteed – Germany and Poland are in different groups – a meeting with Bohme's British teammate Joe Bestwick is scheduled.
"I've trained with them the whole year, play with them in matches and in finals, and suddenly they're your opponents. It's always a fun experience," said Bohme.
Training for wheelchair basketball games is treated like a full-time job at Bohme's Bundesliga club. They have eight to nine sessions each week and matches on weekends. The outcome: numerous titles, as Lahn-Dill are the most successful club side in Germany; they won their 13th title in April. Now, they are pushing for a seventh International Wheelchair Basketball Federation (IWBF) Champions League crown.
Dream becomes reality
Such opportunities offered by wheelchair basketball are beyond what a 10-year-old Bohme expected when he watched his first live game.
"I was into sports when I was growing up; I watched football. I wanted to do sports by myself, but I wanted to be in a sports club and play sports. I had nothing to do with basketball before, to be honest. Like, I knew that we had a team but I wasn't very interested in basketball," he recalled.
"I started to go to the games, and I was like 'that's cool, I want to try it.'"
Born with spina bifida, the 25-year-old developed strong wheelchair skills at an early age and his talent with a basketball was recognised; he debuted in the top flight German league at 14.
Since then, he has represented Germany at two Paralympics and has European Championship silver and bronze medals.
"I didn't know anything about wheelchair sports," Bohme said. "But then when I started to play and I got to know more and more, like there are the Paralympics, and thought that would be awesome to be part of it one day. But it was always like a dream. And now that dream came true. When I was young I never thought I'd be here."
Nurturing youth, potential
The last time Germany won a Paralympic medal was in 1992. They never won a World Championship title.
But they are on the rise, looking to first prove themselves on the regional level and perhaps pull a similar surprise as what Spain did at Rio 2016 – when they took silver, their first ever Paralympic medal.
The irony is that the Spaniards beat the Germans on their way to the gold medal playoff, in a game that Bohme recalled well.
"We were up the whole game and lost it in the last few minutes," he said. "So it was disappointing. But I think we'll have some young players and grow. We saw it. We can play with the best teams."
After a pause, he continued with a laugh: "Maybe not the US [reigning Paralympic champs]. They destroyed us [at Rio.]
"No one had a chance in the tournament. They were better than any other team, but the other teams we could compete [against]. We have to put more work in."
Stepping stones to Tokyo 2020
Germany will gain automatic qualification for next year's World Championships as hosts, relieving some pressure when they play in June's Euros tournament, where teams get to qualify for Hamburg 2018.
On Germany's goals there, Bohme said: "Top five for the European Championship; we have a young team [and] some good young players coming up."
Bohme knows that between now and 2020, his responsibilities on the national team would change.
"I was always the young guy, the little guy. Now it's a new experience for me to be one of the more experienced guys [whom] young players look up to. It's a nice feeling. You are like a role model. You have to act like it, be like motivating the young players. Train harder than any the others, to push the others, to be in that situation."
"There's still the big dream to win a Paralympic medal, no matter what colour it is. Gold, silver, bronze. It's a big dream."
The 2017 Wheelchair Basketball European Championships will be held from 19 June – 1 July.