Australia burning to make up for Rio disappointment
The London 2012 silver medallists and 2014 world champions left Rio empty handed and Jannik Blair is working for redemption.
03 Mar 2017
Imagen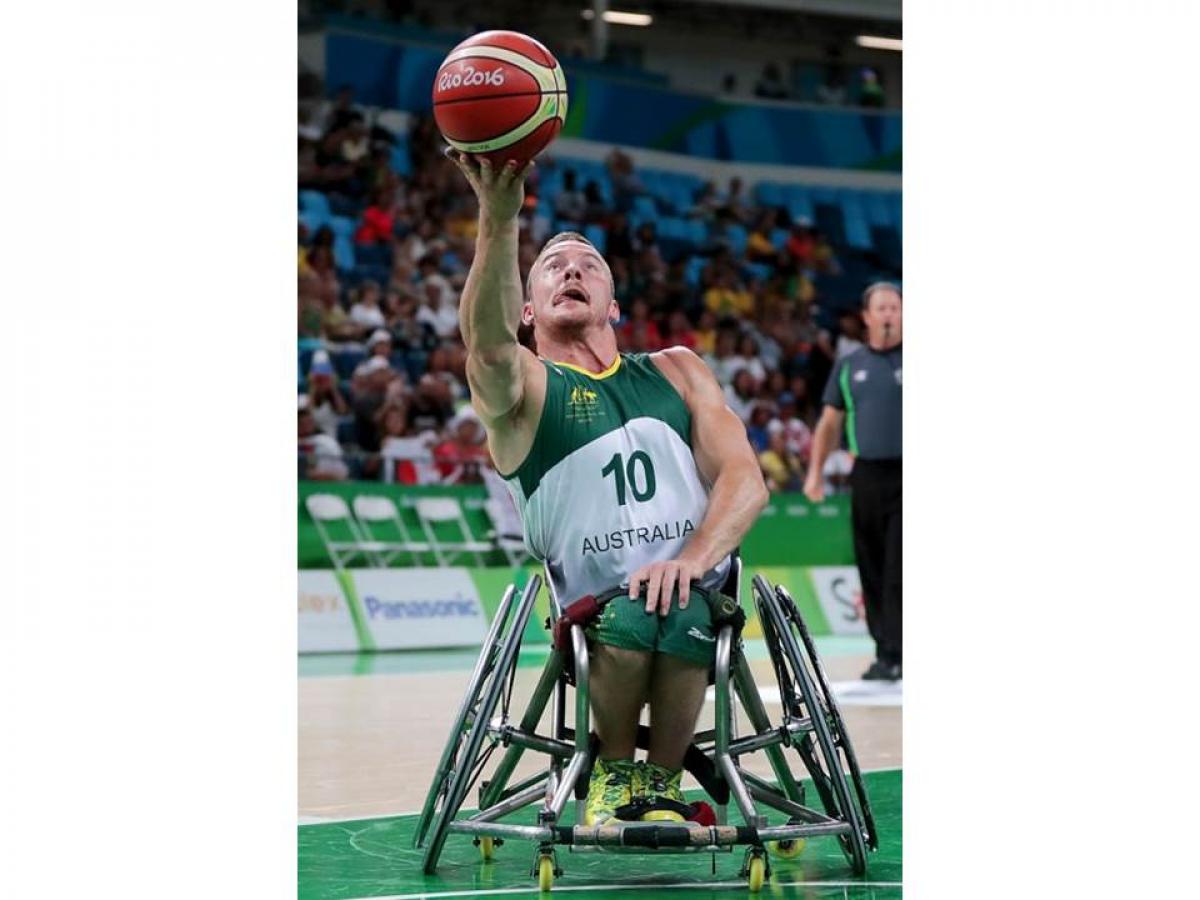 ⒸGetty Images
By Laurie Lawira | For the IPC
"I think we're completely capable of being back in the medals at the World Champs, next year in Germany and I think the same again in Tokyo."
Approximately 300km northwest of Melbourne, Australia, is the regional city of Horsham, where on the hottest day this month (February), the temperatures soared to a scorching 44 degrees Celsius. The town that services 16,500 residents, has a humble basketball centre - a place 25-year-old Jannik Blair can be found most mornings intently shooting hoops.
"It gets hot out here, training in the local stadium," said the two-time Australian Paralympian with a chuckle.
"It's just a glorified old tin shed, so if you're not in there pretty early in the morning, it turns into a sweatbox - but it's good, I'm enjoying the Aussie summer."
A "tin shed," for those unfamiliar with Australian colloquialism, refers to a simple structure that lacks any fancy trimmings, and a "sweatbox" resembles a sauna - but far more unpleasant.
It is in these testing conditions that Blair begins the proverbial "long road to redemption," where adapting to the heat is tough, but escaping from the burning disappointment of the Rio Paralympic Games seems almost impossible.
"In terms of personnel, we were a talented enough group," Blair said. "If you look at the names on paper, we had the ability, or I guess the personnel to get it done but we didn't really play well together, we didn't really play well as a team.
"Obviously when you have a campaign, where you go from being ranked No. 1 in the world to sixth, there's always going to be some reviews and people want to know why across the board, from the playing group and staff, everyone who supported us, people want to know why, what went wrong and what you would change... looking forward so this sort of thing doesn't happen again."
Australia returned from their London 2012 campaign with a silver medal and the drive to go even better in Rio. Two years later they were well on their way with a World Championships title in Incheon, South Korea.
But they stumbled at a critical point – in the quarter final stage in Rio - with eventual bronze medallists, Great Britain, putting an end to their aspirations of another Paralympic podium finish. And then there was even more frustration, with a loss to host nation Brazil in the fifth-place playoff.
"I think I can speak for the boys and say we want another game now so that we can finish on a different note... we're keen to get out on court and get started on the next campaign and we have more positive things to look at.
"It's not like if you play a game of footy [football], you lose one week, you get the chance to go out the next week and put it right. You've got two years - it's just a long time to stew on [think over] things."
The thinking time has now passed and the action is about to begin for the Australians. On 15 February, Basketball Australia announced Craig Friday would take over the vacant role of head coach of the Rollers' squad, with a direction to succeed at Tokyo 2020 in mind.
Friday already has a list of accomplishments including serving as assistant coach at the 2004 and 2008 Paralympics where the team were silver and gold medallists respectively. He was also there for the back-to-back World Championships in 2010 and 2014. Ahead of him now, is the challenge of rebuilding a side that has undergone a period of deep introspection.
"I think we're completely capable of being back in the medals at the World Champs, next year in Germany [World Championships] and I think the same again in Tokyo [2020]," said Blair.
"Maybe we'll lose some games in the lead up … [but] no one really remembers who wins the little tournaments here and there, it's all about who wins at Worlds and Paralympics."
The Australia squad will come together for a camp at the end of March, and then travel to Europe for a three-team friendly against the Netherlands and Japan in a warm-up series before the Parantee Para Championship tournament in April.
Between now and then, Blair will be back in the 'tin-shed' training in the harsh Australian heat. Like many of his teammates, returning to international competition represents another step forward. And what the 25-year-old has taken away in the last few months since Rio is simple: "You can only be good at basketball by playing basketball."