Hickey swaps court for rink in bid for PyeongChang 2018
Fresh from silver-medal success in wheelchair basketball at Toronto 2015, Liam Hickey is hoping to make his Team Canada dreams a reality again.
03 Sep 2015
Imagen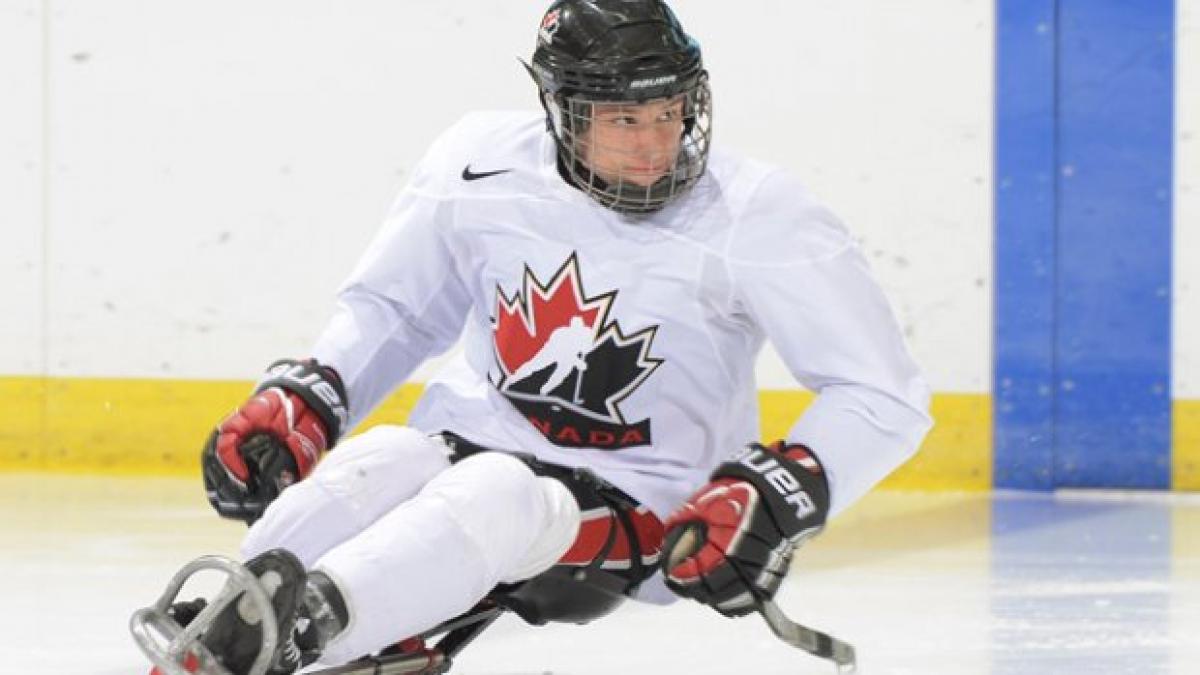 ⒸHockey Canada
By Hockey Canada
"As soon as I found out about sledge, I gave it a try. I fell in love with it and I've been hooked on both sports ever since."
He is only 17, but Liam Hickey has serious Paralympic Games aspirations.
On the ice at Canada's National Sledge Team development camp, Hickey has Pyeongchang 2018 in his sights, but he is hoping to make another stop – in another sport – before he gets there.
Hickey is already a member of Canada's national wheelchair basketball team, and helped it qualify for the 2016 Paralympic Summer Games in Rio de Janeiro with a silver medal performance at the Parapan Am Games in Toronto in August.
Now he has traded in the hardwood for the ice, and a second Team Canada experience.
Despite being off the ice for most of the last three months to focus on training for the Parapan Am Games, Hickey has found the transition from one sport to the other fairly easy, a testament to his athletic ability.
"Training for the Parapan Ams was a huge commitment," he says. "Just trying to balance basketball and sledge training, it's been a bit difficult with school and stuff. But it's good to be back on the ice now, and with Hockey Canada, it's always awesome."
So how does the teenager find not only the time, but the energy, to play two sports at an international level?
For Hickey, it is easy – it is fun.
Born without a femur in his right leg, he played a little bit of stand-up basketball growing up, but was always saddened by the fact that he would never be able to skate. He got into wheelchair basketball just after he turned eight years old was introduced to sledge hockey for the first time shortly after.
"As soon as I found out about sledge, I gave it a try. I fell in love with it and I've been hooked on both sports ever since," Hickey said.
While working out in the gym and playing the sports are the simple part, there are also some challenges for Hickey to remain at the top of his game and perform at the level of an international athlete.
"It's fairly easy to balance the training for both because it's very similar; it's upper body strength, so my workout is the same," he says. "The tough part is finding enough ice time and court time for each like I'd want to."
If Hickey needs a little extra motivation, or wants to see what a successful dual-sport athlete looks like, he does not even need to look outside the dressing room at sledge camp in Calgary.
Brad Bowden, a long-time member of Canada's National Sledge Team and one of the most decorated athletes in the sport, knows a thing or two about balancing basketball and hockey – he won Paralympic wheelchair basketball gold at the 2004 Summer Games in Athens, and followed that up with sledge hockey gold two years later in Torino.
"What's hard is staying on top of the specific skills – keeping your shot dialled-in on the basketball team, but also being able to precisely shoot some pucks back on the ice," Bowden says of the challenges facing Hickey. "You need to keep working on the little things back and forth to maintain a certain level of play.
"I'm very proud of him and I know it's not easy to balance out the two sports. It's a great accomplishment for him to win any medal at the Parapan Am Games and he did his country proud, now we're just happy to have him here. Liam's a natural athlete, always in shape and always ready to go, with a sharp mind. He works his butt off and it's great to see."
Having been through a few development camps with Hockey Canada in recent years, and with the guidance of Bowden and other veterans, Hickey feels that it is his time to shine on the ice.
To help, he has brought a few things from the Parapan Am Games to camp.
"It was an amazing experience getting to play on home soil," he remembers. "It taught me how to be calm in the game because, with that many people, it was so loud. You need to find a way to relax in those high-pressure situations."
Like any player who gets the opportunity to potentially wear red and white with Hockey Canada, Hickey is thankful for the opportunity, and knows it is just that – an opportunity. Regardless of his previous successes on the ice, and on the basketball court, he knows he has to earn his Team Canada spot, just like everyone else.
But if he does get the chance to represent his country, and a Canada-United States showdown comes up (which it inevitably seems to in the hockey world), Hickey already has his motivation.
It was the Americans who upended Canada in the Parapan Am Games wheelchair basketball final, and Hickey would love nothing more than a shot at redemption, in whatever sport it may be.
"It'd be huge," he says. "Canada always wants to beat the States no matter the sport they're playing, so it's a big rivalry. We always want to win, and we're going to try and do just that."