Hiroaki Kozai ready to upset podium expectations
The Japanese wheelchair basketball player has seen his team improve over the years and believes they can win their first Paralympic medal.
19 Aug 2016
Imagen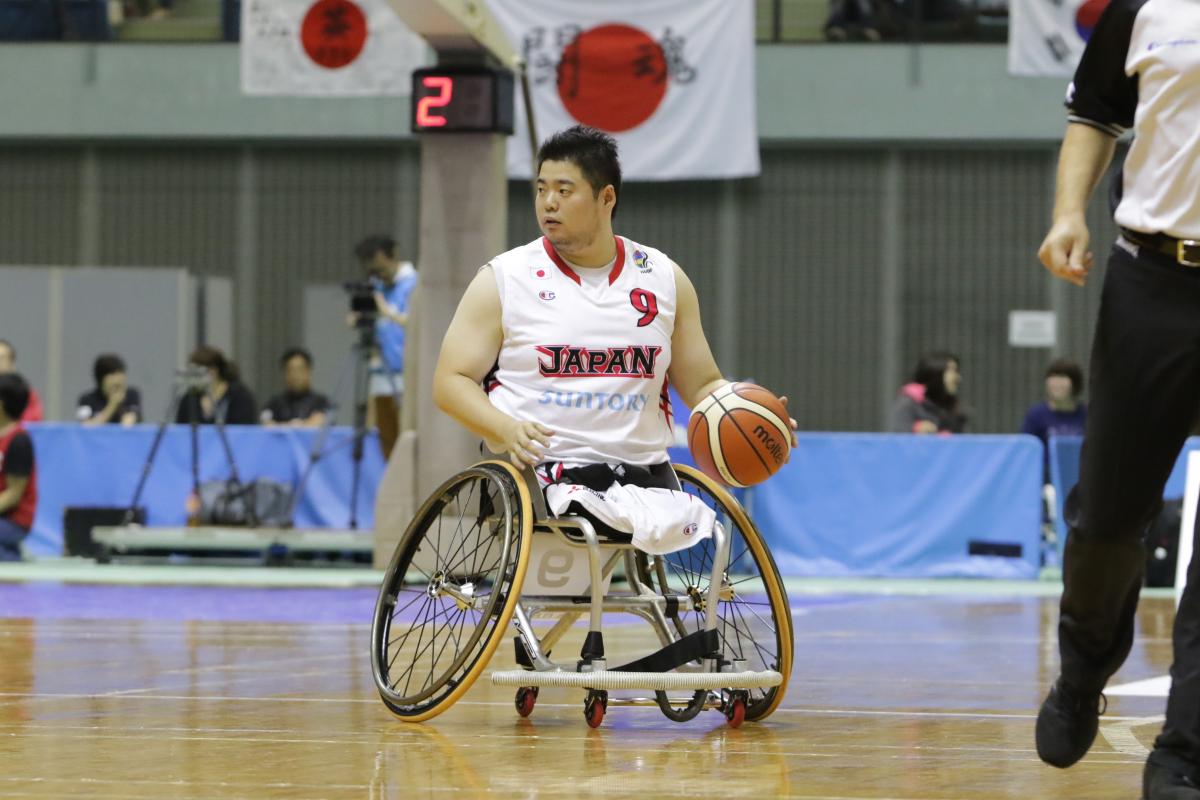 By Laurie Lawira | For the IPC
"Just like getting up on stairs, one step at a time, slowly we're getting better."
Japan has never finished on the podium in wheelchair basketball at the Paralympic Games. But that could change at Rio 2016according to vice captain Hiroaki Kozai.
"Many teams have a chance to get a medal. When I watched the [2015] European [Championships] – if you have a great shooting day [any team can win] – it's that kind of tournament. So I think the same thing applies to us too," he said.
"Our goal is to get sixth place, but getting a medal is not impossible."
The reason for sixth is to do one better than their highest ever finish – seventh in the Beijing Games in 2008.
They have been steadily improving on the international stage since their ninth place at Sydney 2000. And recently they have been boosted by new coach Shimpei Oikawa, who took the reins in 2013.
According to 28-year-old Kozai, Oikawa's plan of focusing on the basics is what the team needed.
"Just like getting up on stairs, one step at a time, slowly we're getting better. If we stay focused on the things we've been doing, I feel like we can do well," Kozai said.
Studying their opponents has also been a new feature in their preparations. The Japanese team has been acutely watching videos of their opponents, analysing their strengths and weaknesses. Kozai also has firsthand experience, as one of three players on the team who regularly competes against some of the best players in the world. His time playing on the German league has countless benefits to his national teammates.
"When we went our back home from training camp [from Germany] during the season my coach told us the intensity of our practice got higher," Kozai said. "But we don't really see it because we just get there and play with them, but they feel the difference.
"Playing in the German league is really tough because everybody is tall and really physical too. Many [of the] best players come to Germany to play, with and against each other. And some players are like two metres tall, so you know, that's what we don't really see in Japan. Obviously Japanese people aren't that tall. So that [helps] me prepare for the Paralympics and Worlds."
Kozai will be a key player for his nation during the Paralympics, particularly if his recent form continues.
As part of Japan's preparations, the team played in July's Continental Clash in Leicester, Great Britain, where the Kozai earnt a place on the All Star 5 team. He was named alongside notables Abdi Jama (Great Britain), Jake Williams (USA), Shaun Norris (Australia) and Tristan Knowles (Australia).
Japan finished that competition with two wins, one against a stunned Netherlands outfit, and the other against 2012 Paralympic gold medallists Canada. Australia was also given an early scare before they recovered to win by 10 points.
With Kozai and his teammates playing with a lot of confidence, Japan are in good position to shake up the Paralympic podium in Rio.
"I try to be a leader on the court," said Kozai.
"Communicating with each other is so important. So that's what I'm trying to do, be a leader, run our offence and defence smoothly."
__
Sport fans from around the world can now buy their Paralympic tickets for Rio 2016 from authorised ticket resellers (ATRs)
The IPC's Global ATR is Jet Set Sports, and Rio 2016 tickets and packages can be purchased on the CoSport website.
Residents of Brazil can buy 2016 Paralympics tickets directly from the Rio 2016 website.