IPC conducts first review of Paris 2024
Delegation including President Andrew Parsons visits city with six years to go until Paralympics
27 Apr 2018
Imagen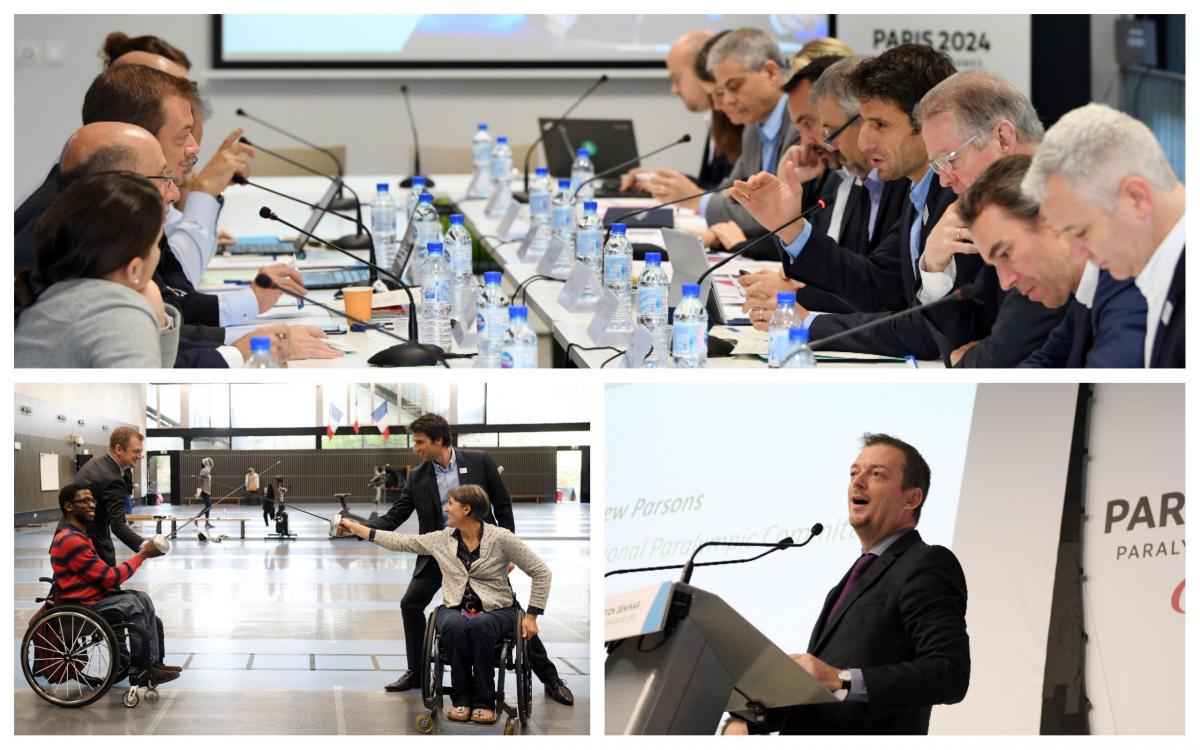 ⒸParis 2024
By Paris 2024
International Paralympic Committee (IPC) President Andrew Parsons and CEO Xavier Gonzalez led an IPC delegation to Paris, where they conducted the first 2024 Paralympic Games' 'Project Review' and 'Orientation Seminar.'
An update on the progress of Paris 2024 since being elected host city last September was provided at the meetings with the Paris 2024 Organising Committee, led by its President Tony Estanguet, which took place at the INSEP (National Institute of Sport).
The attendants also discussed 2018's major milestones: team recruitment and organisation; finalisation of the technical plan; development of the vision; marketing strategy and legacy ambition.
The Organising Committee also shared their goals of widening sports participation among people with impairment, changing attitudes towards impairment and inclusion, and improving accessibility of infrastructure and the public space.
The IPC presented learnings from previous Paralympic Games, emphasising the need to anticipate requirements of the transition phase across all aspects of Games' preparations. The potential advantages include cost savings as well as benefits to the athlete experience.
The concept of inclusion was one of the pillars, proposed by the IPC as a guiding principle that should be embedded throughout the organisation over the entire six-year hosting cycle in order to maximise the Games' positive impact on society.
Parsons said: "This was the first project review with Paris 2024, the beginning of a six-year journey and at the International Paralympic Committee we are very excited about it. The Paralympics in Paris will undoubtedly lead to social transformation and it was an important first step to discuss the plans Paris 2024 has to achieve it.
"We also had the opportunity to meet different stakeholders and to bring experts here to share valuable information about the Paralympic Movement and the previous Games. Every edition wants to be the best Paralympic Games in history and, from what we have seen and heard so far, Paris can definitely achieve it."
Estanguet added: "From the start of the bid, we have considered the Olympic and Paralympic Games as a single and unified project. Paralympic leaders and athletes are present in all the Paris 2024 governance structures. Our communications give equal prominence to the Olympic Rings and the Paralympic Agitos.
"Ultimately, Paris will deliver the most spectacular promotional platform for the Paralympic Movement and its athletes. But this 10-day festival of world-class sport will only be the final act in an ambitious programme that Paris 2024 will drive together with all our partners.
"Together, we have six years to improve access to sports for all; six years to educate and change forever attitudes towards impairment and inclusion among an entire generation. These six years represent a once-in-a-lifetime opportunity that everyone connected to Paris 2024 is determined to seize."
Emmanuelle Assmann, President of the French National Paralympic Committee, said: "We are working with Paris 2024 not only to change the perception of disabled people, but also so that these Olympic and Paralympic Games have a real social utility.
"The impact of the Games will not be measured solely by the quality of the organisation of the Olympic fortnight and the 10-day Paralympic Games. It will be major if we allow more people to practice a sport, if we strengthen the accessibility of the city, if we improve the quality of life of disabled people. A day like today allows us to share our expectations and experiences to move forward."