IPC Governing Board take key decisions for future Paralympic Games
IPC Board approve Milano Cortina 2026 sport programme and optimised Paris 2024 venue masterplan
16 Dec 2020
Imagen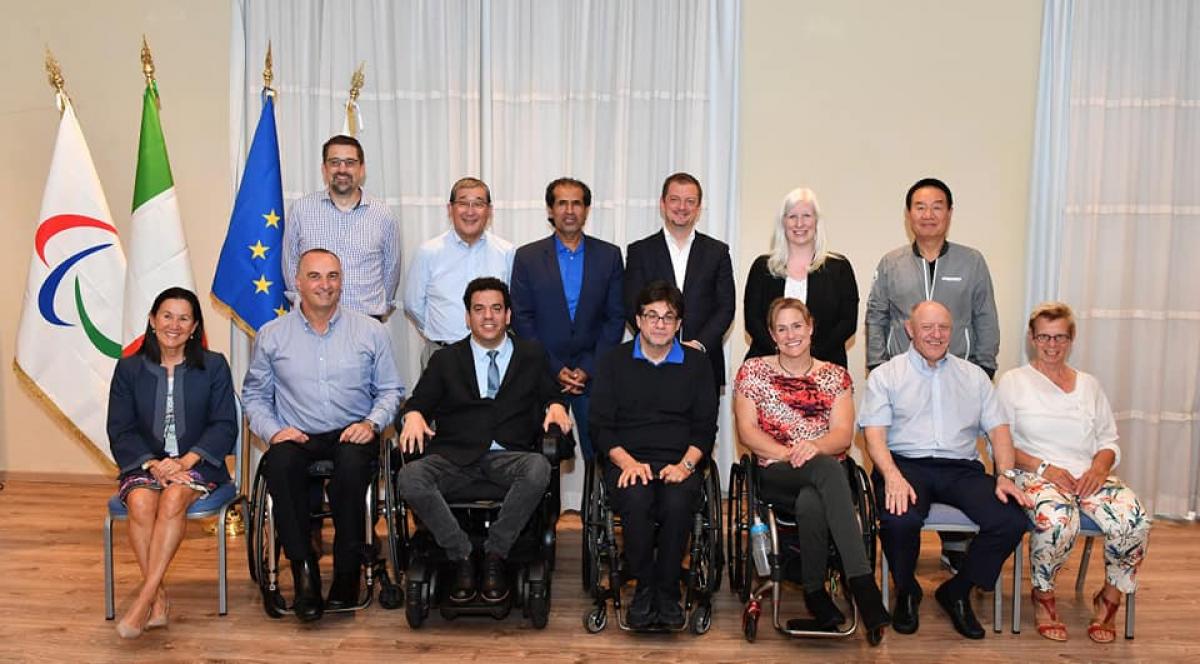 ⒸAugusto Bizzi
By IPC
The IPC Governing Board concluded four days of online meetings on Tuesday (15 December) making key decisions relating to the Milano Cortina 2026 Paralympic Winter Games sport programme and Paris 2024 venue masterplan, as well as receiving updates on preparations for Tokyo 2020.
Five sports so far included for Milano Cortina 2026
The IPC Governing Board approved the inclusion of Para alpine skiing, Para ice hockey, Para Nordic skiing (biathlon and cross-country skiing), Para snowboard and wheelchair curling at the Milano Cortina 2026 Paralympic Winter Games sport programme. A decision on whether to include Para bobsleigh was deferred until early 2021.
For the first time, the Board also provisionally approved the first 18 medal events in order to give National Paralympic Committees (NPCs) and International Federations additional time to plan for the Games. This includes a new mixed doubles wheelchair curling event and two new medal events in women's snowboard for athletes with upper limb impairments.
Andrew Parsons, IPC President, said: "We are pleased that with more than five years to go until the Milano Cortina 2026 Paralympic Winter Games we can confirm six disciplines from five sports for the sport programme and announce the first 18 medal events that will be provisionally included.
"We strongly believe the provisional inclusion of medal events will facilitate participation growth, advancing the possibilities of them meeting the criteria for inclusion when the medal events programme is fully confirmed in two years' time. Moreover, provisional inclusion offers the International Federations opportunities for athlete development and recruitment while giving national governing bodies clarity in their long-term planning, funding and development programmes.
"With regards to Para bobsleigh, the Board decided to defer a final decision pending clarification in several areas. We hope a final decision can be taken in early 2021."
Chelsey Gotell, IPC Athletes' Council Chairperson, said: "The provisional medal event programme for Milano Cortina 2026 includes 18 events that are either new or have had limited participation at previous Games. With more than five years to go until the Games, athletes, national and international federations, as well as NPCs have a target to aim for in terms of developing the talent pool."
The 18 medal events provisionally included for Milano Cortina 2026 are:
Para alpine skiing
Women's downhill vision impaired
Women's downhill sitting
Women's super combined vision impaired
Women's super combined sitting
Para biathlon
Women's individual vision impaired
Women's individual sitting
Women's middle distance vision impaired
Women's middle distance sitting
Women's sprint vision impaired
Women's sprint sitting
Para cross-country skiing
Women's long distance – classic vision impaired
Women's middle distance – freestyle – vision impaired
Women's sprint – freestyle – vision impaired
Para snowboard
Women's banked slalom UL (NEW)
Women's banked slalom LL1
Women's snowboard cross UL (NEW)
Women's snowboard cross LL1
Wheelchair curling
Paris 2024 venue masterplan
Following six-months of stakeholder engagement by the Organising Committee, the IPC Governing Board approved a new, optimised venue masterplan for the Paris 2024 Paralympic Games. The plan makes budget savings, enables certain venues to be shared, increases sustainability and further enhances the Paralympic sport programme and athlete experience.
As part of the updated plan, Para swimming will now take place at the La Défense Arena, Para powerlifting in the La Chapelle Arena and wheelchair rugby at the Champs de Mars Arena. The latter two venues will also host two Para sports back-to-back during the Games in order to drive efficiencies.
Three Para sports will move to venues that are hosting their Olympic equivalent sport. Para judo will take place at Champ de Mars Arena, Para taekwondo will be staged at Grand Palais and South Paris Arena 4 will host Para table tennis. Boccia will move to South Paris Arena 1 creating a small cluster with table tennis.
The Para athletics marathon and road cycling events will also start and finish in Seine-Saint-Denis.
Parsons added: "Paris 2024 has done an excellent job in optimising its venue masterplan as it will most certainly make the Games stronger and better, while at the same time making efficiencies and budget savings.
"Para swimming's switch to La Défense Arena – Europe's largest indoor arena - greatly excites me as I am sure it also will for the athletes. It's a spectacular venue that can hold big, big crowds which I know will bring out the best from Para swimmers. Increasing the number of venues that stage both Olympic and Paralympic sports will also please athletes and drive efficiencies for the Organising Committee.
"Having the start and finish of the road cycling and marathon events in Seine-Saint-Denis also opens up the Games to a younger and more diverse population of France which should ensure strong and passionate crowds."
Following the IPC's approval, the plan will now be put forward for approval by the Paris 2024 board of directors on 17 December.
Tokyo 2020
Updates on preparations for the postponed Tokyo 2020 Paralympic Games focussed primarily on the countermeasures being taken to ensure the delivery of safe and secure Games in summer 2021.
A range of measures are being taken to reduce and minimise the risk of COVID-19 for all Games stakeholders. This includes new joint guidelines from the IPC and Tokyo 2020 around the period of stay for athletes in the Paralympic Village and the introduction of 'playbooks' which will guide stakeholders through their personal responsibilities and individual journeys at the Games.
Parsons said: "I cannot put into words the monumental effort that is being undertaken in unique circumstances by Tokyo 2020, the IOC, Tokyo Metropolitan Government, Japanese Government and the IPC to ensure the Games go ahead in a safe and secure manner next year. When the Games do happen, they will be truly historic and a fantastic celebration of humanity.
"A lot of work is going on behind the scenes right now and we will be in a position to share further information with all Games stakeholders in early 2021. For now, all our efforts are going into ensuring the health and safety of all Games stakeholders, starting with the athletes."
With the new period of stay guidelines for NPCs, the aim is to minimise the number of residents in the Paralympic Village at any one time to lessen the risks of COVID-19 exposure. NPCs will need to adapt their arrival and departure policies to ensure that athletes can arrive at the Paralympic Village between seven to five days prior to the start of their competition and depart a maximum of two days after their completion of competition. Some period of stay exceptions will be considered subject to certain sport specific criteria.
Gotell added: "The IPC has consulted closely with the IPC Athletes' Council on the various measures that are being taken to ensure safe and secure Games next summer. A tremendous amount of work is going into the Games and I am sure athletes, NPCs and all stakeholders will be fully respectful of the measures that will be taken to ensure their health and safety during Tokyo 2020."
Governance Review
During the meeting, the Board was updated on the ongoing IPC Governance Review and initial feedback provided following the publication of the revised governance review reforms in November.
The Board was also updated on the International Wheelchair Basketball Federation's progress in reaching Classification Code compliance and the work of the IPC Athletes' Council, in particular, feedback from athlete focus groups that were recently held on the subject of Rule 50.
An update on the IPC's financial results Fiscal Year (FY) 2019 and financial update FY 2020 was also be presented, as was a gender report from the Women in Sport Committee. 
Following the conclusion of the 86th IPC Governing Board meeting, IPC President Parsons will hold calls with IPC member organisations and athlete representatives between 16-18 December to provide updates on the key outcomes and on preparations for Tokyo 2020.