IPC President meets South Korea's acting President Hwang Kyo-ahn
The two met in Seoul, South Korea, to discuss preparations for the PyeongChang 2018 Paralympic Winter Games.
28 Feb 2017
Imagen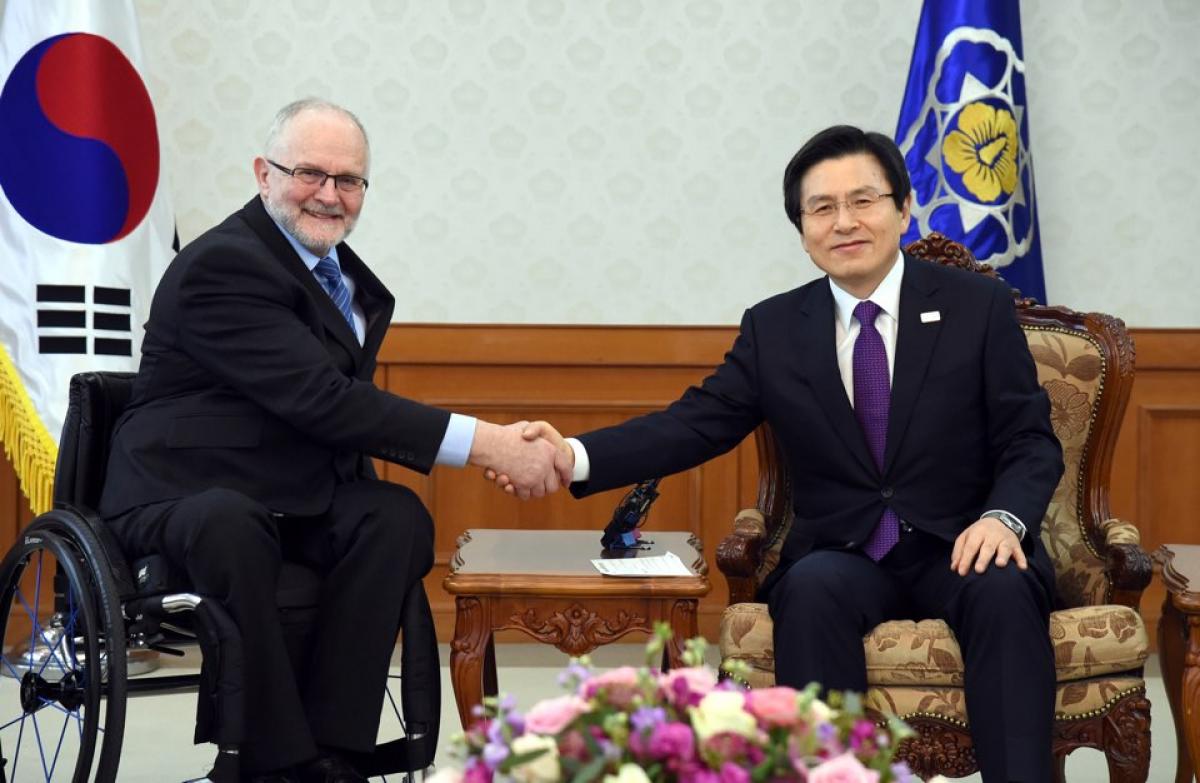 ⒸNPC Korea
By IPC
International Paralympic Committee (IPC) President Sir Philip Craven and Chief Executive Officer Xavier Gonzalez met with South Korea's acting President Hwang Kyo-ahn on Tuesday (28 February) in Seoul to discuss preparations for the PyeongChang 2018 Paralympic Winter Games.
With just over one year to go until the Paralympic Winter Games, which are set to attract up to 670 Para athletes from 45 nations, Sir Philip highlighted the need for all delivery partners to increase Paralympic engagement activities with the South Korean public.
Sir Philip Craven, IPC President, said: "The President was very supportive of the Games and the social transformation the Paralympic Winter Games will bring to South Korea.
"The South Korean government is looking to improve barrier free access and I left the meeting greatly encouraged at his support.
"The PyeongChang 2018 Paralympic Winter Games are just over one year away and are a once in a generation opportunity to further societal inclusion in this country. However, with awareness levels of the Paralympic Winter Games still low, the transformational impact this event can have on South Korea may be reduced if progress is not made over the next 12 months.
Over the years, the Paralympic Games have developed a strong track record for driving social inclusion; the performances of Para athletes help to change the way people think about people with an impairment.
"When you watch Paralympic sport you experience a positive switch. You take the perceived negativity of disability, which describes what does not work, and shift it 180 degrees to the positivity of athletic performance which showcases what does work.
"This ability to change attitudes and perceptions through positive experiences is only possible however if people witness the Games and are engaged with them. I hope that between now and 9 March 2018, the day of the Opening Ceremony, everyone can work together to help to further increase awareness and interest levels in order to make the PyeongChang2018 Paralympic Winter Games a great success."
In addition to meeting acting President Hwang Kyo-ahn, Sir Philip on Tuesday also met with President Lee of the PyeongChang 2018 Organising Committee and Myung-Ho Lee, President of the Korean Paralympic Committee, to reiterate his message for greater engagement.
The PyeongChang 2018 Paralympic Winter Games will take place between 9-18 March and will feature 80 medal events across six sports. Starting this week on 4 March with the World Wheelchair Curling Championship, PyeongChang 2018 will host Test Events in all six Paralympic winter sports over the next eight weeks giving Para athletes and organisers an opportunity to sample what they can expect next year when the Games take place.