IPC to provide free-to-air coverage of Tokyo 2020 Paralympics in Sub-Saharan Africa
Twenty-four territories with an estimated reach of over 150 million have already confirmed to show the Games
IPC and UK Aid funded broadcasts will use Paralympics to help increase Para sport awareness and overcome disability stigma
02 Dec 2020
Imagen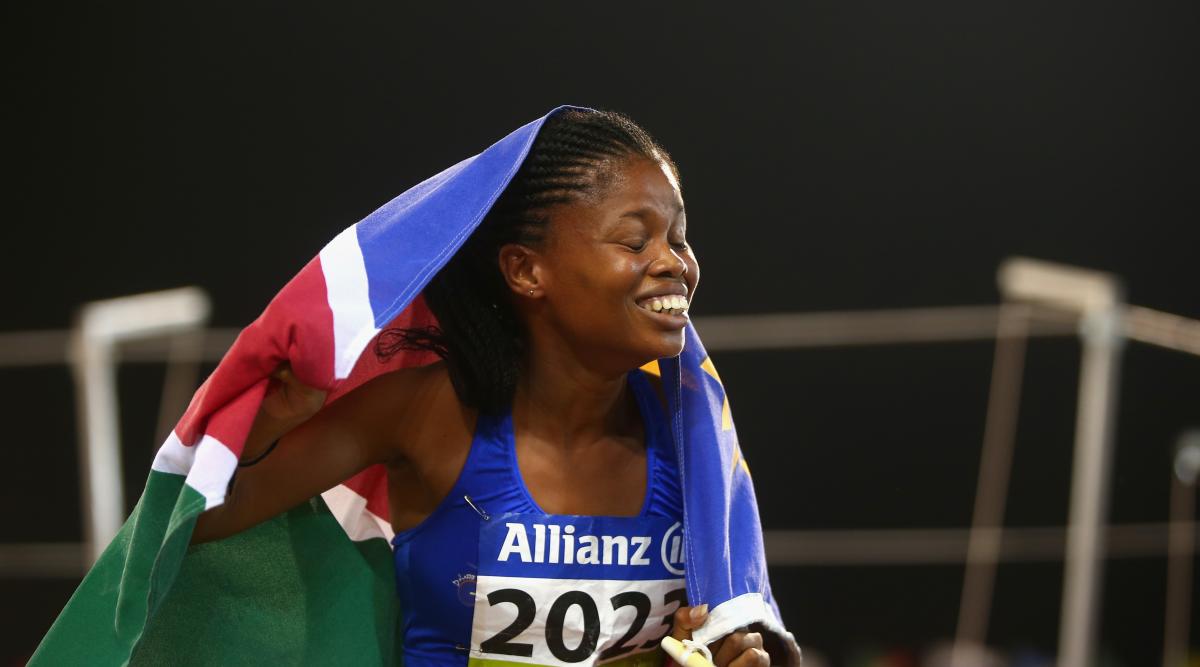 ⒸGetty Images
By IPC
The International Paralympic Committee (IPC) is to provide free-to-air (FTA) coverage of the Tokyo 2020 Paralympic Games in Sub-Saharan Africa as part of its efforts to raise awareness of Para sport and its athletes in the region.
This broadcast initiative is a key element of the Para Sport Against Stigma project between the IPC, Loughborough University, and the University of Malawi, Chancellor College, which aims to support social change and overcome stigma and discrimination against persons with disabilities in Africa. Para Sport Against Stigma is part of AT2030, a programme funded by UK Aid and led by the Global Disability Innovation Hub. 
For the first time across the region, the Opening and Closing Ceremonies will be FTA and broadcast live on 24 August and 5 September 2021. There will also be a 52-minute daily Games highlight show of African centred content in English, French and Portuguese. 
TV Media Sport (TVMS) is working on behalf of the IPC to secure Sub-Saharan broadcasters. So far FTA broadcasters in 24 countries - with an estimated reach of over 150 million people – are confirmed: Benin, Botswana, Burkina Faso, Burundi, Cape Verde, Cameroon, Cote D'Ivoire, Democratic Republic of the Congo, Eswatini, Ghana, Kenya, Lesotho, Malawi, Mali, Mauritius, Mozambique, Namibia, Nigeria, Senegal, Seychelles, Sierra Leone, Tanzania, Togo, and Uganda.  The IPC will waive the broadcast rights fee for Tokyo 2020 in order to maximise coverage in a region that has traditionally aired only limited coverage of the Games.
The 2020 broadcast will be funded by the IPC and UK Aid. The IPC hopes that this initiative will be a catalyst for commercial partners becoming involved in broadcasting Paris 2024 to Sub-Saharan Africa. 
IPC President Andrew Parsons said: "The IPC is very excited about the prospect of more people than ever before watching the Paralympic Games in Sub-Saharan Africa.  Through sport the IPC wants to normalise and challenge the stigma attached to disability.  One of the best ways to achieve this is through people watching the Paralympics and seeing first-hand what persons with disabilities can do. 
"Going free-to-air across so many territories will allow us to tell the compelling stories and athletic achievements of Para athletes and raise awareness of the Paralympic Movement.
"We are confident that we will engage new audiences and make a bigger impact than any previous Paralympics. I truly believe that this could be a turning point for the region: the awareness that Tokyo 2020 will create could lead to more media, people and sponsors getting involved in Para sports, which in turn will create new opportunities for people with disabilities. We are going to show that change can start with sport."  
Dr Emma Pullen, Lecturer in Sport Management, Loughborough University added: "This project offers a really unique and exciting opportunity to work closely with the IPC and broadcasters to bring the Paralympic Games to Sub-Saharan Africa. The media visibility of Para sport is so important in helping change attitudes toward disability and can be such a powerful platform for raising awareness around disability rights, access, and inclusion. 
"Our aim is work closely with local partners and broadcasters in Sub-Saharan Africa to improve the reach and access of the broadcast as well as localising the content to include narratives of local Para athletes. It's the start of a journey that will hopefully see the sustained roll out of Para sport across many parts of the Global South."
Vicki Austin, CEO of the Global Disability Innovation Hub, which leads the AT2030 project said: "As Head of Paralympic Legacy in London, I saw first-hand what a massive difference London 2012 made to perceptions of disability. It is why we set up GDI Hub. And with more than a billion people in the world needing access to basic assistive technology  - and only 10 per cent currently using AT (assistive technology) - our amazing Para athletes can do so much to overcome the stigma and promote a positive association for the first time for many young women and men with disabilities in Sub-Saharan Africa.  This project will change lives, and we are delighted to partner with IPC and Loughborough on this important work and thank UK Aid for their backing." 
Hédi Hamel, President of TV Media Sport, said: "We are delighted to partner with the IPC on this important project to create awareness around Para sport all over the African continent. TVMS is committed to introduce in all TV homes the values of inclusion through the performances and stories of African Para athletes at the Tokyo 2020 Paralympic Games."
Dr. Naim Bilal, Managing Director, Kenya Broadcasting Corporation: said: "KBC is eager to be part of the Para Sport Against Stigma project. As a state broadcaster, we are keen to embrace the value of Para sport and social inclusion. We look forward to broadcasting the Tokyo 2020 Paralympic Games programmes all over Kenya."
Mr. Fémi Johnson, General Manager, NTA Sports in Nigeria added: "The Tokyo 2020 Paralympic Games will give Nigerian audiences a different entertainment, which we are sure they will enjoy."
About the International Paralympic Committee
The International Paralympic Committee (IPC) is the global governing body of the Paralympic Movement. Its vision is to make for an inclusive society through Para sport.  Founded on 22 September 1989, the IPC is an international non-profit organisation with more than 200 members made up of National Paralympic Committees, International Federations, Regional Organisations and International Organisations of Sport for the Disabled. The IPC Headquarters and its management team are located in Bonn, Germany. 
For further information, please contact Philip Dorward, IPC Head of Communications on e-mail: philip.dorward@paralympic.org. Alternatively, please visit www.paralympic.org. 
About Para Sport Against Stigma 
Para Sport Against Stigma is part of AT2030, a programme funded by UK Aid and led by the Global Disability Innovation Hub. AT2030 will test 'what works' to improve access to AT and will invest GBP 20m to support solutions to scale. With a focus on innovative products, new service models, and global capacity support, the programme will reach 9 million people directly and 6 million more indirectly to enable a lifetime of potential through life-changing assistive technology. More information at AT2030.org