IPC team up with Nippon Foundation to fight leprosy discrimination
Prime Minister of Japan, Shinzo Abe also joins in global appeal for the elimination of leprosy discrimination
30 Jan 2020
Imagen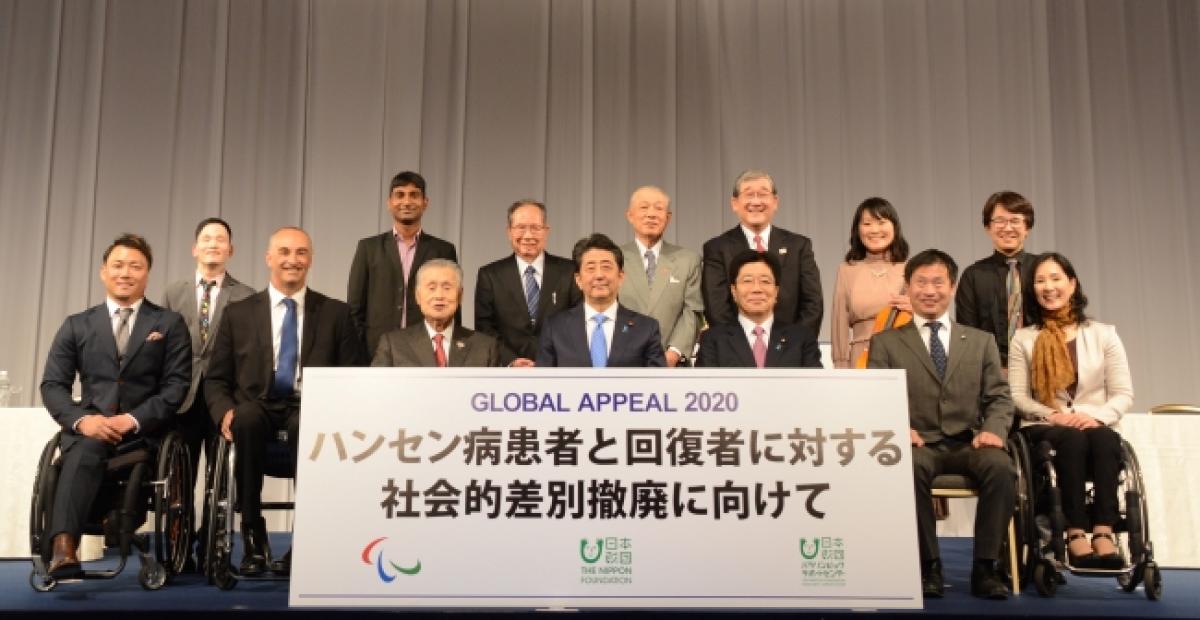 ⒸThe Nippon Foundation
By IPC
The International Paralympic Committee (IPC), along with the Prime Minister of Japan, Shinzo Abe, has joined the Nippon Foundation in launching a global appeal for the elimination of leprosy discrimination.
For over five decades, the Nippon Foundation, a private, non-profit organisation in Japan, has been working to control the effects of leprosy.
As Tokyo prepares to host the Paralympics for a second time, the Foundation held a Global Appeal Declaration Ceremony vowed to use Tokyo 2020 to raise awareness on leprosy discrimination.
Japanese Para athletes, including wheelchair rugby captain Torunobu Ike and Miki Matheson, a three-time Paralympic gold medallist in ice sledge speed racing, read the declaration to the assembled dignitaries.
While leprosy is a disease that can be cured, its stigma can sometimes be permanent. Many people have been discriminated against and alienated because of the disease.
They often find that their opportunities in life are limited and it goes on even after they are cured. Social prejudices can also have a negative impact on their families.
Yohei Sasakawa, chairman of the Nippon Foundation, is hoping the Tokyo 2020 Paralympic Games will act as a catalyst for raising understanding about inclusion in the society.
"I am confident that the activities of the Paralympians in Tokyo will surely impress the people of the world and send an important message that they must become an inclusive society.
"I am pleased to be able to work with the International Paralympic Committee to fight all forms of discrimination and stigma in this memorable year, aiming for a society where all people are respected," said Sasakawa.
IPC Vice President Duane Kale represented the IPC at the Declaration Ceremony in Tokyo. 
He revealed, how since 1960, the Paralympic Games have used sports to break down out-dated barriers in societies. Given the Tokyo 2020 Paralympic Games are expected to be watched by a cumulative TV audience of around 4.25 billion, there is a massive opportunity to break down prejudices and ensure people are not judged on appearance alone.
Kale, winner of four Paralympic gold medals in swimming for New Zealand, said: "Among the barriers to social inclusion, are ingrained attitudes and prejudices, often based on ignorance, misinformation or fear. Sadly, persons with leprosy encounter these attitudes daily and suffer discrimination in the same way as people with disabilities do.
"As the leaders of the Paralympic Movement, our vision is to make for an inclusive world through Para sport. By helping persons with disabilities achieve sporting excellence, we advocate social inclusion. Through our activities, we play a role in developing a society in which everyone can participate; irrespective of whether or not they are perceived to be different."