Israeli Paralympians meet Prime Minister
Paralympians were also recognised in an awards ceremony celebrating achievements in 2016.
01 Feb 2017
Imagen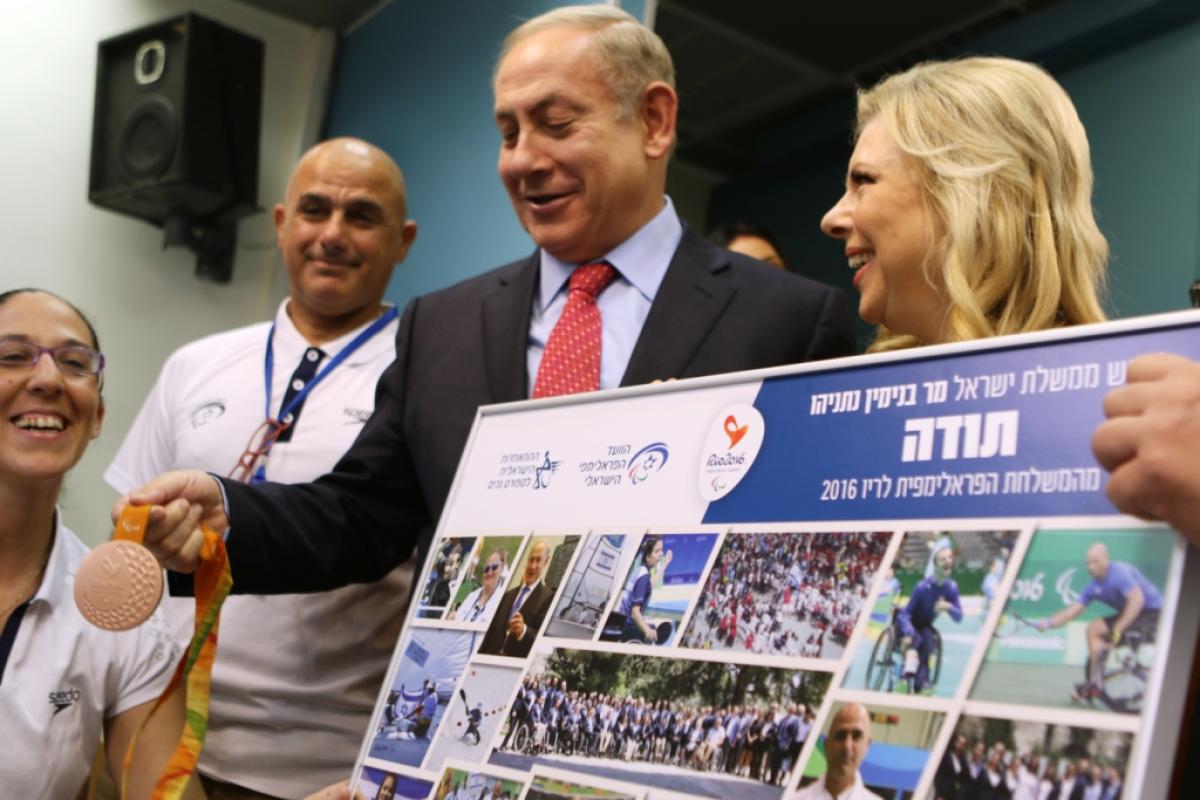 ⒸIsraeli Paralympic Committee
By Israeli Paralympic Committee
"I salute you, you epitomise the human spirit and the Israeli spirit at its best!"
In January, Israeli Prime Minister Benjamin Netanyahu invited the Paralympic team to his office in Jerusalem. The event, held in appreciation of the achievements of Israeli Paralympic athletes during 2016 was also attended by the Prime Minister's wife, Sara Netanyahu, and by the Minister of Culture and Sports, MK Miri Regev.
Mr. Netanyahu said: "I salute you, you epitomise the human spirit and the Israeli spirit at its best!"
Minister Regev added: "The entire country admires you, you return from all the competitions with impressive achievements. Thirty three athletes at the Rio Paralympics, half of them women!"
Later in January, an evening was held in honour of Israeli Sports, in the presence of Minister Miri Regev and representatives of all the Israeli athletic organisations. On this occasion, the athletes of the year were chosen, including athletes associated with the Paralympic Committee.
Shooter Doron Shaziri, who won a bronze medal at the Rio 2016 Paralympic Games, was chosen athlete of the year among the men. This is the sixth time that Shaziri has participated in the Paralympic Games and his eighth Paralympic medal. For many years, Shaziri has been serving as a role model for athletes of all ages, and he is known for his modesty and professionalism.
Swimmer Inbal Pezaro was chosen athlete of the year among the women, for her professionalism and tenacity. She has won medals at four Paralympic Games, returned from the Rio 2016 Paralympics with a bronze medal, and completed the European Championship with one silver and two bronze medals.
Guy Starik, Shaziri's coach for many years, who helped him attain an Paralympic medal for the sixth time running, was chosen coach of the year. He is a professional with much knowledge and tenacity, who supports and helps athletes on the mental level as well.
Yulia Gordiychuk, 18, a Paralympic swimmer who trains with Yakov Beinenson at ILAN Haifa, was chosen young athlete of the year among the women. Yulia is a role model for young athletes, and is extremely achievement- and goal-oriented. She qualified for the Rio Games after showing improvement throughout the year, and reached fourth place at the 2016 European Championship.
Shay Barbibai, one of the most outstanding members of the wheelchair basketball U22 team, was chosen young Paralympic athlete of the year among the men. Due to his significant progress he was included this year in the adult team, and despite his young age was accepted by the team socially as well. He is persistent, committed, and by utilising his capabilities has proven significant improvement and professional progress in the team's games.