Japan edge out Sweden in goalball thriller
China beat Finland in other women's semi-final at the Copper Box.
06 Sep 2012
Imagen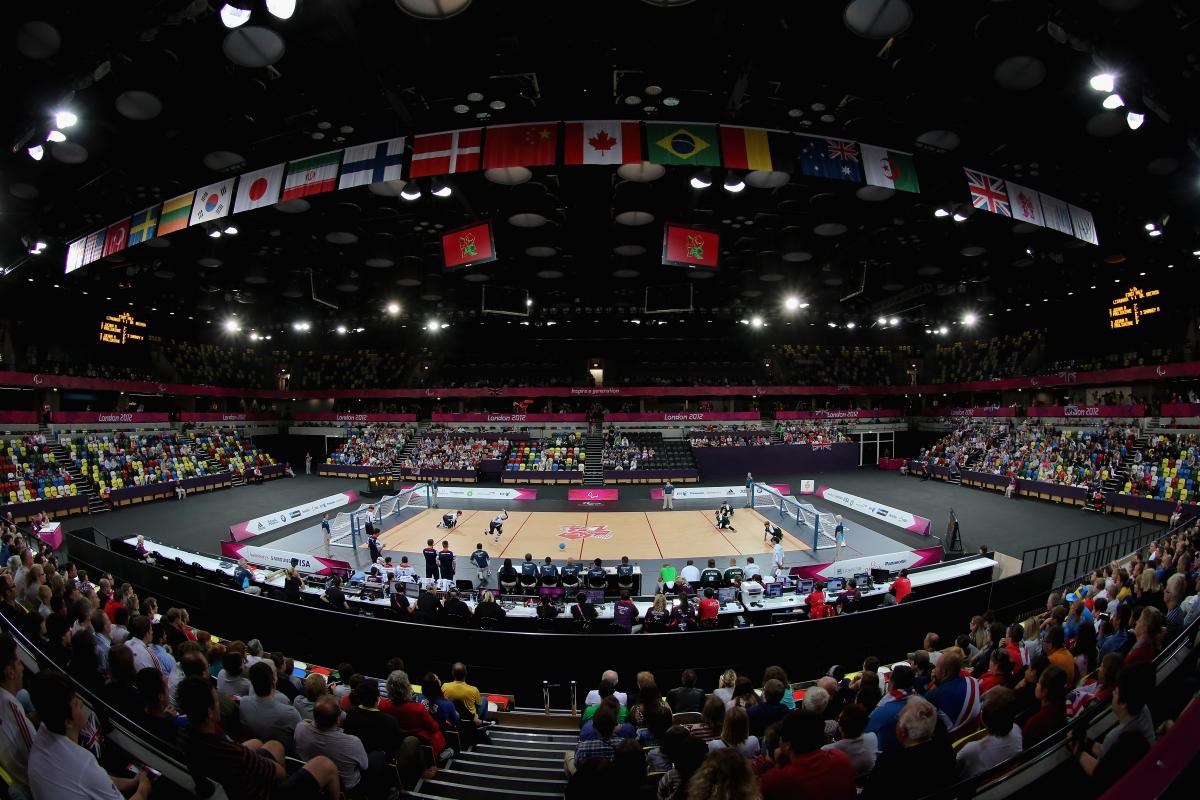 ⒸGetty Images
"The whole team played well for us to win and we didn't relax until the final whistle."
Drama unfolded in the women's goalball semi-final as Japan beat Sweden in sudden death extra throws to reach the final against world champions China.
There was still stalemate after overtime and extra throws, taken by all six members of the team, and it took the second sudden death pairing of Japan's Masae Komiya and Sweden's Sofia Naesstrom to settle the match in the Copper Box.
Komiya scored her penalty and the pressure was on for Naesstrom, who could only hit the post.
The 33-year-old Swede was in tears after the game, saying only that she felt "very sad". She had also given away the 18th minute third throw penalty in normal time which gave Japan's Akiko Adachi her fifth goal of the Games.
It was the last minute of normal time before Sweden's Josefine Jalmestal equalised with her third goal of the Games. After the match Komiya, who was surrounded by Japanese film crews after scoring the winning penalty, said: "The noise from the spectators cheered us up, so we prayed all together - us, the spectators, not only the Japanese team and Japanese, but everybody in the Copper Box prayed to win. Also, we got so many messages from Japan. Those messages encouraged us, too."
In the other women's semi-final, Finland had seemed in confident mood against the world champions China, dancing along to the warm-up music in the stadium moments before the match started.
Katja Heikkinen's awkward bouncing throw, which scored a first minute goal - her fifth of the Games - seemed to knock China's confidence.
But a goal in the eighth minute from substitute Wang Shasha left the score at 1-1 at half time.
China's superiority then told in the second half with Chen Fengqing scoring twice in six minutes and Lin Shan sealing her team's place in the final with a 20th-minute shot.
China's Wang Shasha said: "The whole team played well for us to win and we didn't relax until the final whistle."
Finland coach Timo Laitinen said: "China is a very strong team and it was not easy to make a goal against them as usual."
Finland and Sweden will play each other for the bronze medal on Friday (7 September) before the final later in the evening.
In the men's competition, Brazil beat men's world champions Lithuania, despite coming 11th in Beijing in 2008.
Romario Diego Marques scored his 23rd goal in the competition to equalise after Lithuania took the lead in the ninth minute with a goal from Genrik Pavliukianec. A 23rd-minute penalty scored by Alexsander Almeida Macial Celente wrapped up the match to jubilant scenes from the Brazilian supporters.
A goal scored in the fourth minute and a last-minute penalty saw Finland beat Turkey 2-0, both goals from Jarno Mattila, to take their place in the men's final against Brazil. .
Turkey had been unbeaten throughout the tournament before this match but they will now battle it out against Lithuania for a bronze medal.
Finnish player Erkki Miinala said: "It's a great feeling. This game we defended a lot better than in previous matches."
Goalscorer Mattila said: "We're feeling great, for sure. We were a little nervous, but not much - in a good way. We knew we could beat Turkey.
"We've found our own play - good defence."
But he spoke about some criticism of the Copper Box surface, saying: "We don't like the ball, this ball is faster and more difficult to defend."
Turkey's Huseyin Alkan, who plays in distinctive trousers, said: "Because I am so tall, I need my trousers to be big. I wear a sponge (cushion) inside for comfort."
He added: "In my opinion, in this game whoever allowed the first goal in was going to lose. Both teams have strong defences."
Tekin Duzgun added: "We don't know how this happened - our team was good. We were most likely to win, but then they scored a very simple goal, which put us behind."