Last test before the World Championships ends in St. Moritz
France's Arthur Bauchet continues to lead in men's standing class, while Austrian twins Johannes and Barbara Aigner take nine medals from Switzerland
21 Dec 2021
Imagen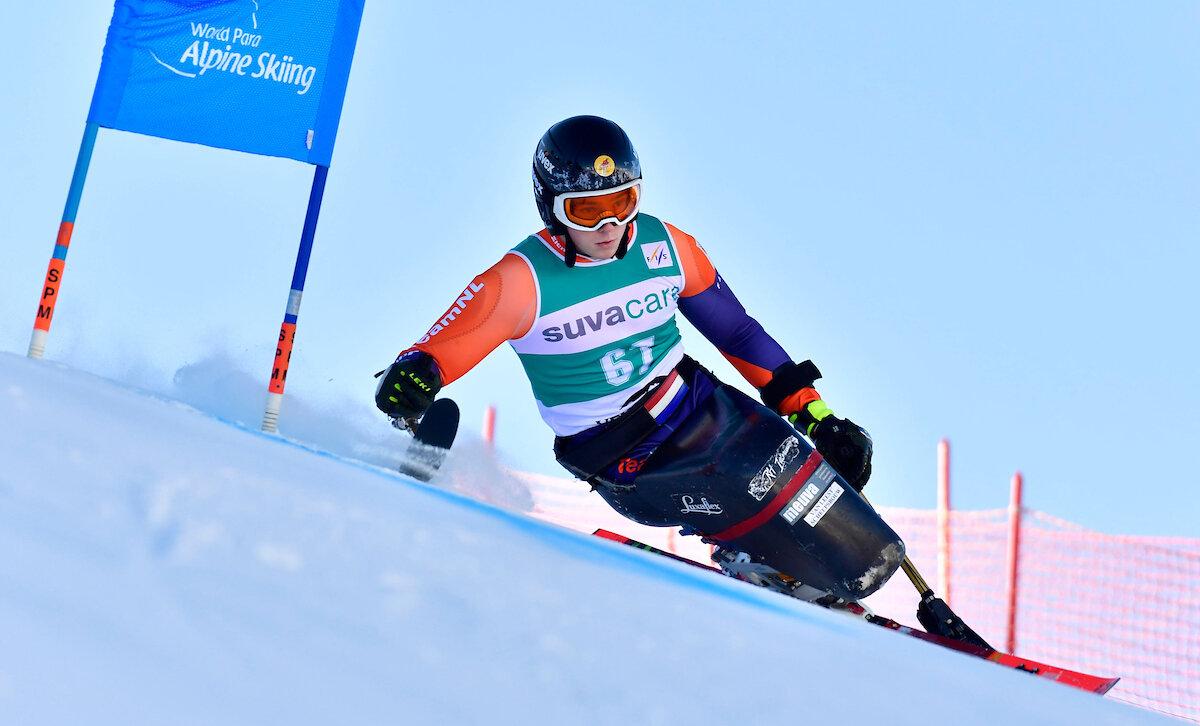 ⒸLuc Percival/World Para Snow Sports
By Lena Smirnova | For World Para Snow Sports
Arthur Bauchet is heading into the Lillehammer 2022 World Para Snow Sports Championships and Beijing 2022 Paralympic Winter Games year as a winner of all but one of his races so far this season.
The French standing skier won all three races at the World Cup opener in Steinach am Brenner, Austria earlier in December, and has now also added four gold and a silver from the races in St. Moritz, Switzerland.
The Swiss ski resort hosted three giant slalom and two slalom races from 17-21 December.
GOLDEN BAUCHET
Aside from his silver in the first giant slalom race, where he trailed to one of his biggest rivals Theo Gmuer of Switzerland, Bauchet had comfortable victories in all of his races, leading by an average of 2.48 seconds.
"I'm really happy with the beginning of this season," Bauchet said. "We did a really good preparation with the team and I feel good. My legs are a little bit tired right now but it will be OK."
With Gmuer not starting in the following three races, Russia's Aleksei Bugaev became the biggest threat for the Frenchman. The three-time Paralympic champion picked up three silver and a bronze medal in St. Moritz, finishing dangerously close to Bauchet in the first GS race.
Austria's Nico Pajantschitsch, Markus Salcher, and Thomas Grochar as well as USA skier Thomas Walsh also picked up medals in the men's standing races.
"The standing category is really exciting because there are many of us at the start and there are a lot of potential medallists," Bauchet said of the growing competition in his class.
"I feel stress, but it pushes me to do better every time, knowing that there are a lot of people who can pass in front of me. But that is good for the competition and that's why it is so interesting."
THE BATTLE INTENSIFIES
The men's sitting is another class where the competition field has been growing.
Three sit skiers won gold in St. Moritz with Jeroen Kampschreur emerging on top after the five-day event. The Dutch skier took three gold medals and two silver.
St. Moritz has long been one of Kampschreur's luckiest slopes and the World Cup stop there in 2021 proved no different.
"In Steinach I was skiing steady and my results were mostly silver and bronze medals. Fighting for gold was not the case yet, but I was happy to see that I was still at around the top of the field," Kampschreur said.
"Steinach didn't suit my skiing style since it was quite flat and not so challenging. But here in St. Moritz, which is one of my favourite places to be, I can use my technique and aggressiveness to fight for gold again, which I'm very happy about."
Norway's Jesper Pedersen, who won all three gold medals in Steinach am Brenner, added another gold, three silvers, and a bronze to his collection in St. Moritz.
Italy's Rene de Silvestro finished with gold and three bronze medals, while Kampschreur's teammate Niels de Langen picked up one bronze.
"The competition is great!" Kampschreur said of the changing podium in the men's sitting class at the last competition before the Lillehammer 2021 World Para Snow Sports Championships.
"A lot of guys are in great form, which makes sense because of this important season. It honestly makes a good result more special and we push each other to the limit. We become better skiers and it's good for the sport."
Japan's Momoka Muraoka was also one of the most successful skiers in St. Moritz, winning four gold and one silver in the women's sitting races.
HAPPY HOLIDAYS FOR THE AIGNERS
Austrian twins Johannes and Barbara Aigner will be bringing nine medals home with them from Switzerland. The 16-year-olds swept the men's and women's vision impaired slalom races, with Johannes also taking gold in the second giant slalom.
Their victories were particularly impressive given the glittering lineup in St. Moritz.
Johannes Aigner was able to overcome double Paralympic champion Giacomo Bertagnolli of Italy, while his sister outraced nine-time Paralympic champion Henrieta Farkasova of Slovakia.
Farkasova swept gold in the giant slalom events but crashed in her final slalom run.
The Canadian team is also travelling home for the holidays with heavier suitcases.
Canada's standing skier Mollie Jepsen won two gold medals and a bronze in giant slalom. Her teammate Michaela Gosselin took a bronze in the final slalom race, exactly two weeks after making her World Cup debut.
"I could not have asked for a better start to my first World Cup season, with my first podium in today's slalom. This result is a testament to all the hard work I put in last year's training, being unable to race because of the pandemic," Gosselin said.
"I came into the last race of the series with two fourth-place results, my previous World Cup best. Fourth just didn't leave me satisfied though and I was very determined to improve my results for my last race of the year."
Sweden's Ebba Aarsjoe finished the St. Moritz races with two gold medals, while France's Marie Bochet picked up a gold and a bronze.
Full results from the World Cup races in St. Moritz are available on the World Para Alpine Skiing website.