Liam Hickey's buzzer beater has people talking
Canadian two-sport athlete displays impeccable strength
13 Feb 2019
Imagen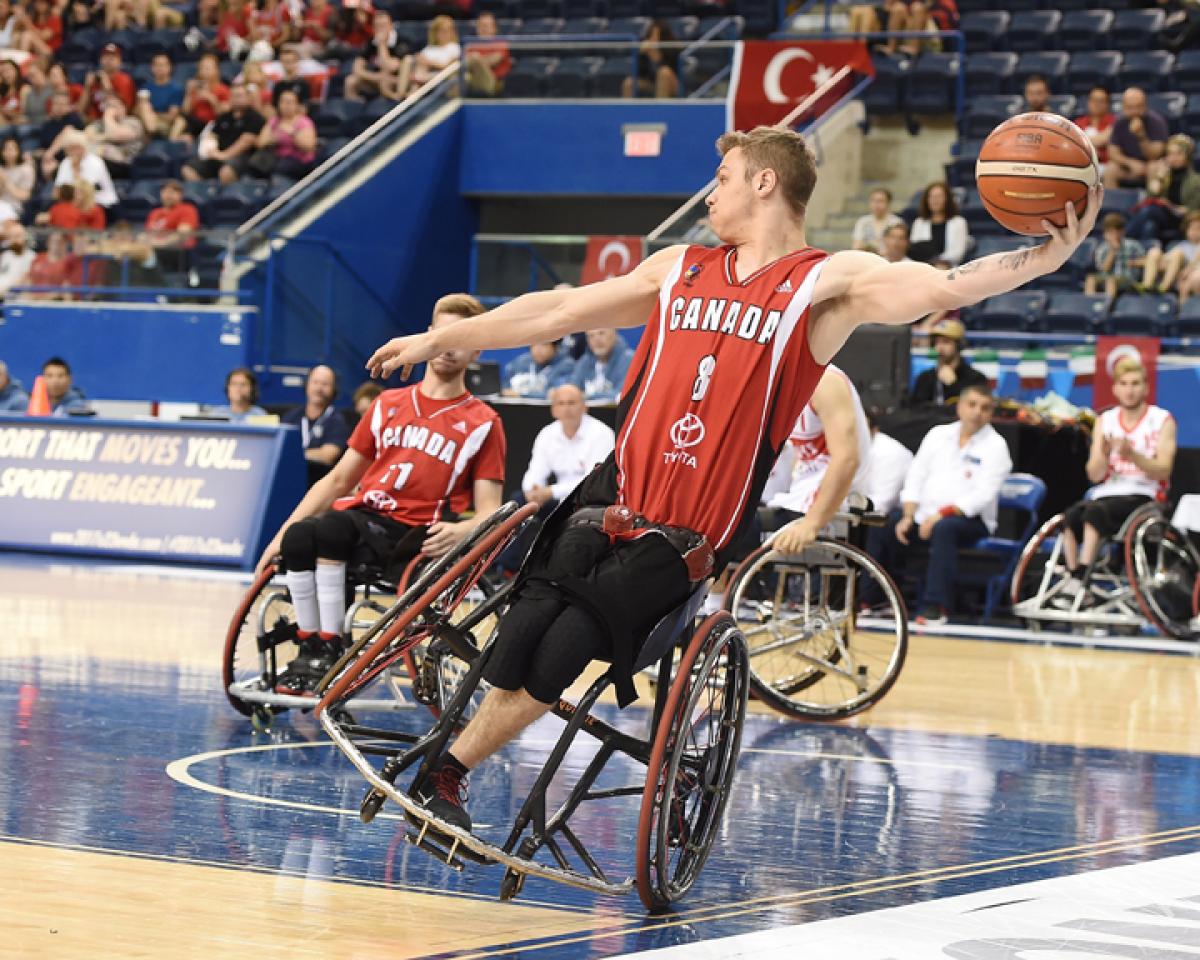 ⒸWheelchair Basketball Canada
By Stuart Lieberman | For the IPC
"It's definitely awesome to have seen that shot make it to some major social media pages. That does a lot for the sport. Just getting people to see it and see what's possible opens people's eyes up to the sport. I got a few extra followers and lots of comments on the video."
Canada's men's wheelchair basketball team won seven of eight games in a span of four days in January's friendly tournament against Japan.
But what has people talking is not necessarily those victories. Instead, it is this buzzer-beater shot by Liam Hickey that lit up the CBC Sports highlight reel in Canada.
"It was the end of the third quarter and I just wanted to get that last shot off," two-sport athlete said. "And luckily, it went in."
A shot like that from half-court is in fact almost harder for a wheelchair basketball player than an able-bodied player. With no springs in their legs to propel the ball, different muscles are needed.
Hickey said it takes more core and upper-body strength to get enough leverage to alley the ball up with such a massive arc to the net.
That is why his impressive shot garnered numerous comments on social media.
"It's definitely awesome to have seen that shot make it to some major social media pages," Hickey said. "That does a lot for the sport. Just getting people to see it and see what's possible opens people's eyes up to the sport. I got a few extra followers and lots of comments on the video."
But first…
Hickey has since come back to reality, double dipping in wheelchair basketball and Para ice hockey. His main focus this year is actually on the ice, where he will be representing Canada at the World Para Ice Hockey Championships in Ostrava, Czech Republic in April.
Hickey, who turns 21 in March, helped Canada to a silver medal in wheelchair basketball at the Toronto 2015 Parapan American Games and was part of the Rio 2016 Paralympic squad. He has been playing Para ice hockey since he was 10 and was a member of the team that won silver at the PyeongChang 2018 Paralympics. He was also part of the title-winning winning team at the 2017 World Championships, where he was fourth in tournament scoring with seven goals and nine assists.
Right now, he sees a similar pattern for both programmes.
"Both teams are going through a regroup phrase," he said. "After Rio 2016 there was a big build in the wheelchair basketball programme to have a better performance at the next Paralympics. On the hockey side of things, we had a bunch of key guys retire and a lot of new guys come up."
Canada's Para ice hockey team lost its trio of stars – Greg Westlake, Brad Bowden and Adam Dixon – to either retirement or a break following PyeongChang 2018. Therefore, Hickey is now focusing more attention on the ice as one of the team's new go-to players and believes wheelchair basketball is helping his cross-train as best he can.
Balancing busy life
His current training schedule looks as follows:
Monday: Hockey, basketball, workout
Tuesday: Workout
Wednesday: Hockey, basketball
Thursday: Hockey
Friday: Workout
Saturday: Hockey
Sunday: Rest
While he is dedicating more time to the ice than the court right now, he is still fitting in wheelchair basketball training camps whenever he can and is hoping to represent Canada at the Parapan American Games in Lima, Peru, later this year.
If his recent buzzer-beating shot is a sign, then he is a likely prospect for Peru.