Liverpool 2018: Evie Edwards buzzing for boccia Worlds
British athlete part of top-ranked BC4 pairs team
28 Jun 2018
Imagen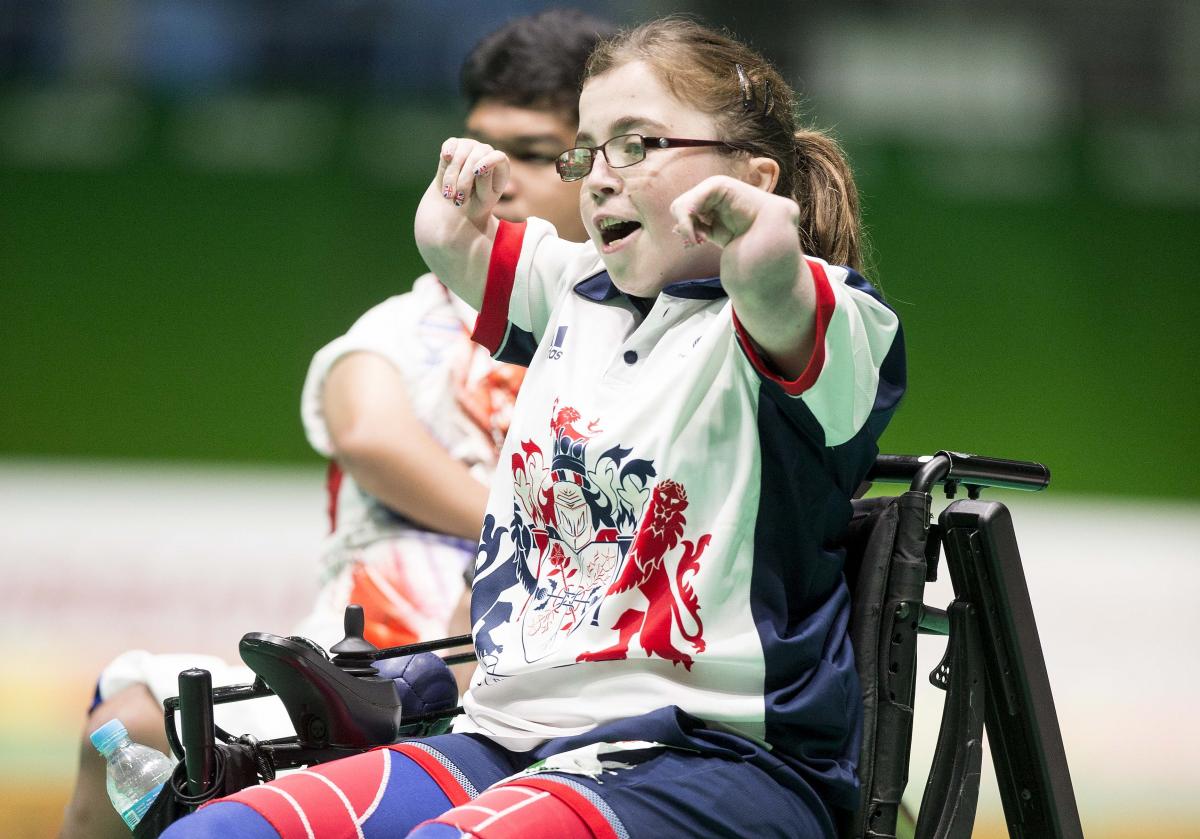 ⒸonEdition / Liverpool 2018
By BISFed 2018 World Boccia Championships LOC
"We're buzzing because it's on home ground and we will have so much support there. Everyone's families are coming to watch. The atmosphere is going to be amazing."
Evie Edwards is one of the great British hopes for home glory at the BISFed 2018 World Boccia Championships in Liverpool.
She is part of the No. 2 world ranked BC4 pairs team, along with Stephen McGuire and Louis Saunders. Together, they will be a force to be reckoned with after winning silver at the 2017 European Championships and, most recently, gold at the World Boccia Open in Montreal, Canada.
Get to know Edwards ahead of the 2018 Worlds which will run from 12-18 August.
How did you first start playing boccia?
I went to a regional competition with my brother and then became interested in the sport and started playing. At first, I could barely throw the ball past the 'v' line. I initially started as a ramp player until I was classified at nationals. Slowly over time I learnt to use my body to help my arm to throw and I really got into and enjoyed being a thrower.
How is your season going so far?
Really well! We have won both of the pairs tournaments (Regional Open Madrid and World Open Montreal) that we have been in so far against some of the best in the world. Training is going really well too. We are really focussed as a team and individually I am spending more time with my coach Claire, travelling up to Scotland or training closer to home. We are also training across classifications, to give us that extra challenge.
What's the mood in the squad right now?
Really positive. We are all really upbeat and looking forward to the Championships! We're buzzing because it's on home ground and we will have so much support there. Everyone's families are coming to watch. The atmosphere is going to be amazing. The home crowd I think will really lift us and I'm looking forward to having home support at a big event.
We have exciting rivalries between lots of the visiting countries. In particular, I would say Canada and Slovakia. They are both loud nations and bring something different to the game. I am looking forward to all of my matches, particularly those ones!
The squad has grown lately. How do you feel with the addition of Louis Saunders to the BC4 pair?
Having Louis on the squad has brought a new dynamic to the team. We all have different strengths and weaknesses and so complement each other really well. Because Louis is young he has a great energy about him and really lifts us up on court.
Your throwing style is quite unique. How did you develop that?
When I was on the England squad my coach Matt Kendrick helped me to develop my process and helped me transform from being an amateur player to where I am now.
I love finding new ways to do what I thought I couldn't. When I first started out I could barely throw a ball and as time has gone on I've learned to do more and more.
Nothing seems to faze you on court. Why do you think that is?
I think it's the way I was brought up and part of our 'get on with it' culture. I always try my best at everything and try to adapt where I can. Having a disabled younger sibling meant that after a while I had to figure things out for myself as I was too impatient to wait for help! I taught myself how to do certain things and I never gave up. I guess I take this attitude out on court with me.
Outside of boccia, what do you enjoy doing?
I have just finished a degree in business management and bought a dog! But I'm into movies especially Harry Potter and being with my family and friends and boyfriend. After the World Championships, my boyfriend David and I are going to Venice on a well-deserved holiday. I can't wait!