Malmo 2018: Defending champions secure first wins
Brazil men's and US women's teams head victors on day one of Worlds
04 Jun 2018
Imagen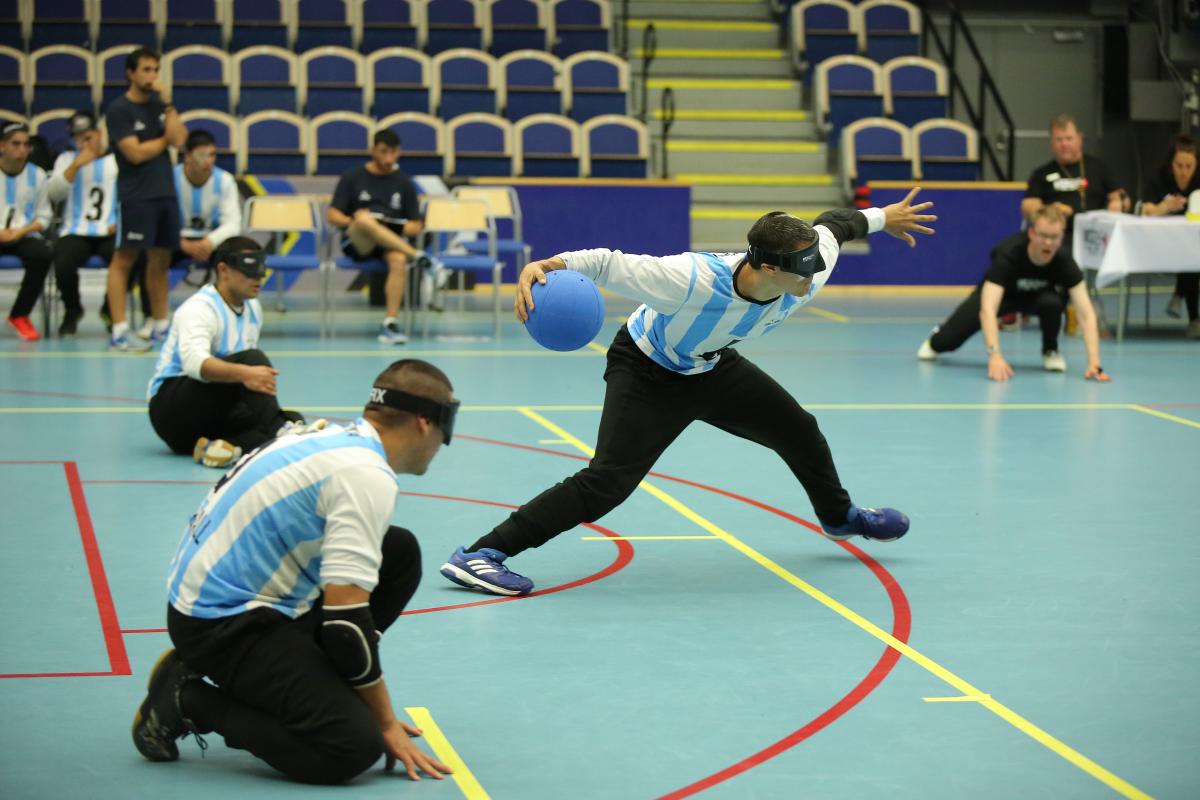 ⒸKarl Nilsson
By IBSA
Respective men's and women's champions Brazil and the USA can sleep sound in their beds after winning their opening matches on Sunday (3 June) at the 2018 International Blind Sports Federation (IBSA) Goalball World Championships in Malmo, Sweden.
In the men's, Brazil defeated the USA 7-2. "With the USA it's always a strong game, the defence must be very concentrated, all the players must be very focused during the game," Brazil's Alex de Melo Sousa said.
"Our main goal is to qualify for Tokyo 2020. And of course be the world champions again."
In the women's, defending champions USA sit at the top of group D on goal difference following their 7-1 win over Greece.
Lisa Czechowski said: "It feels awesome. Both teams played really well, we split up some really good defence as expected. Our team is feeling really strong and energetic and ready to go."
Men - Group A
A nervy performance from hosts Sweden saw them held to a shock 8-8 draw against debutants Argentina.
While Sweden opened the scoring just a few seconds after the first whistle, Argentina levelled the score minutes later. That trading of blows between the two teams was to be a theme of the match.
The hosts' captain Fatmir Seremeti said: "Of course, it's the first game of the tournament so we were a bit nervous. We have a lot more to give than that. Of course we are a bit disappointed about the 2 point loss, but one point is one point."
A couple of close matches saw Belgium take the lead at the top of the group.
In their first match, they just edged China 7-6. They then beat Paralympic champions Lithuania 8-5. Earlier in the day, Lithuania had to stage a comeback in their opening match against Algeria to claim victory.
Ekrem Gundogdu was the top scorer for the Turkish men in their win against Australia with five goals. The final score was 8-7 to Turkey. In their second game of the day, Turkey had a close battle with China emerging as the victors by just one goal (13-12).
Men - Group B
Germany are top of the group after day one, registering two wins against Canada and USA.
Japan are second in the group, triumphing against Czech Republic 11-9. They then took on Canada, beating them 11-6.
Iran are third on goal difference having reached double figures in their match against Egypt, claiming three points.
Brazil sit fourth after day one but have played only one game so far.
Women – Group C
Yilmaz Reyhan opened the scoring for Paralympic champions Turkey in a match that saw them post an 11-1 victory over hosts Sweden. Sevda Altunoluk followed her teammate's lead, finding the back of her opponent's net five times across the match.
Gulsah Duzgun was especially pleased with the win after some time away from the court: "It was a really exciting game because I haven't played for one-and-a-half years after the Paralympics because I had a baby.
"We started really good and hopefully we will finish like that, and we won't lose any games here and we will be champions."
Turkey are top of group C after the first day. Russia* are second after an 8-1 win over Israel.
Japan broke a long 1-1 tie with Australia thanks to a goal late in the second half of their opening game.
"I feel really happy. In some parts we had a good game and in some cases not," Japanese team captain Yuki Temme said.
Women – Group D
Four successive goals for Ana Carolina Custodio saw Brazil secure three points over China with a 6-4 win.
Canada dominated their maiden match-up against Algeria, winning 9-4 to put them second in group D.
A livestream and results are available at www.wcg18.se.
*Editor's note: The International Paralympic Committee suspended the Russian Paralympic Committee on 7 August 2016 for its inability to fulfil its IPC membership responsibilities and obligations, in particular its obligation to comply with the IPC Anti-Doping Code and the World Anti-Doping Code (to which it is also a signatory). As a result of the suspension, Russian athletes cannot enter IPC sanctioned events or competitions, including the Paralympic Games.
For further information please click here.