Marthinsen enjoys retirement from Nordic skiing
Norwegian cross-country skiing Paralympic champion is enjoying skiing without the pressure to achieve results.
09 Feb 2016
Imagen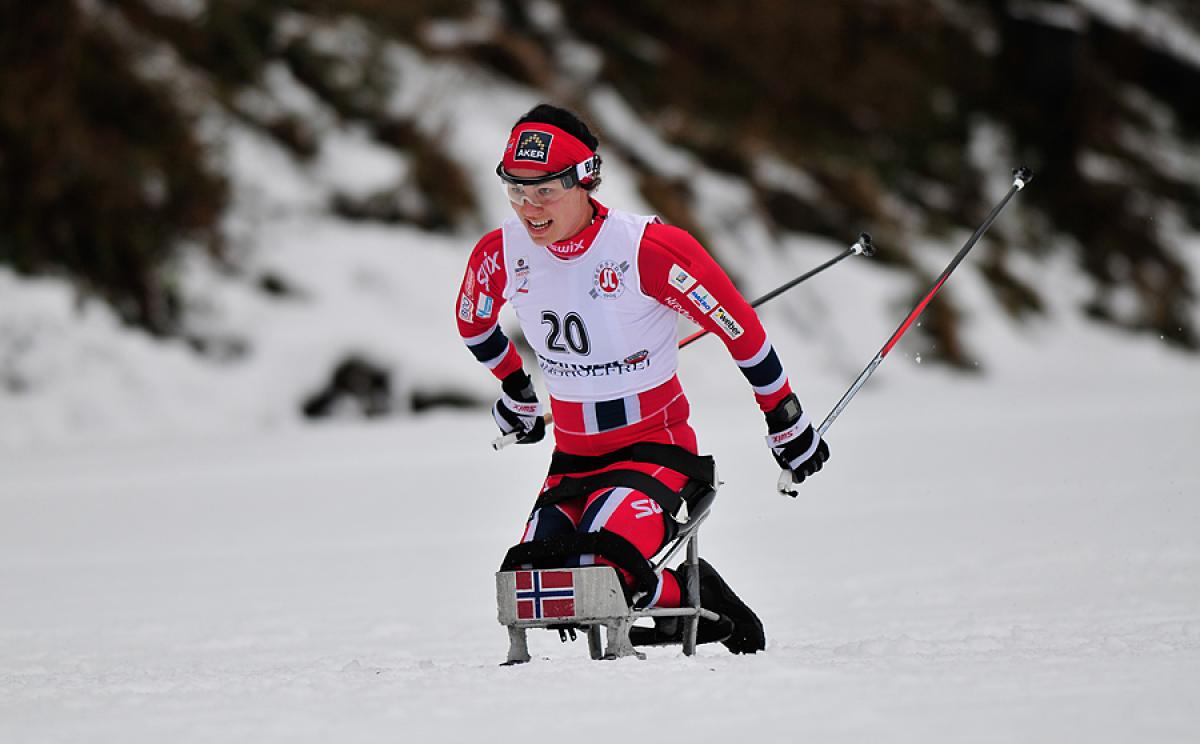 ⒸLuc Percival
By Louise Wood | For the IPC
"Cross-country is a fantastic sport where you can enjoy winter and nature. I think there should be more athletes from summer sports who take part in Nordic skiing. They complement each other."
Norway's recently retired Paralympic cross-country skiing champion Mariann Marthinsen is enjoying her first year free from competition for many years.
The sit-skier decided it was time to end her professional sports career but has not given up skiing altogether.
"I finished my professional sports career as a skier after season 2014-15. So this year is my first year off doing sports since I started 13 years ago," she said.
"I'm not taking part in the World cups anymore but I will participate in some national competitions just for fun, like the Ridderrennet, the Birkebeiner relay and the Norwegian Championship. I still love skiing, but now without the pressure to achieve good results."
She may not be under any pressure now but Marthinsen has certainly felt it in the past. The highlight of her Nordic career came at the Sochi Paralympics in 2014 when she won her only gold medal in the 1km sprint race by the smallest of margins.
"I really had to fight for it, Tatyana McFadden was so strong at the end, but I made it about 2cm before her," Marthinsen said. "So it was a really close race and an even better feeling to win. It was a dream come true to get my first gold in my last Paralympic Games!"
Going into Sochi Marthinsen had targeted the 5km middle distance race as the best chance to deliver her first Nordic gold medal. She was very unfortunate however when equipment failure let her down.
"I knew I could have a chance in the middle distance 5 kilometres," she said. "But I was very unlucky in Sochi when my sit-ski broke just after 1-2 kilometres. So I lost my big chance."
Undeterred by her misfortune the Norwegian turned her attention to the 1km sprint race and was determined not to miss out on gold like she did at the previous Paralympic Games in Vancouver in 2010.
"In the sprint I had a good chance if everything went perfectly well," Marthinsen said. "In Vancouver in 2010 I was prevented from getting into a good position and didn´t make the final. In Sochi I wouldn´t make the same mistake again. All the girls in the final had a good chance to be the first across the finish line, so it was a very close race."
The 31-year-old took part in her final major competition at the 2015 IPC Biathlon and Cross-Country Skiing World Championships in Cable, USA. She took four medals home to Norway but could not quite manage that elusive World Championship gold missing from her collection due to the quality of her opposition.
She explained: "I was really hoping to get a gold medal in my last World Championships, but unfortunately it didn't happen. However I won a medal in every race I participated in, which I had never done before at a major Championship.
"At the same time I'm happy there is a high level for the sitting girls, where you really have to deliver a good performance to be among the best."
With a successful career that crossed both summer and winter sports Marthinsen would encourage more athletes to follow her path.
"I came from another sport when I started skiing; I was a professional swimmer until 2012," she said. "At that time I needed more challenges, to broaden my horizons and do some other things than just swimming.
"Cross-country is a fantastic sport where you can enjoy winter and nature. I think there should be more athletes from summer sports who take part in Nordic skiing. They complement each other."
Whilst Marthinsen has now retired from World Cup competition, the rest of the field will gather in Finsterau, Germany, from 24-28 February for the next edition.