Masters, Golubkov take World Cup titles in Vuokatti
The women's visually impaired and men's standing will go down to the last race on Sunday (20 March).
19 Mar 2016
Imagen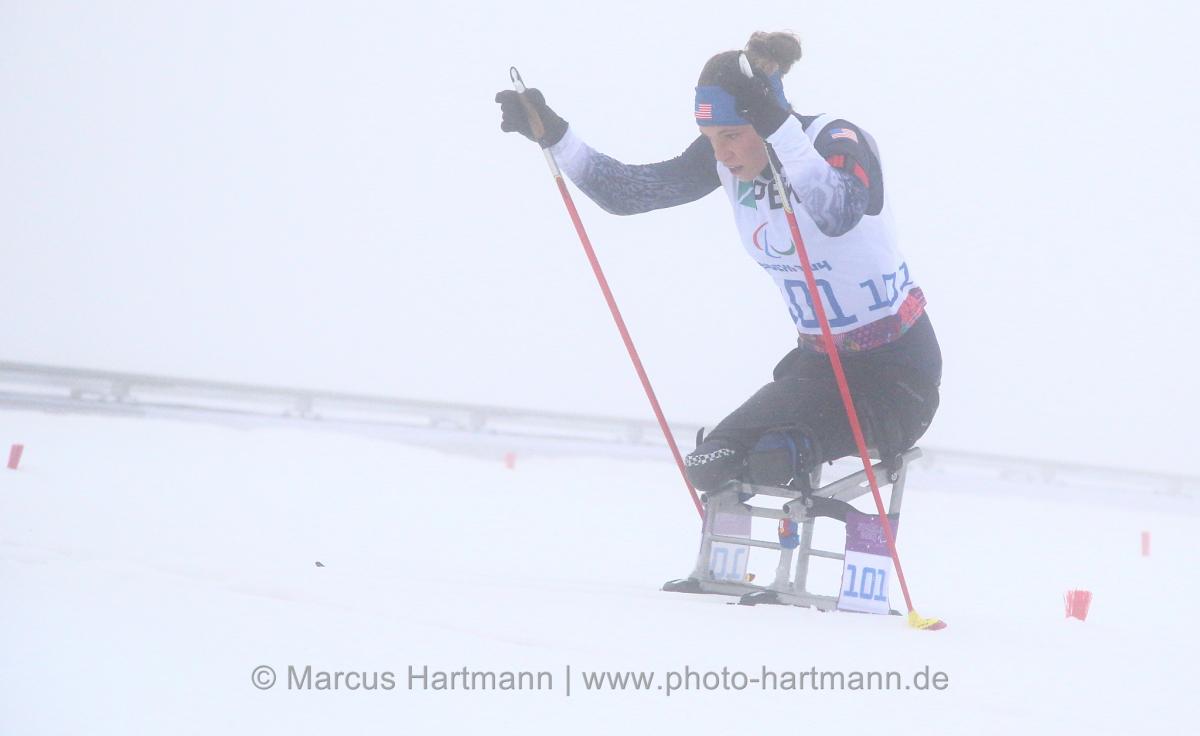 Ⓒwww.photo-hartmann.de
By IPC
Masters is now out of reach in the standings with the middle distance still to run on Sunday (20 March). It is the 26-year-old's second consecutive overall World Cup victory.
The USA's Oksana Masters once again headlined the winners at the IPC Cross-Country Skiing World Cup Finals on Saturday (19 March), securing the series title with a victory in the marathon in Vuokatti, Finland.
Masters converted her excitement for the 20km classic women's sitting into strength and endurance, as she had done when winning bronze in rowing at the London 2012 Paralympic Games.
A close race saw Masters (1:00:57.0) finish just ahead of Russian duo Irina Guliaeva (1:01:11.0) and Nadezhda Fedorova (1:02:45.0) in second and third respectively.
Masters is now out of reach in the standings with the middle distance still to run on Sunday (20 March). It is the 26-year-old's second consecutive overall World Cup victory.
In the men's sitting Ukraine's Maksim Yarovyi (52:31.0) was the victor. Canada's Chris Klebl (53:42.3) was second whilst South Korea's Eui-Hyun Sin (53:43.0) showed promise for the hosts of the PyeongChang 2018 Paralympic Winter Games in third.
In the points rankings however, Russia's Ivan Golubkov secured the globe despite finishing ninth.
In the women's standing, Ukraine's Oleksandra Kononova (1:39:09.6) kept her hopes of a top three rankings finish alive.
Kononova took the top step of the podium, whilst Sweden's Helen Ripa (1:41:29.5) claimed second. Russia's Ekaterina Rumyantseva (1:42:54.4) currently occupies the No.2 spot in the standings with her third place finish.
Rumyantseva's compatriot Anna Milenina had already sealed the overall World Cup globe on Thursday (17 March).
The battle for the men's standing World Cup No.1 will go right to the last race, after Russian teammates Vladislav Lekomtsev and Rushan Minnegulov took first and second on Saturday.
Lekomtsev (1:17:52.8) won the face-off to stay within 30 points of leader Minnegulov (1:18:56.6).
France's Benjamin Daviet (1:19:48.6) completed the podium and is also still in the frame for a top three rankings finish.
There is a similarly close competition in the women's visually impaired between Russian teammates Elena Remizova and Mikhalina Lysova.
Remizova (1:36:22.6) is now 40 points clear at the top of the standings following her marathon win with guide Maksim Pirogov. Lysova, guided by Alexey Ivanov, took second in 1:41:03.8 to stay within reach of the overall win.
Ukraine's Oksana Shyshkova (1:45:11.3) was third with guide Vitalii Kazakov.
Canada's multiple Paralympic medallist Brian McKeever returned to the World Cup circuit to take the win in the men's visually impaired, with guide Graham Nishikawa.
McKeever's time of 1:20:43.0 saw him ease to victory over Russia's Alexsander Artemov (1:24:40.2) and guide Ilya Cherepanov in second.
Thomas Clarion (1:25:00.5) took another podium for France, finishing third with guide Antoine Bollet.
With his performance Artemov strengthened his second place in the points rankings. Clarion could also secure a World Cup top three finish with a good performance on the concluding day.
Russia's Stanislav Chokhlaev was confirmed as the overall men's visually impaired World Cup winner on Thursday.
Full results and current rankings are available at IPC Cross-Country Skiing's website.
Just one set of races now remains in the IPC Cross-Country Skiing World Cup in Vuokatti. Final standings will be decided after the middle distance freestyle on Sunday.