Mentel-Spee 'excited' for new snowboard season
Dutch Paralympic snowboard champion Bibian Mentel-Spee is looking forward to testing herself in the new format for snowboard cross and discipline of banked slalom from Wednesday (19 November).
16 Nov 2014
Imagen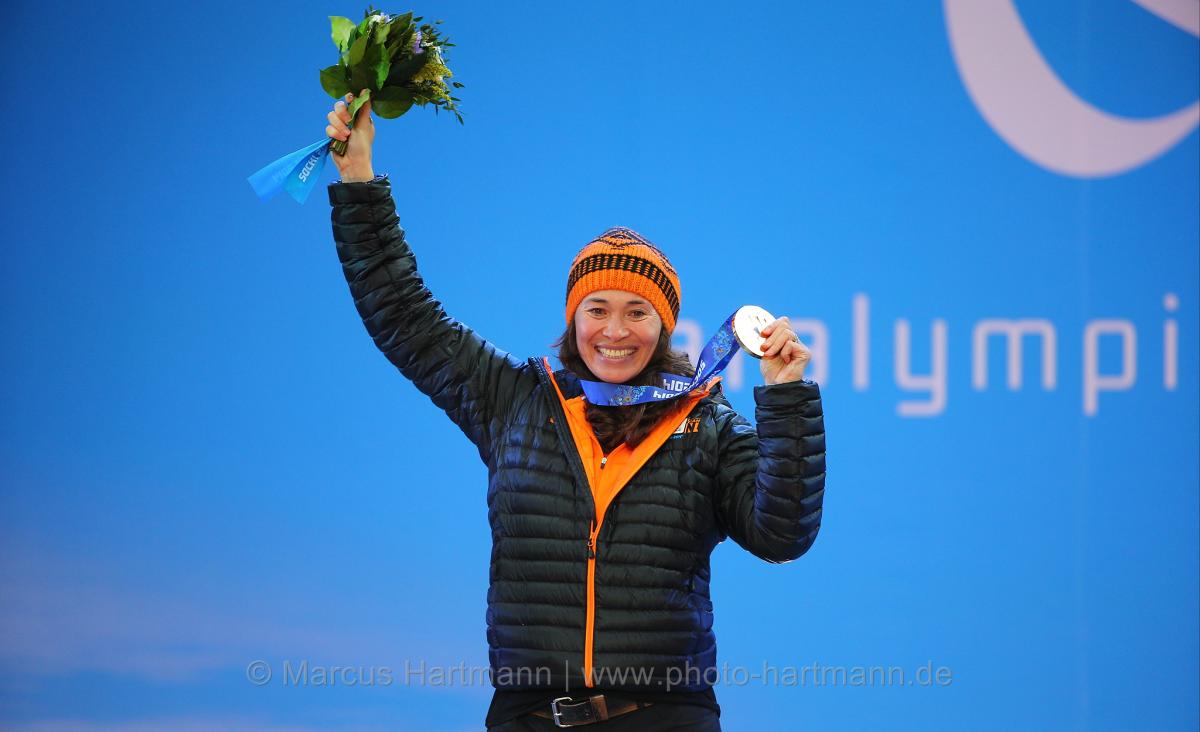 Ⓒwww.photo-hartmann.de
By IPC
"The first competitions are going to be a test - have I done enough? Am I on the right path?"
Dutch rider Bibian Mentel-Spee, who became the first woman to win Paralympic gold in para-snowboard at Sochi 2014, has spoken of her excitement for the new season ahead of the opener at Landgraaf, the Netherlands, from Wednesday (19 November).
A total of six IPC Alpine Skiing World and Europa Cups will take place in 2014-15 in Europe and North America and feature snowboard cross, including a new head-head format, and the new discipline of banked slalom.
"I'm really looking forward to the first banked slalom, that's going to be really exciting," Mentel-Spee said. "It will be interesting to see how the banked slalom and boarder-cross format is going to work out for me. I'm fit, I'm feeling good. The first competitions are going to be a test - have I done enough? Am I on the right path?"
From Wednesday banked slalom will make its debut at the Europa Cup, followed by a World Cup on Thursday (20 November).
Nearly 40 riders from over 10 countries will gather in Landgraaf, including the men's Paralympic champion Evan Strong of the USA, for the first competition on the calendar which this season is headlined by the 2015 IPC Para-Snowboard World Championships in La Molina, Spain, from 23-28 February.
Ahead of that, from 11-13 January, the new format for snowboard cross will run in Aspen, USA, featuring two athletes racing head-head after an initial qualification round. Mentel-Spee is fired-up for heading to North America for World Cup races in Aspen, and Big White, Canada.
"I used to do snowboard cross when I was an able-bodied athlete so I really enjoy racing against people," she said. "I've always been a little bit better racing against people than against the clock. I'm looking forward to it a lot."
The changes give Mentel-Spee a chance to add to her bulging collection of accolades, which includes multiple world titles and World and Europa Cup globes. She was also instrumental in the campaign to get para-snowboard included in the Paralympic Winter Games at Sochi 2014.
But that does not stop her from constantly trying to improve herself.
"We have a new technical trainer who will be joining us at all competitions and who we've been training with," Mentel-Spee said. "I have been a bit less in the snow but then again I've been training really hard on my mountain and road bikes and working on my physical strength to keep up."
Since winning gold in Sochi, Mentel-Spee has been caught in a whirlwind of public appearances and work with her own development organisation, the Mentelity Foundation, which aims to give people more opportunities to take part in sport.
"For me now the winter is coming, it's more of a break!" she joked. "I'm really looking forward to just focusing on snowboarding rather than 'ok which lecture do I need to give?!'"
IPC Alpine Skiing Europa and World Cup races kick-off in Landgraaf with banked slalom events between 18-19 November. The full calendar can be found on IPC Alpine Skiing's website.
La Molina 2015 will see around 80 athletes from 20 countries gather for the biggest meeting of para-snowboarders since Sochi 2014.