Mestre's top five alpine skiing moments
As Chair of the IPC Alpine Skiing Sport Technical Committee, Sylvana Mestre has seen many great and memorable moments since she took over the role in 2006. Before she stands down as Chair this summer, she spoke to Paralympic.org about her top five moments involved in the sport.
22 May 2014
Imagen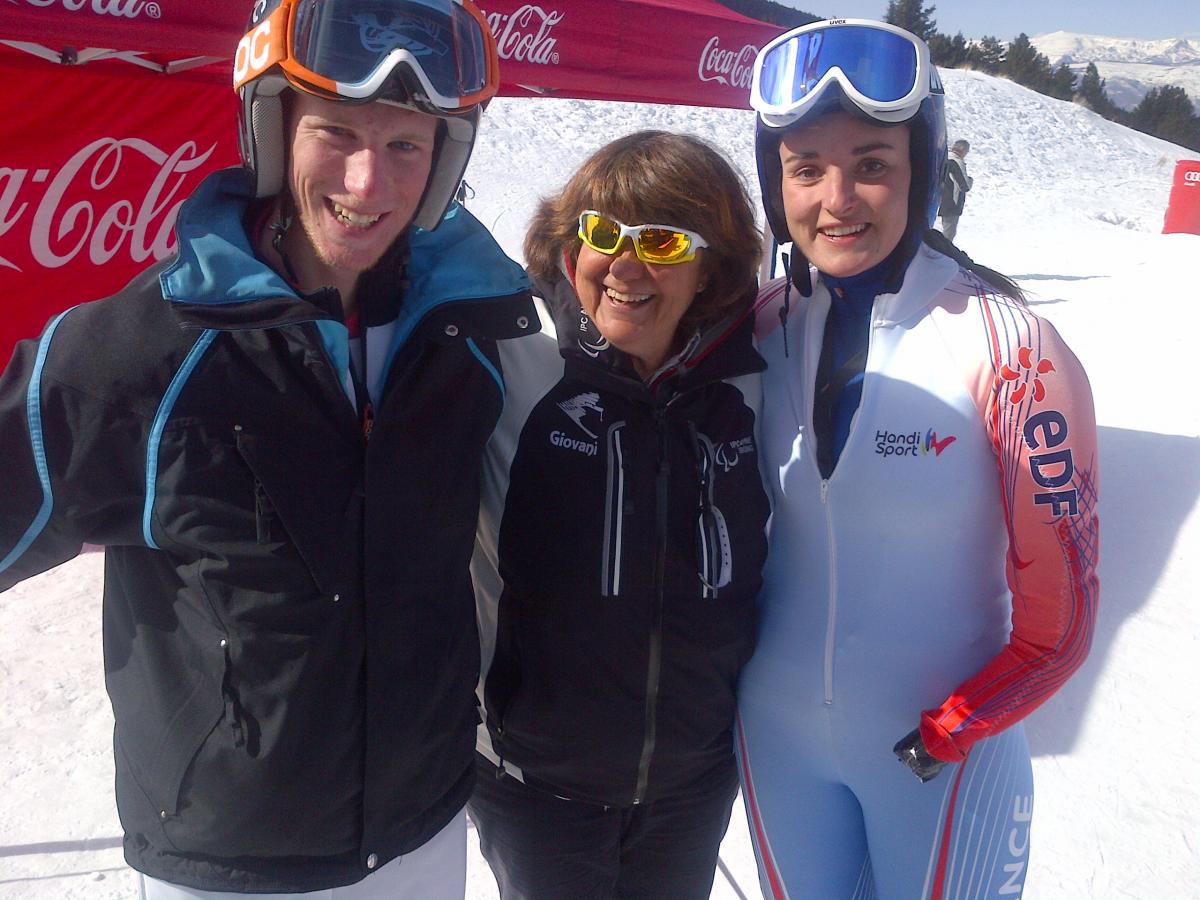 By IPC
1. Claudia Loesch winning Vancouver gold
Having taken part in an IPC Alpine Skiing Development Camp in 2006, Austrian Loesch won two gold medals at the Vancouver 2010 Paralympic Winter Games.
"Claudia winning gold in Vancouver was a very special moment for me.
"She was part of the development camp in 2006, took part in Torino, and I have seen her grow in stature and ability.
"For me it was very emotional as Claudia was the first athlete from the 2006 development camp to take Paralympic gold in 2010. I remember her coming over to see me afterwards and saying "Sylvana, thank you," and that thank you, still to this day, is a very special memory."
2. Jasper Balcaen makes his Paralympic debut
Born with hemiplegia, which affects the right side of his body, Balcaen is another of the graduates of the 2006 IPC Development Camp which involved 55 youngsters aged 11-17. Many have since taken part in Paralympic Winter Games and World Championships, including Balcaen who made his Paralympic debut in 2014.
"Seeing Jasper Balcaen in the Games in Sochi is a stand-out moment.
"Jasper has a very tough disability. For him to get a place on the Belgian team, take part in Vancouver and come down those slopes showed to the world that everything is possible. If you want to do something, you can do it!"
3. Markus Salcher's year to remember
Salcher is another of the athletes who participated in the IPC Development Camp in 2006 who is now a star name on the IPC Alpine Skiing circuit. At Sochi 2014, he won two gold medals and a bronze, adding to the two World Cup titles he also won during a memorable 2014 season.
"Marcus winning so many medals in Sochi was probably my proudest moment as Chair of the Sport Technical Committee.
"For the last two winters Marcus has not been receiving the recognition for his skills in skiing.
"One of the most difficult impairments for skiing is hemiplegia which makes his performances even more so incredible.
"His impairment can make it very difficult to ski, but he has been fighting all the time and he deserves all the gold medals he won in Sochi. He's been amazing."
4. Gabriel Juan Gorce Ypes wins Paralympic bronze
At Sochi 2014, Sylvana's adopted son Gabriel Juan Gorce Ypes won Paralympic bronze for Spain together with his guide Arnau Ferrer in the men's super combined. It was a proud moment for Sylvana, especially when she was given the honour of the Flowers Ceremony soon after his medal winning run.
"I had to sustain my crying when I saw that Gabi had won bronze. It was a very special moment.
"I had to retain my emotions during the race and the Flower Ceremony until I got to my hotel room, then I could let go. In front of all the people, I could not demonstrate my emotions. It's a very difficult moment when you are in this position and someone attached to you wins a medal.
"It was important for the rest of the people, out of respect to all the athletes, to remain professional and keep control of my emotions. All of the athletes are fighters who wanted to win a medal."
5. IPC European Para Snow Sport Youth Circuit
In late March 2014, the first IPC European Para Snow Sport Youth Circuit came to a conclusion in Sestriere, Italy. It followed 14 months of activities which saw many youngsters take part in five camps that aimed to help improve their skills in alpine skiing, Nordic skiing and snowboard as well as educate them about the Paralympic Movement.
"One of the best moments of my two terms as STC Chair was the prize giving of the whole youth circuit in Sestriere. To see the pride of the youngsters holding the globes, the hugs they gave everyone involved in the circuit was amazing and very rewarding.
"You could see how delighted they were, not just to be involved in the camps but to receive awards. It was an incredible and a very touching moment. Those are the athletes who will be the future of the sport in PyeongChang 2018 and 2022."
Related Images