Min Kyong Cho trades water for ice
The South Korean takes on a new challenge when she makes her wheelchair curling debut in March's World Championships.
21 Feb 2017
Imagen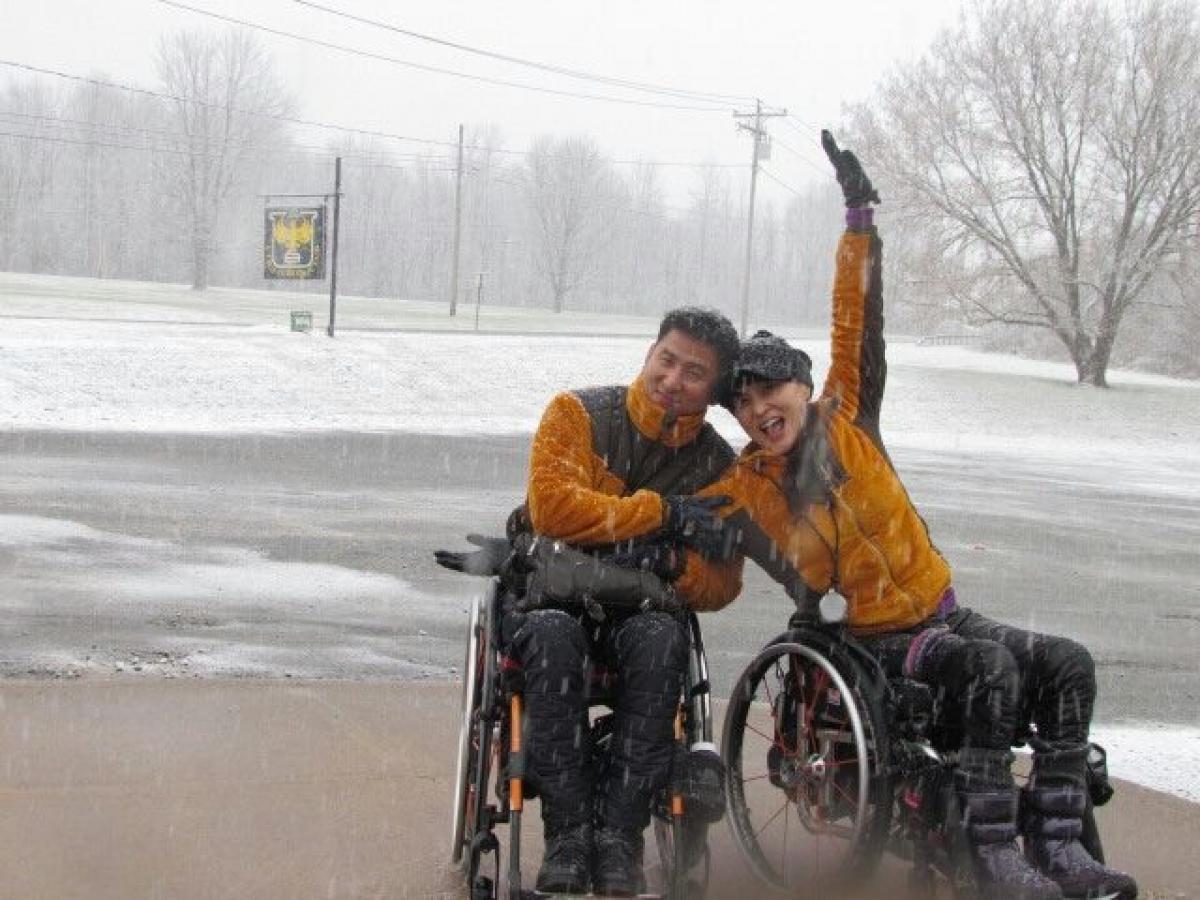 ⒸMin Kyong Cho Facebook
By EJ Monica Kim | For the IPC
"If we achieve a remarkable result in 2017, I believe that this positive vibe will last until PyeongChang 2018."
South Korea's Min Kyong Cho is taking on a new challenge, as the former summer Para sport athlete prepares for her winter sports debut at the World Wheelchair Curling Championship 2017 held 4-11 March in Gangneung, South Korea.
While it will be her wheelchair curling debut, Cho is familiar with competing on the big stage.
She represented South Korea in swimming at the 2010 Asian Para Games in Guangzhou, China.
Moreover she was the only female Para sailor from the country to compete in 2.4mR at the 2011 World Championships in Weymouth, Great Britain.
In 2012 she turned her attention to wheelchair curling.
"I was inspired by the South Korean team that won a silver medal at the 2010 Paralympic Games in Vancouver," she said.
"Coincidently, at that time, there was a lack of female players in my region Busan, so I was invited to the local team that prepared the National Winter Para Games."
The 41-year-old found that wheelchair curling was totally different from other Para sports she played.
"I had got involved in sports that demanded a lot of physical strength. However this sport requires more brain work like concentration and tactical skills," she explained.
"That's why the more I get to know [wheelchair curling], the more I find it difficult."
Additionally, wheelchair curling brought her another joy.
"Through the sport, I met my husband Tae Yeong Jeong, who is not only my life partner, but also my personal coach," she said.
"This time he was a skip who helped me to play games at my own pace during trial matches. Thanks to his support and sacrifice, I was able to be selected for the final entry."
Throughout 2016, she realised the importance of competing in different venues.
"I had only played at a skating rink in my region. It was my first time to play at a proper curling rink that has great ice quality while training in Switzerland," she continued.
"However I was surprised that I could not lead the match as I practiced on that rink. Therefore I thought that more experiences will enable me not to be affected by environmental factors."
Ahead of the PyeongChang 2018 Paralympic Winter Games, she wants to be ready tactically as much as a skip.
"A role of lead is like making a rough sketch of a picture, before a skip starts painting. I need to refine my technique, and I want to help a skip carry out his strategies easily.
"In South Korea, each club team used to contend in order to become a national representative team until Sochi 2014. However from now individual players went through trial matches."
"It might show that teamwork should be improved, but the overall level of each player has been upgraded," she said.
But first she is focused on helping her team make a statement at the World Championships next month.
"If we achieve a remarkable result in 2017, I believe that this positive vibe will last until PyeongChang 2018."
The World Wheelchair Curling Championship 2017 will be held in the Gangneung Curling Centre and act as the Test Event for the PyeongChang 2018 Paralympic Winter Games.
Complete information on the World Championships can be found on World Curling's website.