Nichols: It's difficult to forget a crash like mine
After falling at both the World Championships and World Cup finals, Alana Nichols is dusting herself off and leaving behind her wheelchair basketball training for the moment to focus on Sochi 2014.
26 Jun 2013
Imagen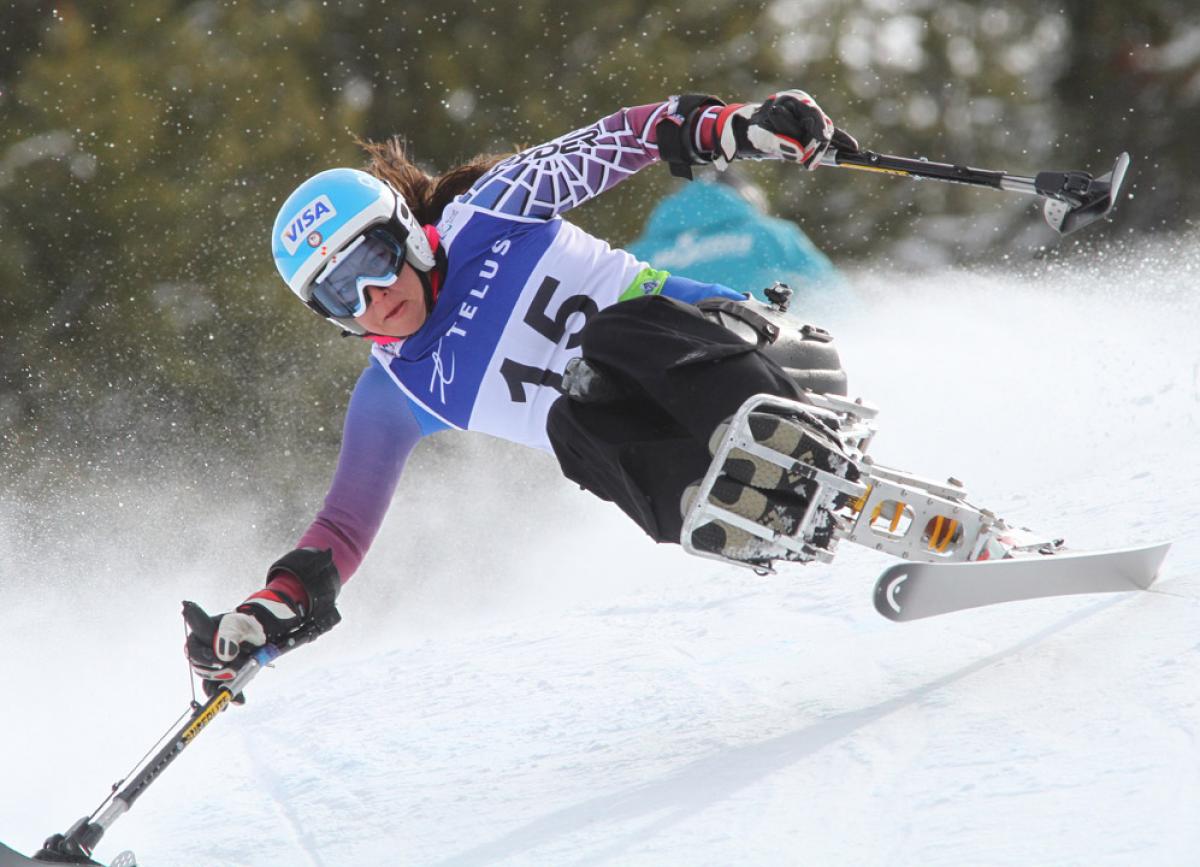 ⒸMalcolm Carmichael / Alpine Canada
By Jake Duhaime
"Initially that crash was absolutely devastating and disappointing to prepare like that and not be able to reach your goals."
It used to be a seasonal balancing act for Alana Nichols.
Ski when there was snow to ski on. Hoop it up on the basketball court when there wasn't. Travel to the Paralympic Games every other year.
Not this time around.
With Sochi just nine months away, the only American woman to win gold medals in the Summer and Winter Paralympic Games has decided to give up her double life. When it comes to picking a sport and sticking with it, the slopes are Nichols friend until the summer of 2014, meaning basketball can wait.
"I've learned that over the last year and a half, or two years that doing both at the same time is doable, but not preferable in terms of reaching my goals," Nichols said. "I've decided to put all of my focus on skiing with Sochi right around the corner."
Focus won't be a problem for Nichols, who currently lives and trains at the United States Olympic Training Center in Colorado Springs, Colorado. As if she needed any additional motivation, a disappointing end to the 2012-13 season should add fuel to the fire … and a few battle wounds to go with it.
Nichols saw her 2013 International Paralympic Committee (IPC) Alpine Skiing World Championships end prematurely when during a downhill training run, she came through a three-gate corridor with too much speed, caught an edge and tumbled out of control like a car wreck. While her injuries weren't considered serious, they were enough to knock the mono skier out of the event, ending all hopes of defending a pair of titles from the previous season.
"Initially that crash was absolutely devastating and disappointing to prepare like that and not be able to reach your goals," Nichols said. "But looking back, I really was more thankful that I didn't get injured worse. Those are the kind of things that fueled me for the rest of the season and will continue to do so into Sochi."
Nichols returned to the snow a few weeks later for the 2013 IPC Alpine Skiing World Cup Finals, ironically on the same course she hopes to compete in next March.
Where it happened… again.
Not once, but twice, Nichols failed to finish training runs for the downhill. Though this time, she got up, plowed through and captured a bronze medal on race day. The accomplishment was as much mental as it was physical.
"It's difficult to forget when you wreck as large as I have," Nichols said. "One of the things I've done is to perform the same tasks that I was trying to do when I wrecked, just to prove myself that I can execute the task at hand and build my confidence."
Confidence has created some lofty goals for Nichols going into Sochi. The 30-year-old doesn't just want to repeat in the two events which she won gold in Vancouver. Nichols wants to go five-for-five, sweeping the podium in Krasnaya Polyana. Though she'll freely admit that winning four gold medals, as opposed to five, is a more realistic possibility.
"My weakest event is the slalom," Nichols said. "The improvement I'm able to make in that event will go a long way to determining if that goal is a remote possibility. But I like to go big and set my goals pretty high."
Some 12 months ago, those goals were centered on the basketball court. This summer, Nichols and her teammates are packing for Mount Hood where they'll train extensively before a pair of early World Cup events in New Zealand and Australia.
"What's changed between this summer and last ... and other non-Paralympic years is that we're going to hit the ground running," Nichols said. "There's a lot of preparation that needs to happen before we get into the race gates."
And she can't wait to get started.
"When I think about ski racing and I'm not on the snow, it makes me really anxious," Nichols said. "When I do get there, I feel in control. I get really pumped and confident. That's how I see myself nine months from now in Sochi. I'm really pumped about the downhill and the venue as a whole."