Overall giant slalom World Cup winners decided
A dramatic conclusion to the giant slalom races in the World Cup saw the leader board juggled around in Aspen, USA.
26 Feb 2016
Imagen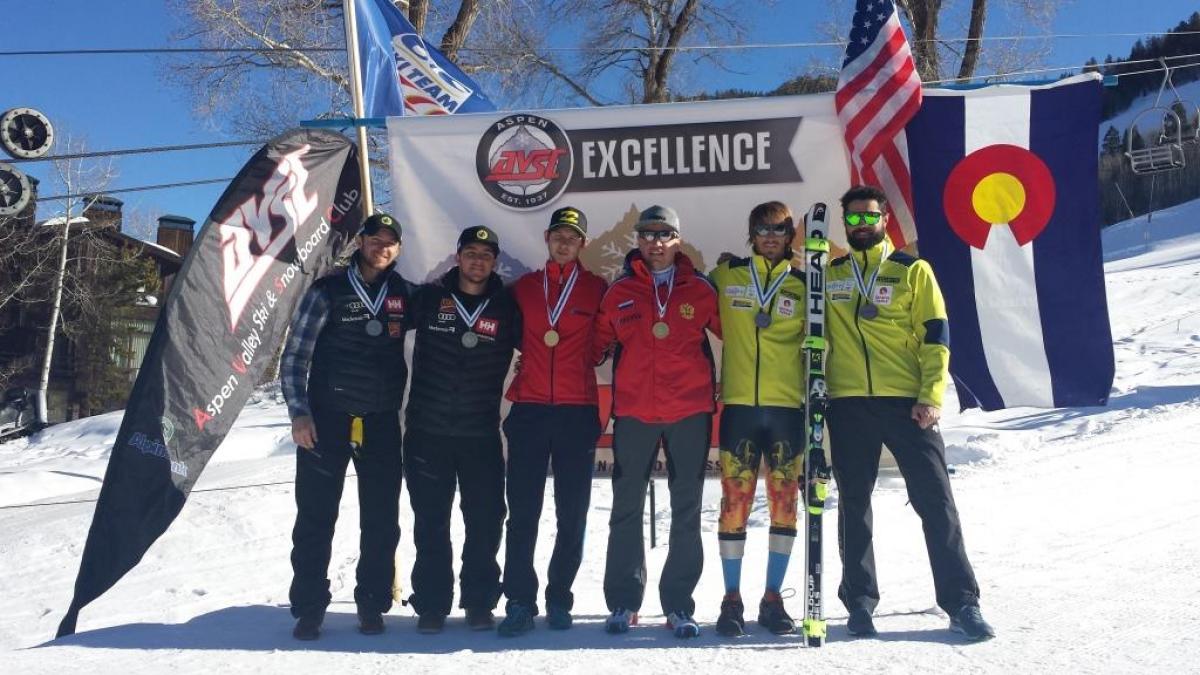 ⒸUS Paralympics
By IPC
"We're really excited for the slalom tomorrow. It's been beautiful weather for it; we can't ask for more."
The overall winners of the 2015-16 IPC Alpine Skiing World Cup in giant slalom have been decided after a series of tantalisingly close and dramatic races on Thursday (25 February) at Aspen Mountain, USA.
Russia's world champion Valerii Redkozubov (1:44.11), guided by Evgeny Geroev, took the race win and overall crown in the men's visually impaired after Italian points leader Giacomo Bertagnolli hit a gate and was disqualified with guide Fabrizio Casal.
Bertagnolli had been on a winning streak, topping the podium in the last three World Cup races.
Canada's Mac Marcoux (1:44.26) was edged into second with brother guide BJ in the race. Spain's Jon Santacana Maiztegui (1:48.38), guided by Miguel Galindo, were third.
Great Britain's Menna Fitzpatrick (1:58.84) just finished on top of the standings after winning the women's visually impaired with guide Jennifer Kehoe. Fitzpatrick led a trio of British skiers for the second day in a row.
Kelly Gallagher (1:59.60) and guide Gary Smith were second, followed by Millie Knight (2:02.71) guided by Mike Abromowitz.
"It's great to have teammates with you on the podium," Fitzpatrick said. "It's just good all-around to have teammates who are skiing really, really well and give you close competition.
"We're really excited for the slalom tomorrow [26 February]. It's been beautiful weather for it; we can't ask for more. The guys have done an amazing job on the hill. We're very grateful."
Germany's Georg Kreiter (1:45.15) was the race winner in the men's sitting, just edging Austria's Roman Rabl (1:45.84). Japan's Taiki Morii (1:46.22) finished in third, which was enough to see him take the World Cup victory.
There was more drama in the women's sitting as Japan's Worlds bronze medallist Momoka Muraoka (2:00.40) claimed the trophy with a close win over German rival Anna-Lena Forster (2:00.58).
Muraoka and Paralympic bronze medallist Forster were closely matched in the standings heading into the final giant slalom. But Muraoka stayed focused to grab her first overall World Cup victory.
The USA's (2:00.64) Laurie Stephens was third.
In the men's standing, Russia's world champion Aleksei Bugaev and Australia's Mitchell Gourley were neck-and-neck after the first run, both registering the same time.
However it was Bugaev (1:43.30) that emerged triumphant to claim his third giant slalom win of the season and make sure of his place at the top of the World Cup rankings.
"I thought the snow was very good. I like American snow and American courses and I hope that next year we come back," Bugaev said. "I am happy to win double gold today with Valerii [Redkozubov]. It's good for Russia."
Gourley (1:44.38) held on for second ahead of Austria's Christian Bernhard Schneider (1:44.96).
In the women's standing, France's world and Paralympic champion Marie Bochet lifted the giant slalom World Cup for the third season in a row.
"I'm sad [to be finished with giant slalom] because I like it and we've had very good conditions," Bochet said. "I would be ready for two other days of giant slalom but it's a nice one to finish and I am happy.
"Slalom will be a fun one, too. It will be difficult because we are a little bit tired after the two days of giant slalom. We'll really need to concentrate and have a good night tonight to be ready for tomorrow."
Bochet (1:49.51) posted two perfect runs to finish ahead of Romania's Laura Valeanu (2:00.05) and Canada's Alana Ramsay (2:00.34).
The full final giant slalom standings for the 2015-16 IPC Alpine Skiing World Cup can be found here.
The overall winners of the slalom World Cup will now be decided on Friday (26 February).
The IPC Alpine Skiing World Cup Finals in speed will then take place between 1-4 March, also in Aspen.